The Indebtors
Next big thing
Pop
Rock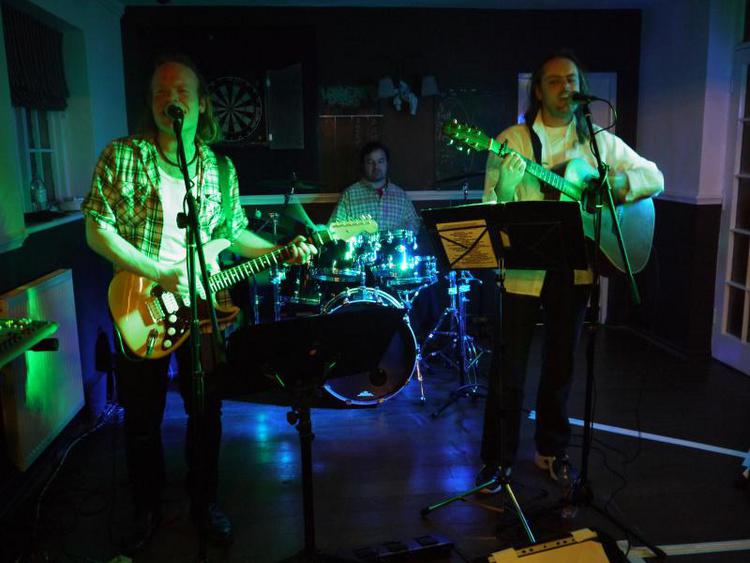 "...strong melody, hooks with teeth, and vocals that mean it..." "...Indebtors are a Norwich-based three piece with a bright future..."
Working closely together, they have developed their own unique sound that combines lyrical melody, innovative chord progressions and guitar solos that soar dramatically from the music. Currently gigging around Norfolk and Suffolk, they spend most of their spare time in the studio writing and recording original material.
Our latest album, Don't Look Back, is available as a CD at gigs for £7
Downloads from: http://www.cdbaby.com/cd/indebtors3
and from most download sites
GIG listing 2014
AUGUSTSat 9 - Home Festival, Mundford, 11:00 - 23:00 (10)Sat 23 - Trunchonbury Festival, Trunch, On stage 5:00pmSun 24 - East Coast Truckers Day, Gt Yarmouth seafront, time 12:00 - 14:00Sun 24 - The Cock Inn, Diss, 19:30 - 22:00Sat 30 - The Heartsease, Norwich, 21:00 - midnightSEPTEMBERSat 6 - King's Head, Loddon, 21:00 - midnightFri 12 - The Unicorn, Aylsham, 21:00 - 23:30Sat 27 - The Woolpack, Norwich, 21:00 - 23:30OCTOBERFri 3 - Sun 5 - Portsmouth TourSat 11 - The Cross Keys, Wymondham, 21:00 - 23:00Sat 25 - The Heartsease, Norwich, 21:00 - midnightNOVEMBERSat 22 - The Woolpack, Norwich, 21:00 - 23:00DECEMBERSat 6 - King's Head, Loddon, 21:00 - midnight
https://soundcloud.com/theindebtors/a-new-dayhttps://soundcloud.com/theindebtors/a-new-day
Get your dancing shoes out and don't forget the fire extinguisher. Indebtors - a three piece rock-pop band with a sound all of their own - are coming to a venue near you.
Indebtors have been gigging across East Anglia with their unique combination of lyrical melody, raw expressive vocals and guitar solos that soar naturally from the spirit of the music. Written from the heart, each song recounts a powerful story or message, all in what's been described as the best English song writing style.
Their new album, Don't Look Back, was launched at Epic Studios on 28 March 2014 and has received critical acclaim for its poetic lyrics, and accomplished songwriting. "...clearly well versed in the art of the three-minute pop song laden with street scene lyrics. Unafraid of a chorus that rings with major chord progressions and middle eights sparked by blue notes..."
"...there's a sharp instinct for a memorable tune at work here in tracks like the opener A New Day and the rabble rousing Nowhere To Hide..." Nick Churchill, FATEA magazine.
https://soundcloud.com/theindebtors/trail-of-rivals
https://soundcloud.com/theindebtors/a-new-dayhttp://youtu.be/tbvfOnDCBJs
This year, following the launch of their album they have been concentrating on writing and recording new material, and performing at festivals, and venues around the region.
In 2013, the Indebtors fought their way through to the national round of Rock the House, having beaten off stiff regional competition. Since then they have been busy writing and recording a wealth of new material, gigging widely around East Anglia, and have a growing number of festival appearances lined up for 2014.
Our latest album, DON'T LOOK BACK, is available in the following formats
As a CD - £7 at gigs
Downloads from most download sites and http://www.cdbaby.com/cd/indebtors3
AUGUSTSat 9 - Home Festival, Mundford, 11:00 - 23:00 (£10)Sat 23 - Trunchonbury Festival, Trunch, On stage 5:00pmSun 24 - East Coast Truckers Day, Gt Yarmouth, time 12:00 - 14:00Sun 24 - The Cock Inn, Diss, 19:30 - 22:00Sat 30 - The Heartsease, Norwich, 21:00 - midnightSEPTEMBERSat 6 - King's Head, Loddon, 21:00 - midnightFri 12 - The Unicorn, Aylsham, 21:00 - 23:30Sat 27 - The Woolpack, Norwich, 21:00 - 23:30OCTOBERFri 3 - Sun 5 - Portsmouth TourSat 11 - The Cross Keys, Wymondham, 21:00 - 23:00Sat 25 - The Heartsease, Norwich, 21:00 - midnightNOVEMBERSat 22 - The Woolpack, Norwich, 21:00 - 23:00DECEMBERSat 6 - King's Head, Loddon, 21:00 - midnight
Our latest album, DON'T LOOK BACK, is available in the following formats
As a CD - £7 at gigs
Downloads from most download sites and CD baby