Alden, Patterson and Dashwood
The Bicycle Shop
15/03/17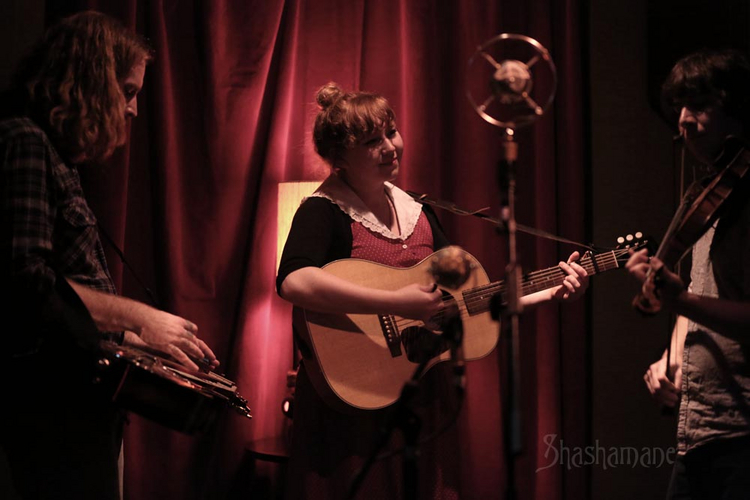 One of my favourite albums of 2016 was Alden, Patterson & Dashwood's Call Me Home, which I had the privilege of reviewing for Outline last year. I have seen this trio a number of times and wasn't going to pass up the opportunity of seeing them at The Bicycle Shop, once again in an Outline capacity.
Literally just back from their short UK tour and a successful date a couple of nights earlier in Norway, this was something of a homecoming gig and The Handlebar was suitably packed-out on a Tuesday night for one of their occasional hometown shows; one of my favourite local acts in one of my favourite spaces ... how could this be made any better? By having Clark & Zuppardi as support. As with the headliners I have seen both halves of this duo in many guises ... The Georgia Shackleton Trio, Addison's Uncle, Nobodaddy, Sefo Kanuteh & Meriya, and most recently Adam playing an outstanding solo set at last week's Music House Acoustic-ish Session at Jurnets on Friday. Together at this gig they played a blinder.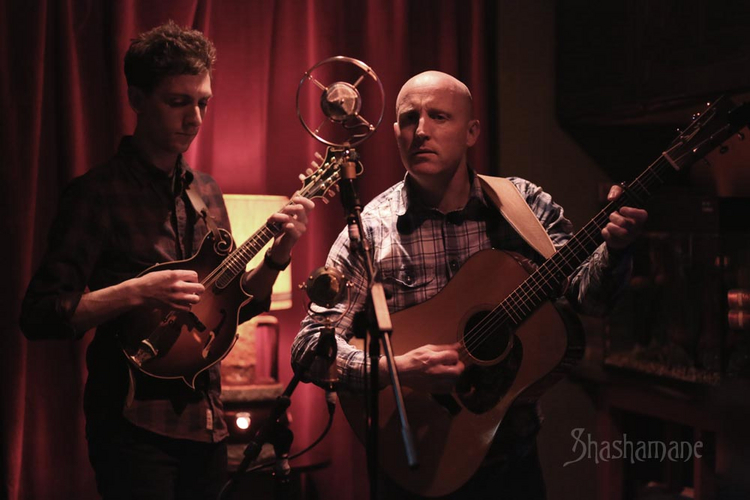 I must say it was a joy to hear both acts here unplugged with just the two "Ear Trumpet" condenser mics, which coupled with the technical wizardry and brilliance of Conor on sound duties made for a hugely satisfying listening experience for all those lucky enough to be in attendance.
Clark & Zuppardi, on guitar and mandolin respectively, treated us to some bluegrass classics from the likes of the Osborne Brothers as well as self-penned material from both Nic and Adam. always hitting the right notes in the intros as well as the songs. In Nic's case one of these originals was a touching dedication to his sister for her birthday composed when he was "as a musician, too poor to be able to buy her a present". They went down a storm to loud and very well deserved applause.
Headlining the night was of course another trio of surnames, Alden, Patterson and Dashwood, being Christina on guitar and vocals, Alex on violin, and Noel on dobro and vocals. I can think of no better introductory gig for a visitor to the city lucky enough to stumble upon the Norwich folk scene than this. A perfect support set in a highly atmospheric and welcoming venue followed by a set from a trio that simply could not have bettered their performance. They have the songs, the musical expertise and brilliance with songwriting and composing credits across the board, gorgeous harmonies and playing, and a relaxed and witty stage presence, Noel in particular seems ready with a fast and witty retort and just naturally puts people at their ease with his comfortable presence. Everything about the trio musically, creatively and friendship-wise feels balanced. I was pleased one of my album highlights, Noel's Ferryman's Court got an airing, coming from one of my favourite albums of the year it also gave me certainly my favourite lyric: "... the swans are beautiful yet slightly aggressive ... " a line that never fails to make me smile in a charming album highlight. It says something about the night that as brilliant as the album is it barely filled half of this set which showcased a number of brand new songs, many of them set highlights that make me excited for the results of their next recording sessions. Some of them brand new, others composed on a recent trip to Ireland, they are certainly on a creative roll and progressing at a rate of knots which simply would not be allowed on the Broads!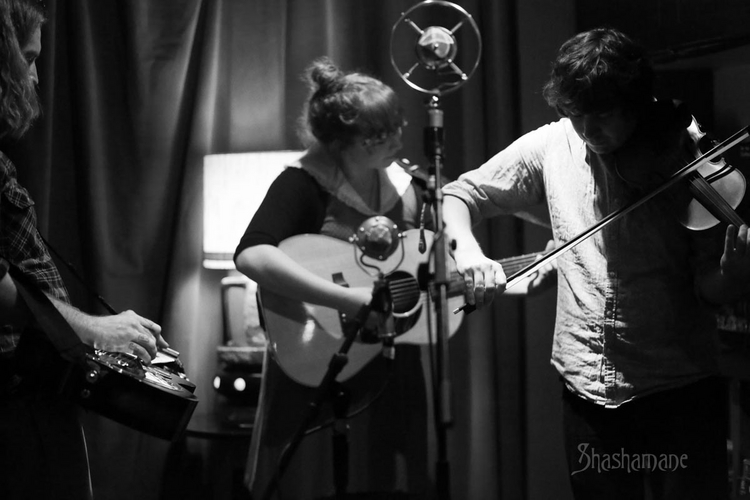 At the end of Clark & Zuppardi's earlier set Noel joined them onstage and Adam and Nic duly returned the favour for an Alden, Patterson, Dashwood, Clark & Zuppardi surname supergroup fitting finale.
This is one of those gigs that perfectly showcases the talent on the Norwich folk circuit at the moment and if anyone was in the audience who did chance upon this venue and gig then I sure am envious of them. This was one of the finest examples of live local music, flawlessly played with utmost professionalism but with an easy, relaxed stage manner in a lovely setting played to a warmly appreciative and attentive audience. It doesn't get much better. I do feel the condenser mics added to the experience too, both in sound and aesthetics - without unsightly mic stands and cables obscuring the view, there is something special about seeing musicians gathered around a mic like this who know just how to use it to best effect while playing old time music. A hugely enjoyable gig, one of many we are blessed to have on our doorstep even on a Tuesday night. I would urge anyone to buy the albums (if there are any left, there was a definite "5-4-3" albums left countdown from the merch stall during the set!) and definitely catch them live at the next opportunity. It would be easy to slip into complacency and forget just how lucky we are to have the depth and variety of musical brilliance that we have here - not all cities are so lucky - and Alden, Patterson & Dashwood are up there with the very finest in our fine city. There is something about them in particular that seems to exemplify the landscape and the very soul of where they and this music comes from. This was sublime.