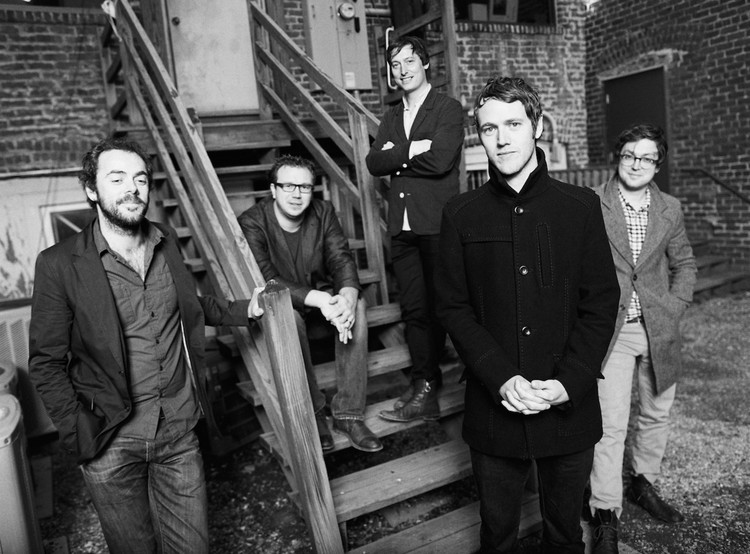 ---
---
Interview with The Staves
We're just normal people; we didn't grow up on a farm, singing on the porch or anything like that!
Interview with British Sea Power
"You can smoke your chongo mongo, drink your cider, eat your chips and then go home." - British Sea Power on the allure of festivals.
Interview with Simon McBride
In the case of Van Morrison, the man is a songwriting mountain. I have a lot of work to do to match him.
The Joy Formidable // Wolf's Law
It's a visceral blast; a great snap and tear from a wolf's jaw – raw, and bloody, and inciting overwhelming emotion.
Interview with Jess Morgan
As much as I love a good episode of Glee now and then, it does infuriate me how rarely you see a girl pick up an instrument. Either way I think Sue Sylvester needs to get on the case.
Interview with Foals - March 13
I'd love to say that we went to some amazing place in Africa and heard this particular rhythm, but it doesn't work as specifically as that, you know what I mean?!
Interview with Skunk Anansie - March 13
Not too shabby, no, but I did get held up at gunpoint though!
Interview with Johnny Marr
I was there a couple of years ago, 2010 maybe and it was a fun time. There's a good record shop in Norwich too, isn't there?
Interview with Peace
"Everyone we told that we'd signed to Colombia was like, 'what? That's so ridiculous!' It just makes no sense!" - Harrison Koisser talks about their journey to the major label
Interview with Pure Love
"Musically speaking, the songs have a very "big" sound to them and we felt that title fit perfectly." - Jim on the album title, 'Anthems'.
Interview with Funeral for a Friend
There's been some crazy things at our shows and that's what keeps it fresh for us, I mean, we've had human jenga!
Interview with Everything Everything
"Top ten is people like Rihanna and we thought, 'that's pretty nuts', you know, sitting there amongst all that..." - Jonathan describes his surprise at 'Arc' going Top Ten
Speck Mountain // Badwater
This is an even sheet of dream pop; let it drift over you as you dirft away.
Interview with Raevennan Husbandes
"I feel like I'm in a completely different ball game now. I'm playing with the big boys now! It's bit scary, a bit overwhelming!" - Raevennan on life after her NBT win.
Interview with The Joy Formidable 2013
"You know, we lost a few people on making this album, and that's definitely crept in quite a bit." - Rhydian shares some insight into the making of 'Wolf's Law'
Interview with Blood Red Shoes
"I felt like it was kinda directionless, like, that's the line in the song, 'we're not fighting to be heard, we just wanna watch it burn'." - Stephen relates the London riots to 'Lost Kids'.
Interview with The Human League
"Because we weren't too way out there, other girls could relate to us. We are down to earth, we are Northern; people could dress like we did." - Joanne Catherall talks to Emma about the role of THL girls...
Interview with Squeeze
"With a beard, people tend to spur all their hatred onto it, and tell you straight away what an idiot you look." - Glenn Tilbrook talks to Emma about his recent clean-shaven look...
Interview with Beth Orton
I've never lost my roots. It's my place of choice to come and see my friends and also just the landscape as much as anything.
Interview with Cold Specks
"As you can tell from the video, I'm absolutely terrified! There's a lot of twiddling of the thumbs and a couple of visible shakes!" - Al talks about her landmark performance on Later... with Jools.
Interview with Bat for Lashes
"I discovered that Natasha Khan is a lot more complex and rich, as a person, than just being this mystical, sad person." - Bat for Lashes talks to Outline about her own character...
Le Théatre de Décadence // Maddermarket Theatre, 26.09.12
Each subtle flex and pop of her garment-removing burlesque routines caused a mirrored thump in our arteries. - Emma reviews Le Théatre de Décadence.
Interview with Emily Portman
We often get a lot of really attentive, listening audiences, which is lovely, but sometimes we have to ask for the lights to be turned up so we know that they're still there!
Interview with Submotion Orchestra
"The live show that we bring is a lot more ballsy than the albums, I think." - Tommy Evans talks to Outline ahead of their gig...
Interview with Richard Hawley
For anyone to think that it's OK to revert back to a pre-NHS state is a fucking moron.
Interview with Seth Lakeman
When we went to Libya, I was inspired by the rhythms and a song that I wrote about 2 or 3 years ago called 'Blood Red Sky'.
Interview with Ms Dynamite
She's managed to cherry-pick her projects with enough credibility and dancefloor impact that her own return has been hugely anticipated.
The Flaming Lips // The Flaming Lips and Heady Fwends
"How did the conversation with Ke$ha even come about?! A casual chat over a goblet of blood?"
Interview with Sam Kelly
"I've actually been quite ill; for the week after BGT, my body was left just sort of catching up with what was going on" - Sam Kelly on the physical damage that comes as a result of entering a nationwide talent show...
Interview with Beth Jeans Houghton
"Yes, stupidly I did think that I'd exorcised them and then I realised that I had to tour them for like a year" - Beth Jeans Houghton on the difficulty of playing songs that are of an emotional nature...
Interview with Poliça
"I just wanted to; it wasn't like I was trying to change something or hide something" - Channy justifies Poliça's heavy use of autotuned vocals...
Interview with Caxton Press
"If we weren't doing music we'd still be as pissed off about the state of affairs in this country, but we naturally convert thoughts and feelings into words when we write." - MC Manage on Caxton Press' mantra...
Levellers // Static On The Airwaves
"'Static on the Airwaves' makes no hesitation at ripping the plaster off an ailing Britain…"