Border Control
Norwich Arts Centre
04/07/17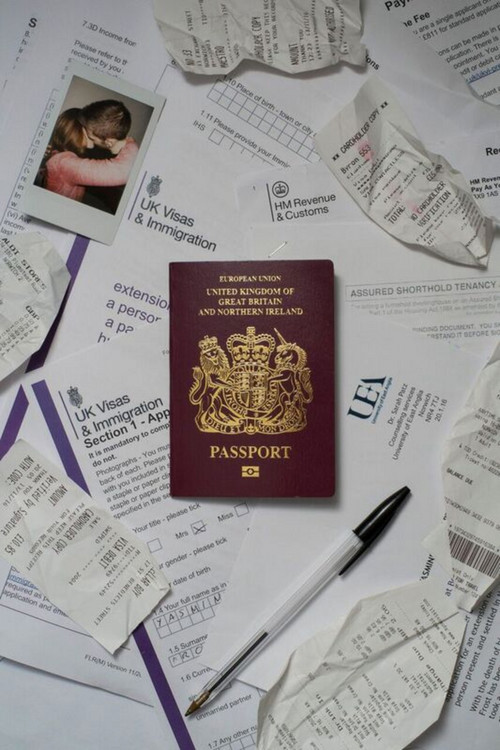 Three unnamed staff from UK Visas and Immigration meet to adjudicate on a Moroccan woman's application for ILR. That is 'Indefinite Leave to Remain'. The first step towards naturalisation, and the issuing of a British passport. They sit at a table. In front of them is the application form, supporting documentation and sponsors' declarations.
Over the course of the next twenty minutes we watch and listen as the three (played by Daniel York, Bisola Elizabeth Alabi and Christopher Sherwood) systematically work their way through the application, brutally dissecting the intangible chattels of the applicant's personal and private life. They examine and discuss a series of submitted email records, itemised bank statements and social media timelines in an attempt to build up a veracious portrait of the four years since her arrival in the UK.
Edward and Yasmine met during their first year as undergraduates at the University of East Anglia in Norwich. They fell in love and began a relationship that, typically, was not without its 'ups and downs' or challenges. The course of true love does not always flow in straight lines, but surprisingly often still manages to reach its destination. After they graduate, Edward and Yasmine marry, and Edward begins work as a teacher.
They say that you cannot help who you fall in love with. That, thank goodness, is one thing that the politicians and media have not yet managed to manipulate and control. But pressures fuelled by a public perception of migration issues now mean that a boy from Newcastle and a girl from Morocco will find it increasingly difficult to convince UK Visas and Immigration of the genuineness of their wish to remain together in this country.
Playwright Michelle Sewell uses a powerfully nuanced script, a clever mix of multimedia and text, and a well-researched knowledge of the entire visa application process, to bring us the post-truth love story of Edward and Yasmine, and the hurdles to be jumped just to stay together if your partner happens to have been born outside EU borders. The narrative appears uncomfortably intrusive at times. The story of their romance is revealed via documentation willingly submitted alongside the application form. Personal details of living arrangements, shopping habits and social interactions are all laid bare as Edward (Joe Jones) and Yasmine (Tamanna Rahman) also share holiday photographs and Instagram posts. And all so that a panel of three people can discuss and unilaterally decide on the couple's fate. Remember, there is no right of appeal against an ILR decision.
By the end of the drama we, the audience, feel as if we know them both, yet we have only been given the same information as the civil servants considering the application. And yet it is their job to reach potentially life-changing decisions. It is a process that is should be entirely objective, but is actually wrought with subjectivity and interpretation.
The final moments before the panel's ultimate decision reveal information that could jeopardise the whole application. The resulting climax cements this piece as a vital piece of political theatre that demands a wider audience.
As one of the audience commented during the discussion forum afterwards, these issues really need to be incorporated into television soap operas and mainstream media in order to substantially increase awareness. In the meantime, watch out post-Brexit Britain. Things could yet become a whole lot messier.
Border Control was presented by Hack Theatre as part of this year's Young Norfolk Arts Festival. It is directed by Emily Collins.