Charley Crockett + Big Steve Arlene + Hank JD Sleek
Norwich Arts Centre
21/02/20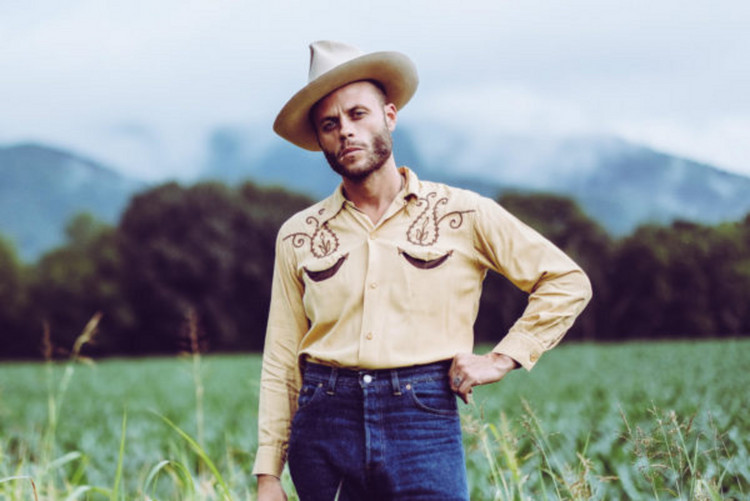 After checking out Borderline DJ Hank JD Sleek spinning a selection of honky tonk records in the bar, everyone was hot but in the mood for live music when Big Steve Arlene kicked off proceedings in the hall, joined by Henry Greenwood on blues harp and Will Fergusson on piano, all three sounding fantastic. Opening with a strong and haunting slowed-down version of Waylon Jennings' Lonesome On'ry and Mean, but with a set mainly of originals such as the superb Springboard, this was a lot of fun. Many of their songs are sad but cathartic, beautiful with lyrics one feels deeply. It's always a pleasure to hear Steve play and I think this was truly wonderful stuff.
Charley Crockett and his band wowed us all earlier in the year at supporting JD McPherson, so it was a real treat to have him back again, fresh from his first live UK TV appearance on the Andrew Marr show, no less! The NAC hall was absolutely sweltering, leading Charley to observe "I thought it was supposed to be cooler here than Texas?" but the energy on stage didn't let up once, as Charley and his terrific band delivered some honky tonk blues, western swing, country, boogie-woogie and even some Cajun jazz: a melting pot of Southern flavours in a dish that he makes his own.
A descendant of Davey Crockett, Charley is an interesting character who has lived not just in the States but also in Europe and North Africa, and stories from his life came out in the songs which encapsulate not only the sound of his home state Texas but strongly Louisiana too. Charley joked that when asked what his songs are about he likes to reply "About two or three minutes!" and these two or three minute wonders brought a smile to the face of all present. There's a real integrity and passion to how he delivers his craft as well as a clear joy he has for performing, and the band, featuring guitar, bass, drums, piano, accordion and trumpet, were all superb too. Even in the stifling heat the irresistible vibe of the set got people dancing.
In draining conditions some energising music from America's South was evident everywhere, even in the NAC playlist which included the fantastic Brennen Leigh, and the lone star Texas state flag draped over the piano. Afterwards, a big queue at the merch table to meet Charley in his trademark Stetson gave proof he is every bit as charming and friendly as he is onstage.