Interview with Dave Okumu
06/05/14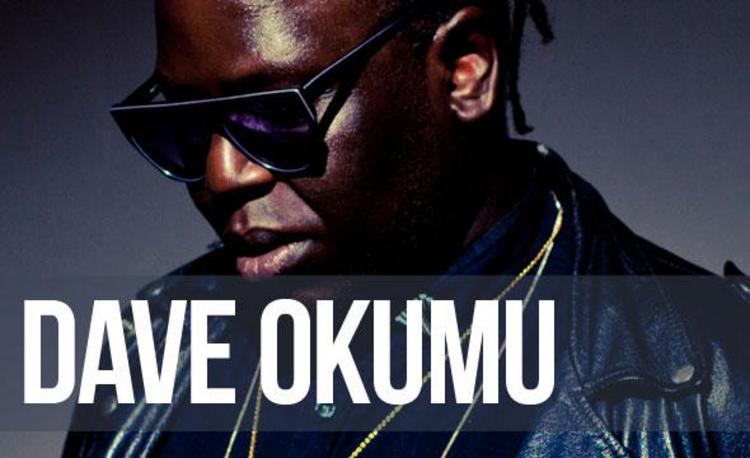 Dave Okumu represents sonic London in its highest echelons. From Kenyan heritage, to London living, by way of being born in Austria, he both sips from the cauldron and adds to the potion of this unique multicultural melting pot. With his role as founder of Mercury-nominated band The Invisible, and his 'invisible' role as producer for many artists, including on Jessie Ware's Mercury winning album, he adds flavour to every musical endeavour. Who better to team up with one of the most vibrant, distinctive voices of the British music scene – Shingai Shoniwa of The Noisettes – for a commissioned show exploring their African roots, to be premiered at this year's Norfok and Norwich Festival.
Dave, you're a hard man to track down! Yeah, I'm basically living off grid at the moment.  
Off bread? Off grid!
Oh, I thought you meant you were on a carb-free diet, or something. [Laughs] No, absolutely not! Can't miss out on the carbs.
We're doing this interview ahead of your Norfolk and Norwich Festival gig, 'Stars Align' with Shingai Shoniwa, from the Noisettes. What can you tell us about it? It's really exciting. It just feels like a really amazing opportunity to collaborate with Shingai. We've known each other for years, but we've just never worked together. I've been a fan of hers, particularly as a performer, for a number of years, so it's great to finally have a chance to work with her. It's also an amazing opportunity to write and arrange for a choir in a collaborative way. It ties in with the incredible occasion of the Commonwealth Games 2014 as well, so yeah, it's just a really exciting proposition all the way round. In terms of the piece of music, I suppose what I can tell you is that we've sort of spoken about making something that reflects our shared heritage, in a way, as two creative people who come from the continent of Africa, but who are also influenced by a lot of music that's made over here. I suppose that's been part of our dialogue as friends, over time, just how where we're from affects the way we perceive music, and how we make music alone, and with other people. So yeah, that's sort of exploring a language that reflects that. This piece feels like a starting point of this collaboration.
Dave, to me you embody the London sound, even though you were born in Austria, and your parents were from Kenya, because that's kind of the London way, isn't it? To produce something that's greater than the sum of its multicultural parts. Yeah, it's really what makes it so exciting for me. There's that sense constant cross-pollination; so many cultures coming together and speaking to each other, in a way. To me, it's incredibly exciting, what that produces. I feel that all the music and literature and art that I've been inspired by has that quality to it. There's that sense that there's an individual, or a collective, and it's how they filter their several influences in a really, really personal way. I think that's when really inspiring and exciting things happen. It's also an amazing way of looking at humanity, I guess, because it's about how many threads can still have a kind of universal quality about them. I love, for example, listening to contemporary dance music or electronic music, and I often hear rhythms that I recognise from traditional African music, you know? I just feel like there are threads between us all, and that's a really, really positive thing to capture and express through positivity, and I think that happens in London a great deal – sometimes without people being aware of it, which is fine too. It doesn't have to be a conscious thing.
I know you've had really limited time with Shingai now she's living in LA, and I read that you'd been producing her solo album too… Well we've just been exploring ideas, so she's come to me with ideas that she's had for a solo record and we've done a few sessions together. I've been sort of helping her out with some of the production on some of her ideas, which again has been a really, really fascinating process, seeing what she's thinking about beyond her experience with Noisettes, I suppose.
Yeah, I heard a really good session with her on Rinse FM where she was premiering some new material, and it's exciting stuff – I can't wait for it to be released. Yeah, I think she'll make a really, really fantastic record, I have no doubt.
But 'Stars Align', has that been something you've had to improvise with when you're together, or have you been laying some stuff down ready to pounce on when she comes over? Well, it's kind of been a combination of the two things; we talked about how we might like to approach a composition and we looked at the various points of inspiration for us, like what we're into at the moment. It also felt very important to us, even though it's a unique opportunity, that it felt like it was part of a pre-existing thread of creativity. We really wanted it to feel part of where we're at, at the moment, the music we're making at the moment. For me, that's about production and writing work, but it's also about the band, The Invisible. For her, it's about her taking this new step into working as a solo artist, so we talked a lot about that stuff, and about shared inspiration, and shared music. I kind of came up with some musical ideas and we kind of bounced back and forth off each other to see what kind of sparked, or inspired her to write to some of my musical ideas. I've been fleshing those out in terms of vocal arrangements, and that's kind of been the process, to-ing and fro-ing, and we've spent a few days in the studio together, experimenting with song structure. It's quite a long piece of music; it's about 15 minutes, so I've been looking at ways of expanding that and arranging that for 20 voices! Ultimately this piece, in the first instance, will be performed with two different choirs, so you're trying to envisage how that might work. I suppose for me, when I'm writing music, I always want it to serve the people I'm writing it for, so you know, I really want it to be an enjoyable thing for the choir to sing. There's an aspect that you kind of have to use your imagination, 'cause I've yet to meet these choirs, so it's an interesting process really. It's a lot about your imagination; there's been a lot of just bouncing round ideas, fundamentally.
I know you have your own studio, don't you Dave? Is that THE place that's most conducive to creativity for you, or do you have to pick your spark up in other places, then take it back into the studio? Yeah, I try and construct this thing, when being creative, that's kind of like a figure of 8, where everything feeds into everything else. It's really important to have a flow going, 'cause I find when things get static, then things can feel a little difficult. I've found it's really important to have my own space that feels like a creative home where all my stuff is. It's a space I love to work in, but it's also really important to go to other places. I tend to move around quite a lot, so I might be in my studio half a week, then other places and also recently, I had a really great time writing in Los Angeles. I went away for a bit to create the space for me to write my own music, and that was an incredible experience, to go somewhere completely different and bring that back home. So yeah, I kind of like to move it around, and I still work in my kitchen. A lot of great things have happened in my kitchen!
Yes, the kitchen is the epicentre of activity always, isn't it? Yeah, there's a reason people always gravitate towards the kitchen at parties!
Just as the song says! I've heard actually that you guys are real foodies, in The Invisible… Yeah, the band revolves around food. Music is the secondary thing! Our primary reason for our existence is really to get Leo to go on Masterchef. I think that's essential!
Could he do it? Yeah, he could take it all the way! In fact, both Tom and Leo are incredible cooks and there's a long-standing joke with one of the producers that we've been lucky to work with over the years – a guy called Ivor Guest, who was Grace Jones' producer – whenever we show up to one of Ivor's sessions, he says, "Oh, The Invisible are here, it must be lunchtime!" So that probably gives you some indication of how important food is to us! Our last tour, the American tour with Jessie Ware, food was the first thing we spoke about every morning with the tour manager, making sure we'd find somewhere with great food.
Yeah, I don't know if I could handle being a touring musician, not knowing where my next meal was coming from, and just rolling with the punches. My friend Ed O'Brien, who plays guitar for Radiohead, he says that a well-fed band is a happy band, and I try and learn from those more experienced than me!
You're so heavily in demand Dave, and I'm sure even remixing a track, like you did recently for Maximo Park takes a lot of your time. Does each of these experiences invigorate you, rather than drain you? Yeah, it's a real balancing act, you know, 'cause you have to keep a keen eye on what your priorities are, and you have to accept the fact that you can't always do everything you want to do, which can be hard. It's an amazing position to be in, but sometimes it's frustrating when there's stuff I want to do that I can't do, 'cause there's not enough time. But again, I come back to that figure of 8 analogy; if I start to think of things in a way that's compartmentalised, or seen as fragments, then it drives me slightly crazy! It can be quite overwhelming, working on four or five albums at the same time, but actually, if you see it as one thing, which is music, and making music with very special people, then it's really wonderful. Working with one person can feed into your work with another, which feeds into another, and your experience of your own music, which kind of keeps giving back. It's a constant process of investing in your own creativity. It's like feeding yourself again, to come back to food analogies [laughs]! I really love that, and I feel very fortunate to work with so many wonderful people, and really I think it's the responsibility of the creative person to seek out inspiration. I find the people I work with incredibly inspiring, and that's like eating good food!
I was chuffed to read that you're working on a new Invisible album, and that it'll have a hallmark of optimism. Now I know some events of 2013 were the impetus [Dave's mother sadly passed away, and he, himself, had a near-death electrocution]. Is music always your way to channel, or digest these experiences? Yeah, it's a big part of it for me, for sure. I see it as an extension of what's happening mentally with me, and it's about expressing something and being present. That's really important for me, and always has been, that music is a way of doing that. It becomes a way of understanding the world, and my place in it. It feels really important, especially making records. I remember when I was making my first record, Matthew Herbert said to me, "what you make has got to tell the world who you are, in this period of your life." I'm really proud of both the Invisible records, because I think they really do capture periods of our development as a band. I listen to the first record and that really does feel like where we were at. I guess a record, even the word itself, is self-explanatory as a point in time. But yeah, there's the combination of those two things; making music, for me, is about expressing myself and trying to do that to the best of my ability, as honestly as possible. Making records is about documenting those moments in time. Those moments in time might span six months, two years, two weeks, but I always have the ambition of getting to the end of a record and feeling like, 'yes, we've documented something truthfully here.' Going into the process of making records, you're asking yourself these questions. You're examining yourself and saying, 'where am I at? What am I inspired by? What do I want to say?' I started hearing things really, really quickly really, because of what's happened and changed over the last year, or so. It's been a remarkable time, so optimism was definitely a strong theme, 'cause I feel like the luckiest man alive really. It would be really strange to make music that didn't reflect that.
That's great, and I know you can't rush perfection, but when could we be looking at hearing the new material? [Laughs] Yeah, that's always the eternal question. If we'd spoken in a couple of weeks time, I'd probably be able to give you a much clearer answer, but we're just at the stage now where we're starting to discuss it with our really lovely record label, Ninja Tune, who are incredibly supportive and let us take things at our own pace. We're just starting to talk to them about timelines, when we might release something, but we're actually very keen to release some music very soon, 'cause there's a feeling of the present. I think it's a challenge that lots of artists face; they sort of hit a roll and are like, 'right, I want to do this now', but there's actually something about making and releasing albums that's actually quite a cumbersome process. Sometimes you have to wait quite a while before you release something you've made. It takes a bit of working out, but I've got a feeling there'll be some new music out there pretty soon, in the next six months or so. But don't shoot me if that doesn't happen!
So you reckon that when we hear this new material, we'll be able to hear a well-fed, and very happy man? Yeah, I think so; you'll get a sense of someone who is nourished, in lots of ways.
Emma R. Garwood
Dave Okumu and Shingai Shoniwa bring their collaboration, 'Stars Align' to Open for the Norfolk & Norwich Festival 2014, on Sunday May 11th. For tickets, go to www.nnfestival.org.uk. Read the full interview at Outlineonline.co.uk
Shingai Shoniwa
Nnf2014
Norfolk And Norwich Festival 2014
Open
Dave Okumu
Norwich