Interview with Enter Shikari
17/12/18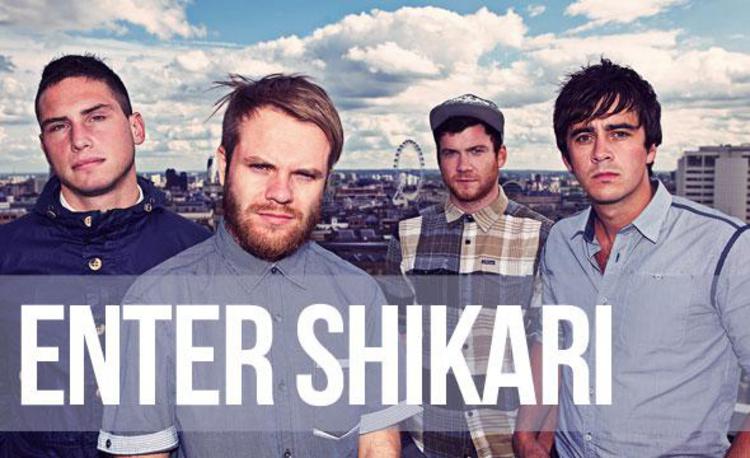 After a year of touring all four corners of the Earth, dance/metal experimentalists Enter Shikari are returning to their home country this holiday season to give the UK an early crimbo present in the form of a Christmas themed tour. We catch up with Chris ahead of their tour to chat about the past the present and the future of Enter Shikari...
Where abouts are you right now?I'm in New York City – Times Square!
What's the atmosphere like over there with Obama winning the election today?Well currently we're in our little van but last night when the election results came through we were in the venue and that was pretty exciting. There were a few disgruntled Republicans about.
So it is November already now, which seems crazy, how has 2012 treated you?It's been busy but it's been great though. We kicked off the year with the album release and it's pretty much been focused on that. As soon as the album was out and people could hear it we've been very focused around touring and the reaction has been really great! We've been lucky enough to do Australia, Russia, Japan, the States and the UK as well – so yeah, we've been very busy!
I read somewhere that you played South Africa this summer, what was that like?That was actually a really great experience and it was eye-opening as well because you fly into Cape Town and right from the airport to the city there are these shacks going on for miles. The poverty is pretty crazy. But in terms of the show, I don't think a lot of bands get the chance to go over to South Africa, so when bands do, the residents over there really appreciate it. The second show we did was just outside of Johannesburg and it was one of the best shows we've played in a long time – it was incredible.
Whenever I talk or write about you guys, I find it really difficult to describe your sound in a way that gives it justice, how would you describe to some of our readers who may not have heard you what you're all about?Generally, it's kind of a thing we try to avoid doing. I think when you're as close to something as we are and you see all the different influences that go into it, it's really hard to pin down a term and it almost degrades it to do so. I guess if we had to, we just consider it as passionate rock with dance influences.
You said about being passionate rock and you often have a lot of political and environmental messages in your music, what is the core message you are trying to get out to your listeners?Essentially we just want to promote positivity and unity to be honest. I guess we see society as just going round in circles, repeating the same mistakes again and again and we think it's time for a change. I think the only way we can really do that is by us coming together as a community.
You're playing double nights at each city you're touring this December- why did you decide to do this?We've kind of realised that over time, once you get into the big venues, like Brixton or Hammersmith that 2000 of the people are stuck in the balcony and we've noticed that not a lot of our fans are happy with that. They'd much rather be down on the floor in the thick of the action. So really the idea of this tour was to do slightly smaller rooms but everyone can be involved and everyone can be down on the floor.
Do you guys prefer playing smaller, more intimate gigs?We're not apposed to it but we're really doing it because that's what we've heard from our fans. We've actually been looking into doing a tour playing much smaller venues.
That would be fantastic! I see you're bring Cancer Bats along with you on your tour, are you fans of the guys?We've been big fans of them for a long time – the first time I saw them was at South by Southwest which is a festival in Texas and I remember going down with Rory and we were completely blown away by them then. They just have that massive sound and are a really really great live band. We're excited to have them coming along.
Am I right to say your singer Rou's full name is Roughton? Has that got anything to do with the Norfolk village of the same name?I'm pretty sure that's exactly what it's to do with. I think his family used to go up to Norfolk quite a lot. (Speaking to Rou) Did your parents used to stay in Roughton? Oh it's apparently where his Granddad was born. His brother's called Alban – like in St Albans.
You're ending your tour in Norwich and you filmed the video for your song Zzzonked in our city, is there something particular you like about Norwich?I guess we've always had a really really good time in Norwich and the UEA always feels really intimate and it's always packed! The crowd always goes pretty crazy so we just thought it would be a really great place to record Zzzonked.
You've already got three great albums and you've played all over the world – what's in the future for Enter Shikari?I guess just more of the same – it's all we really know how to do. Next year at some point we'll get into the studio and we'll start writing a new record and once we've done that we'll be back out on the road!
Enter Shikari play the UEA LCR on the 19th and 20th of December. For tickets and more info go to ueaticketbookings.co.uk. Full interview is available to read at outlineonline.co.uk.
Norwich
Enter Shikari
Interview
Ellie Smith
Uea