Interview with Keep it Secret
21/11/17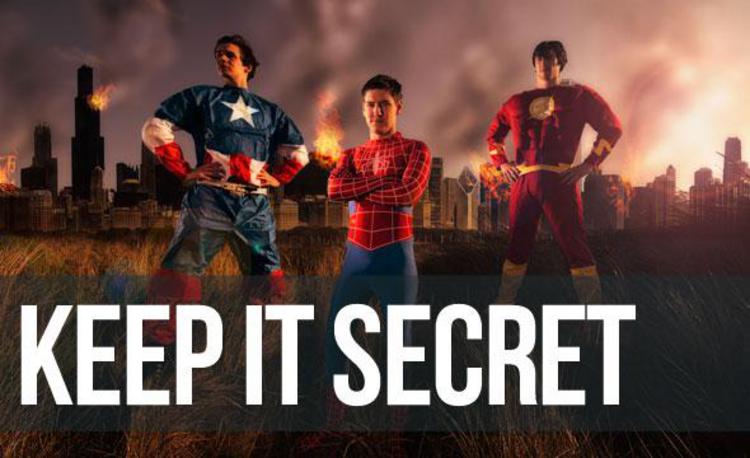 Three statuesque artists, proudly puffing out their rippling torsos, resplendent in lycra, stood engaged for combat, perusing the peaceful scene over Horsey Beach. Just another day on one of local-based photographer George Fairbairn's imaginative photo shoots. Keep It Secret entered and won George's competition with an overwhelming Facebook response from fans, affording the Norwich 3-piece a host of prizes, including a chat with a certain magazine…
Information on Keep it Secret suggests that you have mixed origins, split between Norwich and Lowestoft – how did the band come together? We'd known each other for a few years and had previously played in a band together; Mattie and Toph met at school and Levi came into the picture when he met Mattie at the Norwich Access to Music College. We played a few gigs under a different name a few years back, but more recently regrouped and formed Keep it Secret. We have always shared a group passion for energetic, fun music, and this has given us the drive to put everything we can into the band as a whole, regardless of any physical distances between us! 
When you entered George Fairbairn's photography competition, how much direction did you give George for the photo shoot? Well given the nature of the competition (the entrants put forward their idea for a band shoot, and George selected his favourites), the theme of the shoot was very much already in place. George obviously had given a lot of thought on how he wanted the pictures to look, and he came to the shoot with some very clear and interesting ideas, and picked a beautiful location for us. We sort of just turned up in our costumes and let him roll with it, as we could tell he had some excellent visions for the results.
The picture portrays you guys as super-heroes. The question has to be, which super-heroes do you all relate to? Mattie: Iron Man, I also fancy Gwyneth Paltrow as Pepper Potts. Topher: I'd say Superman, because I'm a superhero and Topher is my alter ego ha-ha. Levi: Probably Catwoman. Mostly because I enjoy dressing up in tight leather, also because I quite fancy Batman.
One of the prizes was some studio time at Mill Studios, but I believe previous to the competition, you already had some studio time under your belt – what have you been concocting? Yes we have! And we're concocting something massive! For the past few months we have been recording our debut album 'Supernova' at Ashwood Studios in Bowthorpe; it's gonna have around ten songs on it and just be our first proper record so we're all really excited to get it finished and out there. So make sure you get your copy, you won't be disappointed.
What has the extra studio time allowed you to do? The extra time we won from the competition we are using to record a brand new song that we are gonna release for zero pounds and pennies, basically as a massive thank you to the 600 odd people that voted for us, but we also owe a big thank you to George as the photos he took of us and all his photos are really amazing and well shot!
Being three mates enjoying the process, I'm sure it can be difficult to stay focused – are you very disciplined when it comes to working in the studio? Hmmm… the whole reason we started the band was to have some fun, so we try and keep it quite light-hearted, silly and just be the three immature kids that we act like, but we can be serious and knuckle down too. There has been 14-hour studio days, stuck in a room with no windows and just each other and instruments; it can be really full on, but we love making music and we all have a really tight bond together - even the studio engineer gets a hug goodbye now.
Tell me about how it works in the band – who writes the songs, who comes up with the music… Usually how it all pans out is Mattie will write the basic song, lyrics and melody and Levi will add his creative ideas and bass lines, whilst Toph brings complex fills and fast beats to the board.
From our point of view, Norwich as a city is very enabling – there are venues and avenues that are willing to give you a helping hand. What is your view of Norwich's music industry? It's fairly obvious to us that there are a huge amount of bands in and around Norwich, and some fantastic opportunities for those bands who are willing to work for it. The amount of venues for live music seems to have shrunk in recent years though, and we seem to be playing a lot of gigs further afield than what we did when we were gigging a few years back. The services and venues we do have though are some of the finest around for a local scene; the potential I think is there for Norwich to produce a whole host of nationally recognised acts.
You must have played some stellar gigs in the city – what's been your live highlight so far? For me [Mattie], it would have to be our very first show we played. It was at B2, I was nervous, scared and made tons of mistakes, but 150ish people turned up and it was electric! And nobody noticed my lack of talent so that is definitely way up there. Levi: Although not in the city, we played a gig at RAF Marham to about 700 troops and their families, which was a really fun show. The atmosphere and goodwill spirit was amazing, and there was a bar, a burger van and at least 5 portaloos. What more could you ask for?
To generalise, I'd put you guys in the Pop Punk bracket, which has maintained a strong fan base for a good 20 years now, but hasn't always seen so much commercial success – is this something you ever think about? I think there is a huge market these days for pop punk-orientated music, recent successes like You Me At Six, All Time Low and Panic! at the Disco are evidence of that. The fact that there isn't a huge amount of commercially successful pop punk bands isn't an issue for us I think. The bands who play this sort of music are usually the sort of bands who start up purely for fun, and take any success that comes their way with a huge dollop of gratitude, and we are very much in the same camp.
Your fan base is growing, and the competition has given you some good opportunities… what's next for Keep It Secret? Hopefully bigger and better things... we're going to start by releasing our album 'Supernova' at the start of the New Year, also doing a music video and from then continuously playing and promoting ourselves whilst sending out demos to record labels, so with that, feel free to add us and have a listen on Facebook.
Check out Keep it Secret on Facebook.com/keepitsecretuk. For more info on George Fairbairn, check out www.gfphoto.co.uk and for the whole story, read this uncut interview at Outlineonline.co.uk
Mattie Crooks
Keep It Secret
George Fairbairn
George Fairbairn Photography
Norwich
Lowestoft
Horsey Beach