Matt Watson
Acoustic
Band of the month
Singer-songwriter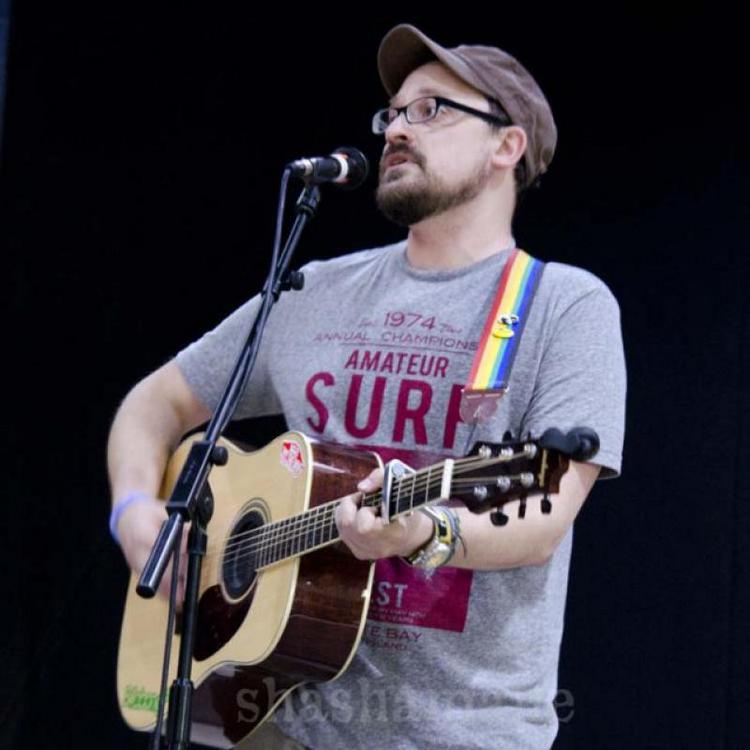 Norwich based sometimes political Singer/Songwriter.
Grounded by Matt Watson Grounded by Matt Watson Grounded by Matt Watson And We Dance by Matt Watson New Life EP by Matt Watson Every Heartbeat by Matt Watson Time and Tide by Matt Watson
What Norwichblog had to say about a recent gig...
I've seen Matt Watson many times in the course of this year, and Holly for only the second time a couple of weeks ago performing with Chad Mason at Harlequin but tonight would be the first time hearing them both together, and I was quite intrigued. Holly's violin definitely complimented Matt's slower numbers, subtle and well placed in the mix by superb sound man Stuart (also in the Dirigibles) and on set closer "A New Life" it was simply superb. Matt was on fine form, his voice clear, strong and expressive, and his guitar playing always seems to be perfect. I like the mix of songs he chose, which varied well in tempo and mood. I think his repertoire is clearly strong as two of my favourite songs of his (And We Dance, Buttons) were not included tonight and yet I would still say this was perhaps the best I have heard him. He also included a number from his old band (Huck) and amazingly, a faultless performance of a song he had written and composed only a few hours earlier in the day. Matt is so unassuming, self-deprecating and with an easy, chatty humour that it is impossible not to like him but his songs stand up on their own merit.
Matt Watson
Formerly the front man and songwriter in the acclaimed band 'Huck' Matt Watson crowd funded his debut solo album 'Grounded' in just 8 weeks.
A personal, honest, observational and often political songwriter his songs vary from full on protest songs to the most heartfelt of ballads. A hard working and prolific writer Matt has rubbed shoulders and supported many named songwriters in the last few years, most notably Billy Bragg and The Wonder Stuff front man Miles Hunt who has become a firm supporter. Indeed the eloquent violin line that you hear on the title track of the album is played by Erica Nockalls from The Wonder Stuff.
Matt has been played on BBC Radio by Tom Robinson, opened for Julian Cope, Billy Bragg, Miles Hunt and Erica Nockalls, Ian Prowse.
Matt toured the UK IN 2015 including Folk East Festival.
Matt is currently working on his new album to be mixed by producer Mark Freegard (The Breeders/Del Amitri/The Manic Street Preachers) fusing through Pledge Music here:
http://www.pledgemusic.com/projects/mattwatson-endlessshipwreck
'What a lovely song you gave Erica to work on. Love your vocals, sounding like you mean it Brother. You win x' Miles Hunt (The Wonder Stuff)
'For fans of Frank Turner, Decemberists and Ferocious Dog. This is a promising debut album from solo artist Matt Watson. I'm proud to feature on the title track, Grounded'
Erica Nockalls. (The Wonder Stuff, Proclaimers, Fink)
'Protest music in it's finest tradition, hope, despair and rabble rousing, It's all here!' Ian Prowse (Amsterdam/Pele)
'I finally had a chance to listen to British singer/songwriter Matt Watson's 'Grounded' album. This Record is chock full of bold, straightforward lyrics and powerful lead vocals, acoustic guitars, banjos,percussion and beautiful violin provided by Erica Nockalls of The Wonder Stuff. Give it a listen" Michael Ferentino (Love In Reverse/Miles Hunt Club)
"Like your work and performance energy Matt, and this is a strong recording." Tom Robinson
"Timeless" Sue Marchant. (BBC Cambridgeshire)
"Grounded is characterised by a certain and rare kind of rawness and naturalness." (FATEA)
"Grounded is well-crafted labour of love, perhaps taking inspiration from the Red Wedge school of music and politics, it's a recording Watson can be proud, capturing social disillusionment whilst maintaining rebellious optimism" (R2 Magazine 3*** Review)
"It's a breathless collection, A name to watch out for" Maverick Magazine (3***Review)
"It's gratifying to know that you can still find songwriters with attitude! Matt isn't one dimensional, For those seeking a refreshingly unsophisticated but honest and lively roots/song-oriented experience, look no further." Rock Society Magazine.
The past 2 years have been quite an exciting time for Matt gigging regularly in his native Norfolk, playing numerous gigs further afield, and festival stages including Sound and Vision, Folk East, and Latitude. Radio wise he has been featured on many stations in the East of England as well as Breakthru radio in New York and on Tom Robinson's show on BBC Radio 6.
Web: www.mattwatsonmusic.co.uk Music: www.mattwatsonmusic.bandcamp.com or www.soundcloud.com/mattwatsonnorwich