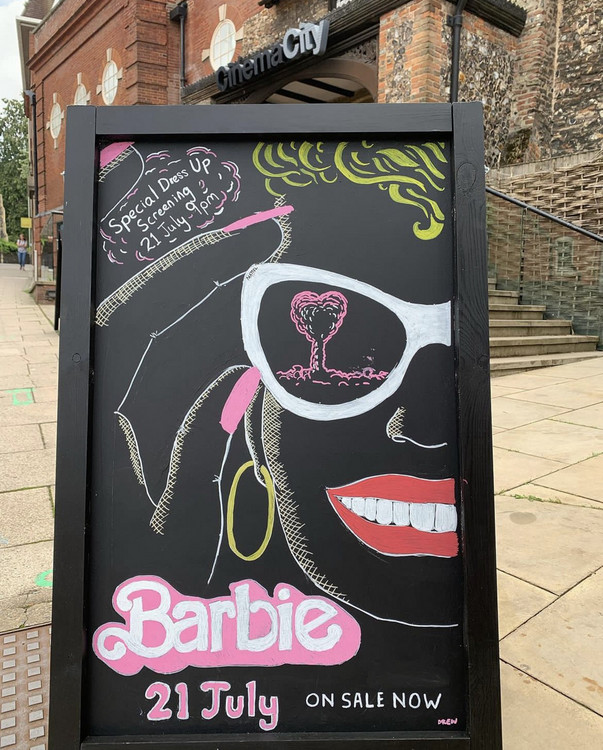 Barbie
Saturday, July 22nd 2023
In summary, the Barbie film delivered on all fronts, combining a well-crafted story, compelling themes, and a fantastic cast to create an unforgettable cinematic experience.
Read full Article >
---
---
Ants and Grasshoppers - Film Review
Sunday, September 25th 2022
"From the sun-beaten soil of Malawi, to the expansive and arid pastures of rural America, climate change continues to make its mark across the globe. However, this change hasn't gone unnoticed, and Anita Chikaya, resident of a small Malawian village, understands that something must be done.
Film Preview - Ants and Grasshoppers
Friday, September 23rd 2022
Our new Film Reviewer, Fred Cooper, previews this film ahead of it showing in Cinema City
The Batman
Saturday, March 5th 2022
Spider-Man: No Way Home
Thursday, December 16th 2021
Shang-Chi and the Legend of the Ten Rings
Tuesday, September 14th 2021
Free Guy
Thursday, August 12th 2021
Old
Friday, August 6th 2021
Pet Shop Boys - Discovery: Live In Rio
Wednesday, April 28th 2021
Sound of Metal
Tuesday, April 6th 2021
Justice League - Zack Snyder
Monday, March 22nd 2021
It's the best DCEU movie so far and restores some confidence in Zack Snyder's film making abilities that he can make something that visually is impressive but also adds substance that is worth recognising
Visability Film Festival
Wednesday, February 24th 2021
In addition to all of these fantastic titles, when buying a ticket and having access to the festival, you also get access to industry talks and Q&As with people from the films and experienced people from the industry.
Malcolm and Marie
Monday, February 8th 2021
Charity Film Screening - It's A Wonderful Life
Saturday, December 5th 2020
Charity film screening - proceeds to Norwich Street Aid
i'm thinking of ending things - Netflix
Monday, September 7th 2020
This is certainly one of Kaufman's best shot movies to date. This is only his fourth directing credit, his first since a personal favourite of mine, the 2015 film 'Anomalisa'. 'i'm thinking of ending things' is one of the most impressive looking films of 2020
Tenet
Thursday, August 27th 2020
Babyteeth
Saturday, August 22nd 2020
Saint Frances
Thursday, July 16th 2020
The Vigil
Thursday, July 16th 2020
Infamous
Thursday, July 16th 2020
The Old Guard - Netflix
Thursday, July 16th 2020
Artemis Fowl
Saturday, June 13th 2020
It's actually extremely hard to put into words how "nothing" this film is.
DA 5 Bloods
Saturday, June 13th 2020
The mental and physical torture they endure throughout is almost reminiscent of what they experienced when they were young men drafted back in the 1960's. Not only that, Lee's ability to mix heartfelt moments that really struck me and his way of bringing humour and shock to the table too. There is one particular scene over the halfway mark that made me almost fall off my seat
Portrait of a Lady on Fire
Tuesday, April 14th 2020
This is a stunning piece of work. As soon as I finished watching it, I wanted to watch again. A fascinating and heart-breaking look into the revelation of love, with the importance of gaze and youth derived from the story of Orpheus and Eurydice itself.
TIGERTAIL
Monday, April 13th 2020
'Tigertail' isn't a sugar-coated family drama that has that "feel-good ending" like in many American dramas, this doesn't hold back and delivers exactly on what you would expect to happen to you in life.
Onward
Friday, March 20th 2020
One thing that we can admit is that it certainly carries the vision and values of Pixar, and that's to tear you apart inside, make you cry and tap into human emotion ever so well. Is it as good as its predecessors?......
The True History Of The Kelly Gang
Wednesday, March 4th 2020
Little Joe
Thursday, February 27th 2020
Sama
Thursday, February 27th 2020
Emma
Saturday, February 22nd 2020
Parasite
Monday, February 10th 2020
The Lighthouse
Sunday, February 2nd 2020
After a gruelling 8 month wait from its Cannes Film Festival premiere in May 2019, Robert Eggers' The Lighthousehas finally come to UK cinemas. Produced and distributed by A24,The Lighthouseis yet another horror-thriller unlike any other.
Weathering With You
Friday, January 31st 2020
The Personal History of David Copperfield
Sunday, January 26th 2020
Bombshell
Friday, January 24th 2020
US Political dramas are always cannon fodder during awards season, every year there seems to be a new one making the headlines for potential nominations.
Little Women
Tuesday, December 17th 2019
Gerwig's film gives enough evidence that a story like this needs to be retold to for each generation, finding something new in the pages every time.
Motherless Brooklyn
Tuesday, December 10th 2019