Shock ! Hazard
Next big thing
Rock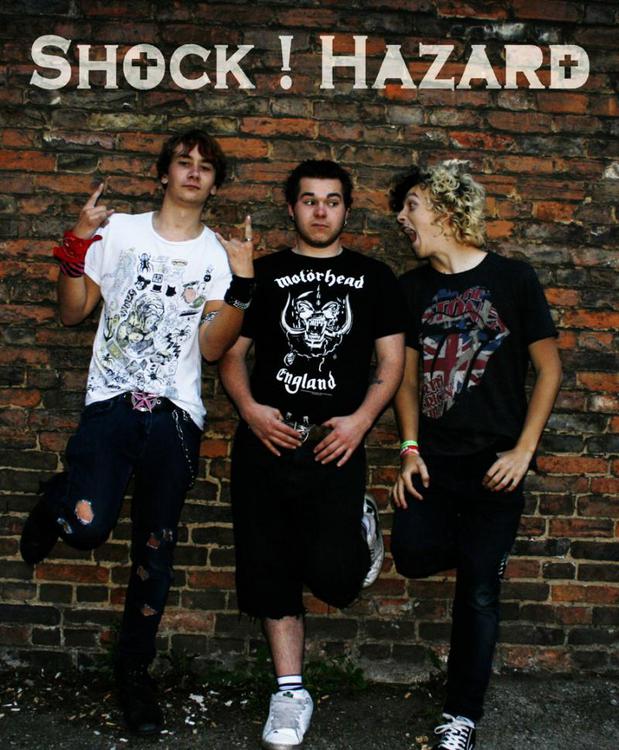 Shock ! Hazard are the definition of Dirty Rock. Mixing Punk, Hard Rock and Glam Metal to create what is Shock ! Hazard. Take the in your face stage performance, catchy tunes, balls out riffs and mix it with Revolutional Lyrics; Shock ! Hazard are out to make their stand on the music industry and the World. Influences from AC/DC, Motley Crue, Sex Pistols, The Used.
They released their Debut EP "Danger of Rock" in April 2012 which is available on iTunes, Spotify and all other major online music stores. They have been rising from strength to strength over the 2 years and have got them selves noticed by the BBC and Kerrang Magazine aswell as attracting a following Worldwide.They gained themselves a Gold Disc Award for the Best Written Song in the Live & Unsigned Competition in 2012 for the Title Track of the EP.
Over the past 2 and a half years they have played with lots of bands including; Cheap Thrill (Jeff Labar & Eric Brittingham from Cinderella, Troy Farrell from White Lion), The Barb Wire Dolls, Shameless, Tuff, Michael Monroe, The Last Vegas, Falling Red, Adam Bomb, '77 and lots more. The band last year played over 100 shows across the UK, in 2014 already they will have played 100 Shows half way through this year (3 UK Tours & 2 European Tours).
They completed their own 30 Date UK Tour across 6 weeks in early 2014. This was a self-booked tour organised by the band using contacts they have gained over the past two years. The tour takes them all across England and Wales playing Venues such as The Yardbirds in Grimsby and Venues in London.
They completed a Tour Deal with Cheap Thrill, (Jeff Labar & Eric Brittingham from Cinderella & Troy Patrick Farrell from White Lion). A 20 Date European Tour (UK, Germany, Switzerland, Netherlands, Norway, Spain) in Spring 2014. Shock ! Hazard were main support for the whole European Leg of the Tour. The last date of the tour Shock ! Hazard supported Michael Monroe at the Razzmatazz 2 (4,000 Capacity) in Barcelona which was a Sold Out Show.
Immediately after the Cheap Thrill tour they set out to Europe as Main Support for The Last Vegas for 15 Dates across; (Belgium, Germany, Netherlands, Denmark, Austria, Croatia & Hungary). A DVD Documentary was filmed on the tour for The Last vegas, Shock ! Hazard will be releasing their own Short Film with Live Performances, Backstage Footage and Interviews from the Tour
Currently Shock ! Hazard are booked for a Festival Run in Holland/Belgium, A UK & Northern European Tour, as well as booking their own Headline Spain Tour for Late 2014/ Early 2015.
All of the Tours, Releases, Videos and all the other hard work is made possible by the three members of the band. No managers or labels, just hard work and determination from 3 Musicians.
Facebook.com/shockhazardband