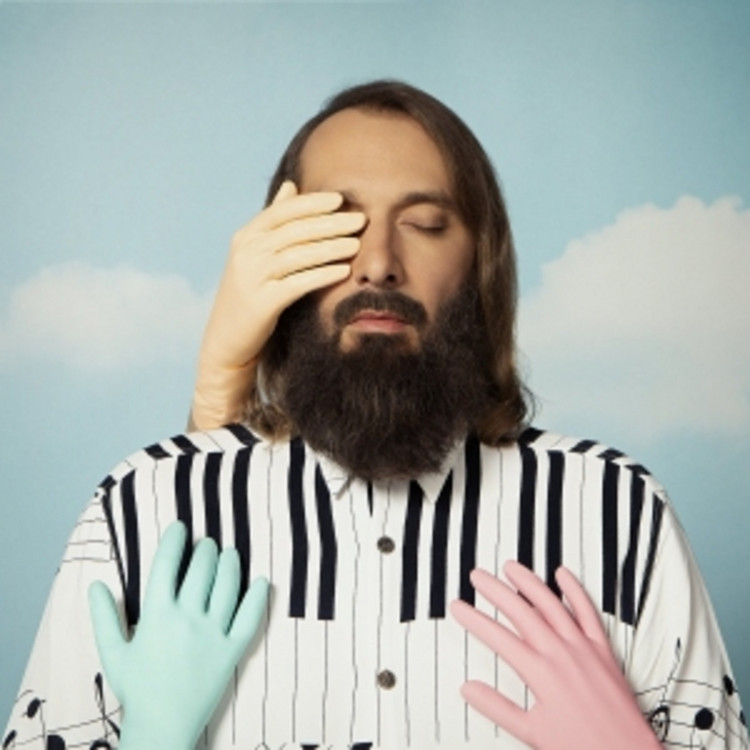 ---
---
Luke Wright - Stand Up Poetry While Sitting Down at Home
The Unthanks - Diversions Vol. 5
A collection of songs recorded during the Unthanks tour last year, when they returned to their roots, singing unaccompanied and in harmony. More a miscellany of tunes than a curated collection, this is nonetheless what traditional folk music is all about - reflecting on hard times with both stoicism and good humour. It's a timely reminder of happier times, when folk congregated in big rooms and listened to other people singing.
Blithe Spirit
The Red Shoes
Geoff Norcott
John Shuttleworth's Back
Independent Venues Week - Floral Image
Rambert 2
Drink Rum with Expats
I'm watching something meandering, discursive and episodic, but for all the seeming flakiness and chaos, it quickly becomes apparent that Louise and Rebecca are presenting a tightly choreographed duologue. What sets Sh!t Theatre apart, however, is a willingness to flip humour and horror back and forth – sometimes recklessly so. The maxim of not knowing whether to laugh or cry never seemed more apposite and the effect is unnerving and disorientating.
Hayley Ross – The Weight of Hope
Dial M for Murder
A hugely entertaining production that acknowledged its period charm, yet cleverly distinguished itself with a stylish shift to the louche, unbuttoned milieu of the swinging sixties. Anthony Banks's jolly revival never took itself too seriously, yet delivered all the necessary ingredients. It was fun, wildly improbable, and tied everything up neatly at the end
Adrien Munden – The Truth is Weaponised
Dripping with melancholy, this is an astonishingly assured and mature work. In an age when we select rather than browse and skim rather than immerse, it's such a pleasure to fall across an album of such substance.
Graham Fellows discusses his new show, John Shuttleworth's Back
"Sometimes I have to check myself and think whether John would really say something. I worry that John might be a Daily Mail reader who supports Brexit – I don't think he is, but sometimes it's tricky to come down one side or the other..."
Boris + Arabrot
The music itself was full of stark, thunderous menace, counterpointed with moments of surprising delicacy. On occasion I was gobsmacked by the band's symphonic ambitions; at other times I felt I was listening to little more than a cacophonous row.
Uriah Heep + Diamond Head
The evening inevitably finished on a rousing encore of Easy Livin' (proving not that every song had to be tricky to be good) and the band grinning from ear to ear as they played. It only served to consolidate the abiding impression throughout, of the strong bond between the men on stage, delighted that they still got to do this for a living.
Glyndebourne - Rigoletto
After the sunshine and warmth of the previous night's 'L'elisir d'amore' the Glyndebourne Tour could not have provided more by way of contrast.
Glyndebourne - L'elisir d'AMORE pt. 1
Glyndebourne Tour in Norwich last night gave me the opportunity to immerse myself for two and a half hours in Italian operatic sunshine, whilst the rest of Norwich shivered in the dark and the cold outside.
Comet Is Coming + Leaftcutter John
Cinderella - Northern Ballet
Northern Ballet are always eagerly awaited visitors to the Theatre Royal, both for their full productions and for their wonderful child-friendly shows (they return in April 2020 with a special version of Little Red Riding Hood). We now have October 2020 to look forward to, and their return with an exciting new production – Merlin
The Amazons - Demob Happy - Mysterines
Guitar music is by no means dead. It has just been resting.
A Taste of Honey
It also says much for this production that a cocktail of an unmarried teenage pregnancy, gay friendships, mixed race relationships, alcoholism and unremitting poverty, could be presented with such defiant stoicism and good humour.
Kate Tempest
After taking their bows together, she and Clare Uchima leave the stage, and an audience that has just given them the biggest, most rapturous, ovation that I can ever remember hearing at the LCR.
Phil Campbell & The Bastard Sons - King Creature
..it was with some trepidation that I went along to see him play with his Bastard Sons, and I desperately wanted to like what I found.  What a pleasure it is, therefore, to report what a great band they are....
Trying it On
Why did so many of the Sgt Pepper generation turn their backs on revolution?
Acosta Danza- Evolution
The fluidity of the movement, together with the dancers' phenomenal strength and control, is breathtaking, and lead dancer Zeleydi Crespo has a powerful presence which has the entire audience spellbound
The Membranes + Other Half + Skint and Demoralised
The band was uniformly excellent....
Pizza Shop Heroes @ Stage 2 NTR
Pizza Shop Heroes is a significant and worthwhile attempt to explore the harsh realities of seeking asylum in the UK. It is episodic and uneven, but has a huge heart.
[UNIT] Reach The Moon
Reach The Moon, managed to achieve what many others have tried and failed to do – to recreate the excitement and overwhelming sense of achievement that emerged from that historic moment on July 20th, 1969
Hot Chip and Rosie Lowe
They may have been around for almost two decades, and may not have visited Norwich for a while but, judging by tonight's show, Hot Chip have certainly not gone off the boil.
Wild Paths Festival
Was Wild Paths 2019 a success? Well, you had better believe it. With its incredibly ambitious goals for a first year, booking a ridiculously rich array of artists and venues, but by galvanising a fantastic team of organisers and volunteers, somehow Ben Street had pulled it off – four days and nights of remarkable shows that reinforced Norwich's position on the musical map, and gave the city's music fans plenty to talk about for months to come. Thank you, Ben.
Hawklords
The gentlemen of Hawklords have long since been able to stand on their own feet, a comfortable distance from their Hawkwind association as they prolifically pump out freshly minted material that continues to impress
Emily Jane White - Immanent Fire
Thought-provoking, at times perhaps a little clichéd, but entirely relevant and altogether rather beautiful.
Acid mothers Temple - Our Quiet Friends
Acid Mother Temple are a quite extraordinary genre-defying ensemble of talented Japanese musicians that from the outset delivered  a wall of thunderous sound that was energising, uplifting and just a bit bonkers
Richard Hawley - Get Cape Wear Cape Fly
This was a precious evening of magnificent songwriting, professionalism and performance, all served up by one of Sheffield's finest.
Rambert's 2019 Tour
Rambert's visits to Norwich are always eagerly anticipated, and this programme of three very different yet thematically interconnected pieces, demonstrates Benoit Swan Pouffer's commitment to maintaining the company's proud reputation for taking risks....
Deepdale Festival
if you are looking for a friendly and extremely well-organised weekend that offers an eclectic mix of music that makes you want to dance, makes you want to cry, and sometimes just makes you go want to go 'wow!', then Deepdale is it
Kevin Kendall's Deep Skies Experience
Visit most of the various musical venues in Norwich, and I'll warrant you will do so with a preconception of the kind of act you're going to see. The exception is surely Epic Studios, frequently playing host to the eccentric and undefinable that doesn't easily fit in anywhere else
My Kind of Michael
an evening of knockabout fun with a charming host that was warm and inclusive, but how frustrating that, with a just a little more work and attention to detail, we could have had so much more.
Galli - In The Roundhouse There's Hornets
This surely confirms them as one of the most innovative and original acts to emerge in 2019
Nerija - Blume
Exciting solo performances from each player demonstrate Nérija's collaborative ethic, and the breadth of individual talent within this scintillating project.
BABii - HiiDE
A brilliantly brave debut.
Anglia Square A Love Story
It is a journey that, over the course of two hours, and more than six centuries, tells the tale of two cities....As a result, I am more in love with this city than ever before. Anglia Square included.
The Mousetrap
Armstrong's ensemble cast looked to be having enormous fun chattering their way through acres of exposition in clipped, received pronunciation, delivering their lines with exactly the right degree of knowing humour, without ever quite lapsing into parody
Solana + Nebula Sun
This was indeed an evening of wide-ranging musical delights, when the sun really did come out and shine
Sharon Van Etten
During the course of the evening we get a chance to hear each and every one of the album's ten track
Foals + Yak + Kiev
Al Murray - Pub Landlord
Al Murray - Pub Landlord
Educating Rita - Review
The Rutles
… the evening was always going to end too soon
10 Soldiers
This production left me wondering at my appraisal of the earlier work.
Claire Grogan of Altered Images
Back in the early 80's Altered Images were one of the biggest pop acts around, with three top 30 albums and six UK top 40 singles between 1981 and 1983. We talked to lead singer and songwriter Clare Grogan, and asked her about the band's initial success, and their continuing popularity more than 35 years after Happy Birthday was first released.
Rachel Podger and Brecon Baroque
Colin Currie Quartet (NNF)
The end came too soon, in an evening that had flown by
Bells and Spells (NNF)
Bells and Spells is an episodic, hallucinogenic journey through increasingly loopy vignettes drawn from Chaplin's weird and wonderful imagination.
Tenebrae (NNF 19)
Stunning soloists, extraordinary harmonies, and flawless execution were evident throughout a performance
Wild Longings
Jess Gillam
What proved consistent throughout the evening was Gillam's infectious enthusiasm and commitment to her instrument and the eclectic pieces she had chosen to play, something that shone through her brief chats with the audience
The Showhawk Duo
Lisa Hannigan with Stargaze – Live In Dublin
Hannigan's typically sparse and ethereal folk compositions into a sonic panorama that is nothing short of alchemic.
Alexander Carson Album Launch
Tracks like Ghosts and Lovers ably demonstrate what a beautiful album Ellipsism has turned out to be
Jesse Mac Cormack - Now
Jesse Mac Cormack's album debut arrives as a work of scorching atmosphere, panoramic tumbling melodies and vast lyrical spaces
Pepperland
The resultant 60 minute show is a kaleidoscopic and psychedelic delight from start to end.
Andrew Maxwell. Showtime
Shashamané Recommends... Lisa Redford and Galli
The Good, The Bad, and The Queen
Whichever route (musical choices, age, or whatever) brought us here, we were all to experience to one of the most moving and stirring musical evenings that I have attended at the UEA.
The Slow Readers Club
The Slow Readers Club may have cornered the Indie electro doom pop market, such as it is, but they've been clearly influenced by some of the finest acts of the last century, mixing up a cocktail of sounds in a way that is both discriminating and imaginative.
Ioanna Gika - Thalassa
Roseate, is undoubtedly the strongest track of the entire album, a powerful mission statement that begins with harp and ethereal vocals and builds to a surging conclusion, complete with pounding drum machine, synth and strings.
Swan Lake
It proved to be as stunning and breath taking as ever, confounding the prejudices of anyone (not least me) who thinks ballet simply isn't for them.
Idles
this music contains brilliantly crafted slices of wit and irony set out to debunk male toxicity, xenophobia and anti-matriarchy
Rough Crossing
Stoppard's text constantly reminds us that this is a play about a play, poking fun at theatrical convention, making a virtue of its shortcomings, and openly taking the mickey out of anyone investing too much energy into proselytising art
Hayseed Dixie
A stunning set of imaginative rearrangements, which combined with a healthy sprinkling of their own composition, stretched for over two hours.
The House on Cold Hill
...from the outset, a jolly thrill ride that takes full advantage of the possibilities of live theatre, presenting a classic haunted house story with a combination of impressive stage trickery and winning performances
Skinny Lister – The Story Is...
All in all, another noteworthy collection
Molly Tuttle – When You're Ready
When You're Ready emerges as one of the most impressive and accessible of debut albums
Nic Norton and The County Band – Last Orders
Norwich's Nic Norton returns with another engaging and original collection
Caroline's Kitchen
The chemistry between Elizabeth Boag's convincingly drunk Sally and Alan Gillett's character lifted the production just when it needed it
10cc
I know reviews are not supposed to be lists, but when the first five songs are Wall Street Shuffle, Art for Art's Sake, Life is a Minestrone, Good Morning Judge and The Dean I, it warrants a special mention
The Life I Lead – Miles Jupp
Miles Jupp's achievement, in bringing to life an actor known for only a handful of roles, and doing so in a way that was utterly engrossing and a complete delight, was surely all the more remarkable given the relative obscurity of his subject
Richard Alston Dance Company
its relentless pace grips and holds right until the very final spin.
Liveline Feb/March 2019
Hajk - Drama
tale of two lovers on the precipice of break-up
Fun Loving' Criminals
Tonight, Huey Morgan is definitely 'the man', and Fun Lovin' Criminals do what they do best – leave their audience hungry for more
Lost Voice Guy
His opening salvo is a warning that if I don't laugh at the disabled guy I will go to hell
Rambert 2
Top marks to the Norwich Playhouse for hosting this debut visit from Rambert 2. The scale of the venue, and the fantastic sound, made this a perfect evening
Romeo and Juliet
Erica Whyman had decided on a contemporary transfer for this 400 year old tale of family feuding, love at first sight, and crossed star destiny, but it is a darker, starker version of the classic.....
Gyða Valtysdóttir - Epicycle
What is so inspiring about Valtýsdottir is her ability to take other peoples music as merely the starting point for what she creates
Focus
The Neutrinos
Graham Fellows
Susanna & The Brotherhood of Our Lady Album - Garden of Earthly Delights
A musical interpretation of Hieronymus Bosch's fifteenth century triptych panels sounds like the kind of recorded oddity that emerges from a crate digging session at the local vinyl fair, rather than a contemporary electronic folk-jazz release.
Bayonne - Drastic Measures
Drastic Measures emerges from the new wave of composer-musician-producers...
Steve Harley and Cockney Rebel
'True musicians do not have a choice', he muses, 'we just have to keep on writing and performing. It is what we do'. Well evidenced at this gig
Andrew O'Neill's Black Magick Fun Hour
A Christmas Carol
An imaginative sixty minute show created around Dickens' iconic 1843 work,
From The Jam + Nine Below Zero
Miles Kane
Even before the house lights dimmed the crowd had started up a chant of 'Miles, Miles - Miles Fucking Kane'
Gilmore & Roberts
Their voices fit together perfectly  and are also comfortable taking lead, usually on their own compositions. But when you listen to the lyrics of each song you realise that the inspiration often comes from a very specific source.....
Jessie J
Whether you are a fan of Jessie or not remains a matter of individual taste, but from what I saw and heard tonight the new material deserves a serious listen – her voice is strong and confident, and the songs are a million miles away from the frothy pop of 2011
Hawklords
Soft Machine
When a band that originally formed in 1966 changes its name four times......Yet I really should not be worried
Camille O'Sullivan
Deacon Blue
The band are currently on a celebratory tour of the UK, and Sunday night at the Theatre Royal was their first visit to Norwich since playing here in 2013.
Dr. Feelgood + British Blues Foundation
Curved Air
Curved Air at The Waterfront
Glyndebourne Cinderella comes to Norwich
Pancrazi is wonderful as Prince Charming, and her parallel appearance as a maid and confidante to Cinderella in Pandolfe's household suggests a dimension of gender fluidity, adding yet another layer of duality, metamorphosis and contrast to the production
Tilting Sky
Johnny Marr
I never got to see The Smiths perform live, and Johnny Marr had packed up his guitar and left The Cribs by the time they played Latitude in 2011, so this gig at the Nick Rayns LCR was to be my first up-close encounter with the legendary guitarist
Rich Hall
Blancmange
Norwich with yet another – Wanderlust - which he showcased at the Norwich Arts Centre on the opening night of his latest tour.
The Velveteers
It started the previous night, when someone suggested that I really ought to check out The Velveteers at Bermuda Bob's Rum Shack. 'They're a bit like The White Stripes', they explained, before adding cryptically, 'But then, they're not'. I'm intrigued, but could actually do with that night in. I file the suggestion under 'poss, but probs not'.
Eivør
I am unsure how the name of Eivør Pálsdóttirremained underneath my radar for quite so long
Macbeth
Glenn Tillbrook
Editors + Talos
Julia Holter - Aviary
Kagoule - Strange Entertainment
Kramies - Of All the Places Been & Everything the End
Kirsty Merryn + Hanna Haas
Jorja Smith
Still Alice
Mark Watson: The Infinite Show
The Vagaband Orchestra in aid of Sistema
Molotov Jukebox + Huw Eddy & The Carnival
Neneh Cherry - Broken Politics
Exploded View - Obey
Justice - Woman Worldwide
Villagers - The Art Of Pretending To Swim
Ray Davies - Our Country
Anna Calvi - Hunter
Gig In The Park, Diss
Dysney Disfunction
Love From A Stranger
WoW Music Festival 2018
The Oli Brown Band
Lost in a Sea of Glass and Tin
Peter And The Test Tube Babies
Rival Consoles
Finn Doherty - The Choice That You Made
David Ford & Beth Rowley
Matt Maltese - Bad Contestant
Falling From Trees - Sleepless Nights EP
Nic Norton and the County Band - Brief Lives
The Orb - No Sounds Are Out Of Bounds
Ben Folds
Kathryn Tickell and The Darkening
Kerry Devine
Hofesh Shechter's Grand Finale
1549 - The Story Of Kett's Rebellion
The Sixteen: An Immortal Legacy
Talvin Singh
David McAlmont presents 'Billie Holiday At Carnegie Hall'
The Nature Of Forgetting
Grapevine at the Guildhall
The Wilko Johnson Band
Nerina Pallot
Kele Okereke
Art
Czech Symphony National Orchestra
How (not) To Live In Suburbia
MØ
Portico Quartet
Aphra EP Launch
Nerina Pallot
Luke Wright - Frankie Vah
The Audit
Carry On Jaywick
Sarah Darling
Luke Daniels, Phil King and Lucy Grubb
Gallowglass
Editors - Violence
U.S Girls - In A Poem Unlimited
Mark Thomas: Showtime From The Frontline
Grapevine Triple Bill
Open House 4
Boris and Sergey's Vaudevillian Adventure
Grapevine Triple Bill
The Xcerts - Hold On To Your Heart
John Otway
Thomas Truax - All That Heaven Allows
Late Nights / Early Mornings. An Outline
An Outline of Late Nights / Early Mornings
BBC Radio Three: Exposure
Carl Palmer's ELP Legacy
Meadowlark
Sweet Baboo
Mammal Hands
Paddington II
Edgelarks
PINS
Oh Wonder
Reverend Billy & the Stop Shopping Choir
Millie Manders and the Shut-Up
Frogman
Rambert
Beth Rowley
Goodbye Christopher Robin
Show Of Hands
Belinda Carlisle
The Revelation Brothers
Clive Gregson & Liz Simcock -Underwater Dancing
Edgelarks - Edgelarks
Jess Glynne
The howtocuredyslexiaband - Teeth
Anna Of The North - Lovers
The Gunton Festival of Food And Music
The Dead Rat Orchestra - Tyburnia
Camille - Oui
Border Control
Clean Bandit
Come Yew In!
Elbow
Kathryn Williams - Songs From The Novel: Greatest Hits
PIXX - The Age Of Anxiety
Saint Etienne - Home Counties
Echobelly
Meadowlark - Postcards
Speech Debelle - tantil before I breathe
Echobelly - Anarchy and Alchemy
Sunny Afternoon
The Big Moon - Love In The 4th Dimension
Jesca Hoop
Bourgeois and Maurice
Tall Ships - Impressions
John Shuttleworth
Ruby Wax
Fenech-Soler
Space
Sophie Ellis-Bextor
Whitney - Queen Of The Night
C Duncan
Seaway
Matt Watson
Rebekka Karijord - Mother Tongue
Open House 1
Odd Box presents Lake Combover and more..
SJ and the Flying Pigs
Dutch Uncles - Red Balloon
Seth Lakeman
Lissie
Big Country
Terrorvision
The Fratellis
Scott Matthews & Kathryn Williams
Bear's Den
Rope Store - Never Had Christmas 7"
Lloyd Cole
Alpines - Another River
We Are Scientists
Agnes Obel - Citizen Of Glass
The Divine Comedy
All Saints
Mogwai's Young Team and Stuart Braithwaite
Norwich Sound & Vision 2016
UB40
Ward Thomas
Goo Goo Dolls
Feeder
Rope Store - Up Until Now
Kate Jackson
The Divine Comedy - Foreverland
Molly Naylor - Badminton
C Duncan - The Midnight Sun
Joan Collins Unscripted
Sonic Youths Autumn Showcase @ NAC
Four young local acts impress.
Class of 2016
Sonic Youths Autumn Showcase 2016
Class of 2016 @ NAC
Good luck to you all.
Abigail Blake - Birdcage EP
9/10
Sea + Air @ The Bicycle Shop
Delightful.
Izzy Bizu - A Moment Of Madness
Benjamin Francis Leftwich - After The Rain
The Ramona Flowers - Part Time Spies
6/10
The Tilting Sky Takeover @ the Waterfront
Every one of these bands I could go and enjoy live again
Ed Harcourt - Furnaces
Lisa Hannigan - At Swim
Bat For Lashes - The Bride
9/10
Ketts Rebellion 1549 @ Heigham Park
An enthralling and illuminating spectacle.
The Slambovian Circus of Dreams @ the Waterfront
One Slambovian hell of an evening
Olympians - Reasons To Be Tearful
7/10
Nahko and Medicine For The People - Hoka
7/10
Coasts @ Open
A calculated crescendo
Jess Morgan @ the Maddermarket
One of the country's finest young folk singers.
Frances @ Norwich Arts Centre
A big star in the making.
Kathryn Williams @ the Bicycle Shop
The audience is totally enraptured with each song
A Midsummer Night's Dream @ Theatre Royal
An evening of absolute professionalism.
onDeadWaves - onDeadWaves
8/10
C Duncan @ Norwich Arts Centre
The vocal harmonies are gorgeous
The Cut III @ Open
A musical Venn diagram,
Lisa Redford - Another Place and Time EP
8/10
Catnip & Claws @ The Murderers
The weekend has most certainly landed.
The Coathangers - Nosebleed Weekend
9/10
Eliza and the Bear - Eliza and the Bear
5/10
Joe Gideon @ Jug Jaws @ Bedford's
An underground vibe in ancient vaults.
Emmy the Great @ NAC
I am definitely on board.
Simon Callow @ Norwich Playhouse
An engaging and informative evening
Joe Gideon - Versa Vice
7/10
She Drew The Gun - Memories Of The Future
9/10
The Ramonas @ The Owl Sanctuary
A quasi-religious experience
Dog's Dinner - Stalker Thoughts
8/10
The Birthday Party @ Norwich Playhouse
A perfectly-pitched production
The Magic E's @ the Waterfront Studio
Get to know your local music scene
Matt Corby - Telluric
8/10
Elton John - Wonderful Crazy Night
8/10
The Crookes @ the Waterfront
Big up support Misty Miller.
Lucy Rose @ Open
We are, once again, helplessly won over.
Christine and the Queens - Chaleur Humaine
9/10
Steve Mason – Meet The Humans
8/10
Miss Nightingale @ Norwich Playhouse
Get a bit of sausage when you can
Eliza and the Bear @ the Waterfront Studio
We all by now know that there is neither an Eliza nor a Bear in Eliza And The Bear.
Lindi Ortega @ NAC
This is never going to quite float my boat
Addison's Uncle fundraising night
A triumph.
Field Music - Commontime
8/10
Gaz Coombes @ Open
Gaz Coombes is no stranger to Norfolk
Rope Store @ B2
I really love this band to bits
Stephanie Kirkham - Tiny Spark
3/10
Eska @ NAC
Not bad at all, Eska
Megson @ NAC
Contemporary folk in all its domestic glory
Ellie Goulding -Delirium
9/10
Martin Courtney - Many Moons
6/10
Eliza Carthy @ Open
The performance is definitely on a grand scale, with so many individual talents on display
Palma Violets @ The Owl Sanctuary
You see? Norwich does know how to have a good time.
Lesley Garrett @ the Maddermarket
A thoroughly entertaining, impressive and thought-provoking evening
NS&V @ Millennium Library
A truly inspirational idea from NS&V and the library management
BN Deluxe - This Machine
5/10
U.S Girls - Half Free
8/10
Oh Wonder - Oh Wonder
9/10
#360kickflip @ Eaton Park Skate Park
BK & Dad, Midnight Zoo & Claws play live
Stacey Kent @The Playhouse
A warm and superbly talented performance
Sean Hughes @ Norwich Playhouse
Let me laugh with you, Sean, not at you or at others.
Deaf School @ the Waterfront Studio
Forty years later, again they leave us wanting more.
Stereophonics - Keep The Village Alive
7/10
Ryley Walker @ Norwich Arts Centre
Compelling to watch, and to hear.
Dave McCabe and the Ramifications - Church of Miami
5/10
DRINKS - Hermits On Holiday
9/10
The Bohicas - The Making Of
7/10
Annie
A banging good family musical with a great cast and unforgettable songs
Kim Churchill - Silence/Win
7/10
Nicholas Godin - Contrepoint
6/10
Augustines @ The Waterfront
"An arena performance but with the intimacy of a private audience"
Wildflowers - On The Inside
5/10
The Wedding Present @ The Waterfront
The Boy Gedge's two bands play Norwich
Jacqui Dankworth @ Maddermarket, Norwich
The second half appears to kick off with a new-found synergy
Gigspanner @ Norwich Arts Centre
Tonight Gigspanner spun the world thrice over.
Danny and the Champions of the World - What Kind Of Love
8/10
Kathryn Wiliams - Hypoxia
A tour-de force
Sundowners - Sundowners
As sure as night follows day we need bands like The Sundowners.
Nadine Shah - Fast Food
A veritable smorgasbord of reflection and projection
Julian Cope
Saint Julian takes to the Waterfront
Barbarossa - Imager
A beautiful and sensitive album that is a lot more uplifting than you might first expect
I Am Kloot - Hold Back The Night
Banging job.
Amber Run - 5 AM
An ambitious album of pretty average songs.
Addison's Uncle
Addison's Uncle play on Norwich Market
This is the Kit
This is the Kit delight NAC once again
Stornoway - Bonxie
This is indie-folk for the Waitrose generation.
Yila and Friends @ NAC
Totally engaging, beautiful and thought-provoking.
Champs - Vamala
Pick yourselves up, Champs, and try again.
Peace @ Epic
A triumph for Peace
Public Service Broadcasting - The Race for Space
Like eating jam roly-poly without the custard.
Kitty, Daisy and Lewis - Kitty, Daisy and Lewis III
A crowning glory.
Gaz Coombes - Matador
Gorgeous, masterful, confessional, and uplifting.
Submotion Orchestra
Spotlights carve across the stage like a lighthouse on a misty night.
Daisy Victoria - Nobody Dies EP
A truly complex talent whose fame is already set to spread beyond our Norfolk borders.