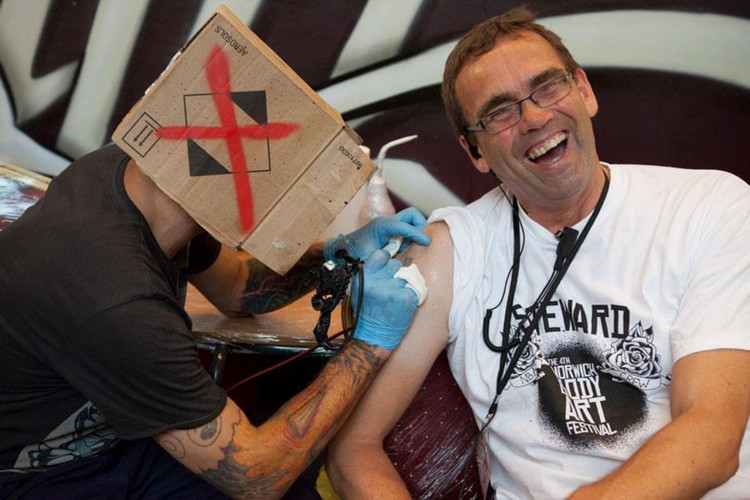 Outline Magazine - Running A Magazine During A Pandemic Age
Support your local independent businesses! Norwich is so fortunate to have so many such businesses, and now is the time to spend your pennies with them, not the chains.
Read full Article >
---
---
Meat Puppets
Welcome To Night Vale
The Nutcracker Northern Ballet
Will Varley + I Said Goodbye + Ailbhe Reddy
Matthew Bourne's Cinderella
The Voice Project presents Travels In Light
The Divine Comedy
Mark Lanegan
Future Islands
Slava's Snow Show
Hedda Gabler
Missy Malone's Halloween Burlesque Revue
Bessie Turner
The Jesus And Mary Chain
DJs Hazard & Hype
Goat Girl
Sparks
Sleaford Mods
YolanDa Brown
The Curious Incident Of The Dog In The Night Time
Zola Jesus
The Lovely Eggs
Peggy Seeger
The Jesus and Mary Chain
Mary Epworth
FolkEast 2017
The Voice Project - Travels In Light
A message to our readers
Big Fish Little Fish Family Rave
VANT
The Psychedelic Furs
The Amazons
Sparks
Milk Teeth
Lambchop
65daysofstatic
Jane Eyre
Lil Eazy E
DMA's
The Flaming Lips
BUG Norwich 17
Orchestra Of Samples
The Common Lot
Magoo
Hollie McNish
Abandoman
The Crack Of Dawn
Graeme of Thrones
Melt-Banana
Down By The River
DJ Format and Abdominal
Ian Hunter
The Little Unsaid
Addictive TV - Orchestra of Samples
Leaone
Harry Baker
Graeme of Thrones
The Arms Of Sleep
Ragroof Tea Dance - South American Way
Philip Glass & Laurie Anderson - American Style
Steven Isserlis
Aida
Design the Wlidman's new pub sign!
Mullally
The Voice Project
Speech Debelle
James Leg
Echobelly
Big Daddy Kane
Super Sunday
Casanova
Interview with 'Casanova'
Alexander O'Neal/Mr Thing
The Comet Is Coming
Jesca Hoop
Babe, The Sheep-Pig
Ward Thomas
Spooky Kid Productions
Luke Peter Foster
Breakin' Convention
Birds Of Hell
De La Soul
Mr Thing
The Red Shoes
The Nightingales
Grandaddy - Last Place
Arthur Smith
Ghost
Glass Animals
Jarrod Dickenson
New Model Army
Ray Davies - Sunny Afternoon
Vidya Patel - Richard Alston Dance Company
Sigala
Noisia
Nathan Fake
Loyle Carner
Anthrax
La Cage Aux Folles
The Word On The Streets
Billy Bragg
Plaid
The Nimmo Twins
The Nightingales
C Duncan
Busted
The Flaming Lips - Oczy Mlody
The Orb
Crude Apache's Richard III
The Coral
Skinny Girl Diet
The Orb
Seth Lakeman
Martha Reeves and the Vandellas
Low
KlangHaus
Savages
Sisters of Mercy
Black Grape
Missy Malone's Burlesque Revue
The Damned
Savages
Lanterns On The Lake
John Hegley
Jack Savoretti
Honeyblood
Courteeners
The Pictish Trail
The Pictish Trail
The Divine Comedy
Cabbage
Black Foxxes
Gnoomes
Ghostface Killah
Acid Mothers Temple
Akala
Pixies - Head Carrier
Mad Professor @ NAC
Really big, really loud and really beefy
Imarhan @ Norwich Arts Centre
Incredible desert vibes
Pete Rock & CL Smooth
[UNIT]
[UNIT] @ The Shoe Factory
A vortex of feels.
Gary Numan
Bad Breeding
Norwich Medieval Mystery Plays @ Norwich Castle Keep
Both original and clever.
Toots and the Maytals
The Membranes
Sundara Karma
Chris T-T
Germaine Greer
Classic Ibiza
Birds of Hell
Birds of Hell @ Eaton Park Cafe
Consistently bloody great
Classic Ibiza @ Blickling Hall
I reckon Anne Boleyn was all hands in the air on Blickling's roof.
Saturday at Cambridge Folk Festival
What a beautiful place Cambridge Folk Festival is, both spiritually and physically.
Germaine Greer @ NAC
A very interesting, informative, inspirational and irreverant evening
The Hot 8 Brass Band @ the Waterfront
A super-fun, summery, celebratory time
Don Broco
The Besnard Lakes
Belly @ The Waterfront
A love fest of the highest order.
About us
History Mystery @ Norwich Guildhall
What happens in the cell stays in the cell.
Sofar gig @ Waterloo Road
The Norwich music scene's best kept secret
Where You're Meant To Be with Aidan Moffat @ Cinema City
A night that will never be forgotten
Skinnyman
"I wanted to unify!"
Ryley Walker
"The best thing is playing a great gig"
Let's Eat Grandma
"We want to become the next Prime Ministers so Boris doesn't."
Belly
"Being unselfconscious is precious"
Shiners
Fresh new music that is instantly familiar
Tinariwen
"We all have to take responsibility to build the world of tomorrow!"
The Hot 8 Brass Band
"You have to respect yourself and the music first"
Mercury Rev @ Norwich Arts Centre
A perfect performance for me.
Vintage Trouble @ the Waterfront
An hour and half of sweat, joy and exorcising demons from Vintage Trouble
Wonk Unit @ The Owl Sanctuary
A very special band indeed.
Moon Duo @ Norwich Arts Centre
Hypnotically powerful
Courtyard KAchink @ Anteros
What a lovely night.
Aidan Moffat - Where You're Meant To Be
"It's a deep but light-hearted look into what we all would like to leave behind."
La Chiva Gantiva @ the Spiegeltent
An incredibly infectious, upbeat live energy
Mammal Hands/Moon Hooch
Welcome to the new jazz era.
The Egg Cafe @ Norwich Arts Centre
If music be the food of love, play on.
Vintage Trouble
"Working with Scorsese was wing-expanding."
The Furious Five
"We were the original B Boys from the Bronx! "
Moon Duo
"I've always been interested in the cyclical aspects of life"
Mercury Rev
"You can really connect with people in a small venue."
Avec Sans
"Michael Stipe let me take a selfie!"
Big Narstie
"I could be a fat Conan the Barbarian!"
Wooden Arms
It's music that is easy to love
Wonk Unit
"Norwich is brilliant."
Tindersticks @ Open
Definitely a performance, not a gig
Walk With Me @ Felbrigg Hall
A genius idea very well done.
Moh! Kayoute at the Spiegeltent
Beautifully relaxed and laidback
Max Richter Ensemble @ Theatre Royal
Mindblowing.
The Story Machine @ Dragon Hall
How nice, to be read a story.
Spring King @ Waterfront Studio
Spring King deserve to be bounced to
Yuck
"Norwich Arts Centre is my favourite venue in the UK"
Yuck
"Norwich Arts Centre is my favourite venue in the UK"
Tindersticks
"We always felt different"
Spring King
"We've always had good shows in Norwich"
Rat Boy
"People like putting you in boxes but I'm just here to make music"
Prince Rama
"It's like Ram Dass on speed - "Be here now, or die".
Lonely The Brave
"Our only real goal was to make the best record we could"
James
"We will always be a Manchester band"
Goldie Lookin Chain
"Most people were on hard drugs but I'd ask for a cup of tea"
Luke Peter Foster
The music is sparse yet full of wonder.
Hawkwind @ UEA
All hail Hawkwind.
Teleman @ Open
Too much in control
Kiran Leonard @ Portland Arms, Cambridge
Outline took a lil road trip..
Shonen Knife
"Every time I play on stage in front of Shonen Knife fans is my best moment."
Catnip and Claws - Next Big Thing winner 2016
" I'm still pinching myself now!"
Nothing But Thieves
"No one came except for my mum"
Udo Dirkschneider
"We didn't know at the time that we were creating speed metal!"
Teleman
"It's nothing like the Gallagher brothers"
PVRIS
"I just want to keep carving my own path"
Kathryn Williams
"At the height of my fame I couldn't handle it"
Hawkwind
"I survived by not taking too many drugs"
Franko Fraize
"Every day that goes by there's something new for me to buzz off"
Anvil
"There's no way to win if you quit"
Confluence @ Anteros Arts Foundation
Humans. Nature. Art. Music. Technology.
Kano @ the Waterfront
Long live King Kano.
Purson @ Waterfront Studio
Lit me on fire
The Cult @ UEA
A good show overall by one of rock's greatest bands
Sleeping Beauty @ Norwich Theatre Royal
Go see this show.
Subhumans @ The Owl Sanctuary
A wonderful night of proper punk music.
Isaac Gracie
"A hotly tipped international breakthrough act "
Natty
"Sweet jams and good vibes"
Ducking Punches
"We all met on the Norwich punk scene"
Cabrakid
"Knowing that millions of people are tuned in is quite nuts to get your head around."
The Ramonas
"The Ramones sound and feel like an honest human experience that's relatable."
Foxes
"I was running around finding my feet really!"
The Duke Spirit
"Ollie has his finger on the pulse of the hip choir scene!"
Purson
"Ideally I would have been around 40 years earlier!"
Kano
"I just like to discover the new"
Giselle @ Norwich Theatre Royal
Where's my tutu at, yo?
Hinds
"All the songs are about love."
The James Plays: Preview
Nudity! Swears! Strobes! Violence! John Stahl out of GOT!
Soulfly @ the Waterfront
A full on fun night of metally wowness.
Last Night A DJ Saved My Life @ Theatre Royal
Got any Vera's?
C Duncan
" A lot of the album is about escaping."
Music Lessons
A new generation of rappers has arrived.
Vieux Farke Toure @ NAC
I'm mesmerised.
Cloudbusting @ Norwich Arts Centre
Actual Kate is my only master.
Turin Brakes
"We've always been a niche band."
Gogo Penguin
"We couldn't really believe we were signed to Blue Note!"
Girls Names
"We've had the time to nurture our sound."
Eagulls
"We provide a bleak outlook on how mundane life can be."
Declan Mckenna
"I'm the attention seeking sixth child of a family of artistic children."
Basement
"Some of my family will be at the show for the first time, so that will be interesting!"
Sonic Youths @ NAC
Four young acts do their thang.
Norwich venue at risk of closure
Noooooooooooo...
Next Big Thing 2016
Here's the lowdown.
Richard Hawley
"If you want to impress me, don't be a dick."
Kitty, Daisy & Lewis
"Anything goes on tour!"
Fun Lovin' Criminals
"We're very sexy people!"
Edward F Butler
Warm and enveloping
Ho99o9 @ the Waterfront Studio
A special and rare night.
Beach Slang
"Energy, danger and healing"
Jeru the Damaja @ NAC
Hip hop at NAC.
Happy Mondays @ UEA
Hallelujah!
Dog's Dinner
Fresh chaotic tuneful punk
The Qemists
"We had a dressing room between Lady Gaga and Beyonce!"
Mitch Benn
"I'd eliminate Mariah Carey."
Jeffrey Lewis
"I'm still a very simple guitar player."
Inspiral Carpets
"Rick Witter sang Chasing Rainbows at my wedding ceremony!"
Ash
"We stayed at Skywalker Ranch a couple times!"
Ho99o9
"I'm inspired by colours, shapes, crackheads and sound"
Slaves @ UEA
You slayed us, Slaves.
Joey Bada$$ @ UEA
It's exciting to see the future, yo.
Spectres @ The Owl Sanctuary
I feel like I'm flying and it doesn't get much better than that.
Five minutes with Newton Faulkner
"The challenge isn't just to make an album, it's to try and make a really good one."
Eagles of Death Metal @ UEA
Fun, fighting, freedom, fucking and fog.
Missy Malone & Friends' Burlesque Revue
A splendid night of debauched spooky fun
Frank Carter and the Rattlesnakes
He can make these fans do whatever the fuck he wants.
The Darkness
"People have forgotten that rock 'n' roll is very much about kicking arse and having fun"
Slaves
"We live for the live shows!"
Public Service Broadcasting
"I have to make this music or else I get terribly depressed."
Happy Mondays
"Fleetwood Mac probably took more drugs than us lot."
Eska
"I stood there and I started crying! GRACE JONES!"
Blanck Mass
I never thought I'd make workout music!
Jeru the Damaja
"All you've got to do is come with a seatbelt; it'll be a crazy ride."
John Grant - Grey Tickles, Black Pressure
10/10
Leftfield @ UEA
Still raving after all these years.
Ride @ the Waterfront
Totally. Blown. Away.
Meat Wave
"Immediately after we get home I'm going to wolf down a griddle burger."
Emily Winng
"I also wrote a song called Jamaica. I've never been there"
Let's Eat Grandma
"We got together when we were 10 years old"
PINS
"The drummer from Babes in Toyland gave us a massive piece of cheese."
Glenn Hughes
"The KLF are Glenn Hughes fans"
Stormzy @ OPEN
Hashtag Stormz in a grimy coup.
Barrence Whitfield & The Savages @ the Waterfront
The music made me do it, man.
Harry Edwards
"Beck wants me to work on a song personally for him"
Thieving Icons
Fresh. Exciting. Dangerous.
Leftfield
"I feel like we're relevant and that's why it's been worth doing it again"
Cradle of Filth
"I used to go to Wraith at the Waterfront back in the day"
Palma Violets
"We're a swirling mass, just kind of charging forward"
Ride
"We're having an absolute ball playing live again."
Spring King
"I think our sound has grown with time. I'm not sure what it is though."
Lucy Rose
"Lyrics are the bane of my life sometimes"
New Order - Music Complete
8/10
Rebecca @ Theatre Royal
Knee-high Theatre interpret a classic tale.
Jungle Brothers @ Waterfront Studio
Welcome to the Jungle Brothers' block party
Chris Wood
"I'm trying to articulate something closer to the truth than the spin we are fed"
Pony Up @ Norwich Arts Centre
Claws, Graceland and Kid Wave fill us up with new musics.
The Wombats
"I don't think any of us knew that Let's Dance to Joy Division would still be the last song of our set seven years on!"
The Picturebooks
"We got lost in the desert and built choppers, went skating, hung out with rad people, or we rode on our bikes."
Scratch Perverts
"It was quite a surprise to find out the dude with a ponytail from Soul Jazz was an animal on the decks!"
Public Image Ltd
"I'm a wide awake kind of fella!"
LoneLady
"I spend a lot of time in my head."
Barrence Whitfield
"I always wanted to emulate James Brown but I didn't have the footwork going!"
Tibetan Night Terrors
"Spongebob on Ritalin"
Sonic Youths Birthday Party @ NAC
Showcase of 14-19 yr old Norwich musicians
DJ Format
"I maybe have about 5,000 records, but that's just a rough estimate"
Standing Tall
Well, it's very loud. But here's the thing; it's subtle too.
Matt Abbott
"Poetry and spoken word is in many ways the same as song lyrics, including rap"
Badly Drawn Boy
"I want everything I do to be relevant in 100 years time like Beethoven and Mozart"
Bizarre Ride II The Pharcyde @ Epic
It's like a beautiful reunion.
Bug #15
Buxton hits the Playhouse
Roni Size
"There were some people along the way who I said no to, which I regret now, like Madonna."
Prawn
"Your beer and food is great. I don't know; we just love the UK."
Jane Weaver
"I'm used to playing to up to 50 people and then all of a sudden to sell out a headline show!"
Gengahr
"Gengahr is our favourite Pokemon. We didn't really think it through."
Bizarre Ride II The Pharcyde
"Ya Mama was easy... no pun intended. Ha ha!"
Biohazard
"Get off the computer, play the drums and work your balls off!"
Soldier-A
Norwich rapper in full effect.
Sleaford Mods - Key Markets
10/10
BK & Dad @ The Blueberry, Norwich
FULLY IMMERSIVE NOISE.
Birds of Hell @ The Plasterer's Arms, Norwich
More of this sort of thing, please.
tUnE-yArDs @ Waterfront, Norwich
A vibrant and colourful night
Wolfgang Flür
"We had synthesisers which gave up on stage and burnt with a black smoke"
tUnE-yArDs
"What's interesting to me is music that tells the truth"
You Me At Six
"We've learnt how to wind each other up, but also how to look after each other"
Trevor Nelson
"I would say my favourite dance tune is Crystal Waters' Gypsy Woman"
Tony Visconti
"Heartbreak Hotel stole my heart and I had to learn the guitar after that"
Slamboree
THE festival band
Slaves - Are You Satisfied?
9/10
Milly Hirst
One guitar, no loops, no pedals, but one very special voice
Foo Fighters - Main Stage
Grohl and his gang blow our bleedin' socks off
The Permanent Smilers
Classic indie from Norfolk group
Sleaford Mods @ Waterfront, Norwich
An incredible night at the Waterfront
Sleaford Mods
"People that call themselves poets are usually far f*cking from it."
Rudimental
"Nervous? I should have been wearing nappies!"
Huw Stephens
I was in a band called PicNic and I was the rapper. I don't want to talk about it.
Ella Eyre
If it comes from the heart it goes to the heart; that's what I live by
East India Youth
Django Django
"We tried to keep it upbeat and positive…like a party at a warehouse at 2 in the morning."
Dan Tombs
"It went through several stages, took a few months, and one blown up Amiga!"
Beans on Toast
"I consider myself a drunk with a guitar."
Swervedriver
Classic shoe gaze band coming to NAC soon
Kill it Kid
Expect loud, sweaty rock, delivered in a performance you will feel as much as hear.
BBC Radio 1 Academy - The Schedule
Check out the jam packed timetable!
The Radio One Big Weekend Line Up
The full low down on the Big Weekend line up..
The Great Gatsby ballet
A stunning take on a tragic tale at the Theatre Royal
The Skints
"No one likes a band full of dicks."
Therapy?
"I don't listen to smooth jazz when I read the newspaper; I haven't mellowed at all!"
Lower than Atlantis
"We don't want to slow down; we'd rather speed up!"
Portico
"Some people won't be into it and that's fine, we'd expect that."
Belle and Sebastian
"I've not really got frontman written on my forehead"
Drenge
"So, Kubrick is a favourite director of ours, but it was a total accident that we ripped him off!"
Claws
Surf, punk and pop mashed together to make loud noisy songs
The Boy With Two Heads - The Good Consumer EP
80's desert soundscapes with electronic rumblings
Barnum
A circus spectacular at the Theatre Royal
Errors
I don't really know if I'm that interested in watching a regular person eat their dinner.
Field Day
Hipster paradise!
Bloc
Go for that drop at Bloc.
BK & Dad
BK & Dad. From Wales. In Norwich.
Keb Darge
"I also ate boiled rats, of which there were plenty of fat ones."
Papa Roach
"I was so into the Red Hot Chilli Peppers when I was learning to play bass that that sort of funky groove style is just how I play."
The Unthanks
"We've also started a clog-dancing club together!"
The Handsome Family
"I had a tambourine and a bottle of tequila in my purse."
This Is The Kit
"Most of the four track stuff I did when I was younger doesn't need to be heard again by anyone!"
Royal Blood
"We cannot wait; the first Wembley show is my birthday!"
Jon Gomm
"I'm a 10-year overnight success!"
The Jesus and Mary Chain @ UEA
It's just really really loud and brilliant and extreme
Rag n Bone Man
"I'm gonna take over the world. Seriously."
Blackalicious @Epic
Blackalicious' set is strange
Edward Scissorhands @ Theatre Royal
I know I wasn't the only one who shed a tear at the end
Girl in a Thunderbolt
This is intelligent and strong music
Context
Interview with first local act at R1's Big Weekend!
BBC Radio 1 Big Weekend in Norwich!
Find out all the info here!!
Enter Shikari
When I joined Enter Shikari my dad said to me "You know, there's a chance that they might not be big?"
Ibibio Sound Machine
Josie Long
I realised that going to Glastonbury Festival is not political activism!
Rae Morris
I cried through the first three songs when I saw Kate Bush last year.
DJ Food
I was doing pause button megamixes as far back as 1984.
Under the radar in East Anglia
Hook yourself up with something fresh…and local.
Mega Emotion
Full of a sparkling energy alongside a neat drumbeat
Wooden Arms
"We're like Parliament, but with ruffs"
Hayseed Dixie
"I don't use any words that can't be said before 6pm on CBeebies"
Echoes in the Well
"We have recently plotted to hold a rehearsal in Fingal's Cave, in the Hebrides"
Temples
"We've really discovered who we are as a band this year"
Professor Green
"Even in my darkest times I've always held onto something that got me through."
Hugh Cornwell
Golden Brown star comes to Norwich
Chrome & Illinspired
The two nicest chaps in hip hop
Matt Selfe
Electronic pop from Norwich
Outline Magazine's app
Search 'Outline Norwich' on Google Play or the Apple App Store to grab our free new app!
Beardyman
I pushed my album out of my brain through the Beardytron
Grandmaster Flash at Epic Studios
Foo Fighters - Sonic Highways
It's still very much a Foo Fighters Rock Album
Chali 2na
Me? I can't sing. It's like putting a loaded pistol in an infant's hands!
Slaves
Where's your car, Debbie?
Knightmare Live
A hilarious and fond trip back to my childhood.
Harry Edwards - Audioline
Harry Edwards
Slaves
We're quite normal when we're offstage
Embrace
I got a message the other day "I've just driven past your house…"
Luke Abbott
The process of making music for me is entirely an investigation into sound and music
La Roux
I've figured out how to be comfortable with every part of myself now
Dj Yoda
Superfood
We met in a sewer looking for old Fanta bottles
Bonnie Prince Billy - A Sea of Tongues
It's more Country with a Capital C.
Cardinal Burns
A most heart warming, fascinating insight into the show
The Subways
The Subways are gonna rock ya!
Example
Elliot Gleave is Example.
UB40
Jimmy from UB40 talks about the their upcoming gig at UEA
Anais Mitchell
Anais Mitchell is a singer songwriter form Vermont, who tells the most wondrous stories.
Cinderella - Theatre Royal
The most magical, pretty ballet EVER.
Tim Key - Norwich Playhouse
From accidently almost sleeping with someone's grandma to attempting a threesome in India...
The Jungle Brothers - The Arts Centre
You housed us good.
DJ Andy Smith
I'm happy with pulling out the old school pieces.
Tyler Brooks - Lord of the Flies
For me it's a great kickstart to what I want to do
Clean Bandit
Electronic Chamber Music!
Asking Alexandria
It's going to be an incredible show and a proper laugh!
Grace Savage - Beatboxer
BLIND is a one woman beatboxing theatre show that focuses on the things we hear in the world.
The Wytches
"It will definitely be loud".
The Hold Steady
"We played with Green Day in high school at a roller-rink."
Childhood
"A crowd doesn't always know what to do with our music. But we like it like that!"
Dead Prez
Future of the Left
"If everyone can understand your music, then there's something wrong with it."
The Aggrolites
It's going to be a great big reggae party that will run well into the morning!
Mimas / Dad Rocks!
Mimas is a Danish band, based in Aarhus. "Mimas is a furry kitten: Restless, picking fights and still lazy and patient at times. Icelandic musician Snævar Njáll Albertsson is the mastermind behind 'Dad Rocks!'. The guitar here is mostly acoustic and is
Zola Jesus - Taiga
Won't do much for the lonely goths of this world.
Marmozets
"Pure adrenaline and chaos is what we're aiming for"
Outsmarted answers
Here's all the answers to this month's Outsmarted!
Kristin Hersh - Throwing Muses
"I was born without the show-off gene that is so dang necessary in this business."
Harry Shearer
It's stick-to-your-ribs good!
The Jim Jones Revue
"Coming off stage after a show you feel like you've been zapped by a rock 'n' roll lightning bolt."
Frank Turner
"I'm maniacal about music but I don't really care about anything else at all."
Coasts
"There are so many really passionate music fans in Norwich"
C.O.L.L
He raps about his own real everyday life.
Tricky // Adrian Thaws
This is a good one.
Childhood - Lacuna
This album makes me feel like Supergirl.
Intensi T
Boots 'n' cats.
Cerebral Ballzy
No sleep from Brooklyn 'til Norwich!
Virus Syndicate
Manchester bad boys womp it up.
La Roux // Trouble in Paradise
La Roux is in Trouble in Paradise
Interview with Kiran Leonard
The best new British songwriter around...and still only 18.
Sebastien Tellier // L'Aventura
Interview with Circa Waves
Circa Waves! If you're after a young, thrusting band of young men from Liverpool, here's your answer.
Interview with Anna Calvi
Anna Calvi was always destined to be a star. Growing up in a household of music lovers, studying music at university and becoming the passionate singer that Brian Eno has supported since she started, she's recently released her second, critically acclaime
Sigma look forward to Jelly
"Drum n bass has been going for around 20 years now and doesn't seem to be going anywhere soon."
Cathedral choir by Candlelight // Norwich Cathedral 23.05.14
Choir by candlelight at the Cathedral
S. Carey // Norwich Arts Centre, 21.05.14
The music is amazing; at times whisper-soft and delicate, building to tribal double drums...
De La Soul // The Aquarium, Lowestoft, 09.05.14
De La Soul Live Seaside Spectacular!
Kathryn Williams // Crown Electric
She sings of being brave enough to be yourself, and of trusting a new partner, all laid over her acoustic guitar, beautiful string parts and occasional brass.
Tune-Yards // Nikki Nack
Tune-Yards' 3rd album still playful but produced
Pharoahe Monche // NAC - 24.02.14
Norwich, get the fuck up
Spectro presents Independent Venue Week // NAC - 28.1.14
Norwich Arts Centre reigns supreme as one of the best independent venues in the UK.
Large Professor // NAC - 12.12.13
Havin' it large with Large Professor
John Smith // NAC - 09.12.13
John Smith - Guitar Genius
Mount Kimbie // Norwich Arts Centre - 15.11.13
Mount Kimbie sell out Norwich Arts Centre
The Hitchhiker's Guide To The Galaxy Radio Show Live! // Theatre Royal, Norwich
"Space is big. You just won't believe how vastly, hugely, mind-bogglingly big it is. I mean, you may think it's a long way down the road to the chemist's, but that's just peanuts to space."
Mark Lanegan // Imitations
Lanegan takes us back. Way back.
Money // The Shadow of Heaven
IT RUINED MY BATH
Money // The Shadow of Heaven
Money - The Shadow of Heaven
Friends // Norwich Arts Centre - 14.07.13
We are not Friends.
Ultramagnetic MC's // Norwich Arts Centre - 08.07.2013
Ultramagnetic MC's perform Critical Beatdown
Beyond - Circa // Speigeltent, NNF2013 - 22.05.13
Animal Shenanigans in the Spiegel.
The Xcerts // In The Cold Wind We Smile
The Xcerts - In The Cold Wind We Smile
Silvain Vanot // Bethesda
Silvain Vanot – Bethseda
Lou Rhodes // One Good Thing
Lou Rhodes – One Good Thing
Tom McRae // Alphabet of Hurricanes
Tom McRae - Alphabet of Hurricanes.
Gui Boratto // The Mix Collection
Gui Boratto - The Mix Collection.
Josh T Pearson // Last of the Country Gentlemen
Josh T Pearson - Last of the Country Gentlemen.
Gruff Rhys // Hotel Shampoo
Gruff Rhys - Hotel Shampoo.
Dance Marathon // NNF2013, Epic - 10.05.13
I broke my shoes at the Dance Marathon!
Fionn Regan // Norwich Arts Centre - 25.02.10
The Invisible // Norwich Arts Centre - 09.03.10
Kelpe // Norwich Arts Centre - 26.03.10
Royal Bangs // Norwich Arts Centre - 11.04.10
Mark Lanegan & Duke Garwood // Black Pudding
Mark Lanegan reaches maturity
Craig Charles Funk & Soul Night // Open -
Listen to Lister!
Eels // UEA - 26.03.13
Tracksuits and Fleetwood Mac
The Neighbourhood // I Love You
The Neighbourhood - I Love You
Ghostpoet // Some Say I So I Say Light
Disjointed drums, the odd few bars of a sweet violin tune, a smooth jazz bassline or echoey electric guitar, it's constantly evolving.
Deptford Goth // Life After Defo
Lizz reviews the latest from Deptford Goth - 'Life After Defo'
Michael Chapman & Thurston Moore // Norwich Arts Centre - 02.02.2013
Guitar Heroes at Norwich Arts Centre
Fionn Regan//The Bunkhouse Vol 1 Anchor Black Tattoo
Fionn Regan - The Bunkhouse Vol 1 Anchor Black Tattoo
John Shuttleworth // Playhouse - 8.11.12
John Shuttleworth sings "Smells Like White Spirit' and delights a packed Norwich audience once again.
The Unthanks // Diversions Vol 3
The Unthanks sing songs from the shipyards
The Lovely Eggs // Wildlife
The Lovely Eggs present Wildlife
Bat for Lashes // UEA, 26.10.12
Bat For Lashes play live at Hallowe'en
Josie Long - Romance & Adventure // The Playhouse, 13.10.12
Josie Long's Romance & Adventure tour hits Norwich Playhouse
Azealia Banks // The Waterfront, 07.10.12
Azealia Banks - The ghetto girl gets all up in the Waterfront's grill.
Richard Hawley // UEA - 17.09.12
Richard Hawley; guitar playing good guy...
Enter the Next Big Thing Competition!
Is your band this year's Next Big Thing?!
Mike Doughty // The Question Jar Show
A Slightly hungover Jack Johnson.
The Beach Boys // That's Why God Made The Radio
The Beach Boys, 50 years on...
The Pharcyde // Norwich Arts Centre, 29.07.12
The Pharcyde - Still Phat After All These Years...
How Like an Angel // NNF2012, Norwich Cathedral - 27.06.12
They dove headfirst from the highest rafters of the church, or dropped seemingly without control from the top of a rope... - Lizz reviews the dazzling How Like an Angel...
Ultravox // Brilliant
"They have decided to join the ranks of musicians reforming in this the 21st century of our world; it's pretty awful, people."
Patti Smith // Banga
"It's a strange old mix of songs, at times jazzy and light, at others rocky and mystical…"
Kindur // NNF2012, Epic Studios - 26.05.2012
"Such great joy and peace being achieved with simple physical dancing...well, it was life affirming." - Lizz enters the world of Kindur...
Paper Cinema Odyssey // NNF2012, The Playhouse - 20.05.2012
"Although the equipment used is very modern, the experience felt very ancient...being told a story by a group of what felt like magicians." - Lizz reviews the Paper Cinema Odyssey
Alex Horne // Norwich Arts Centre - 02.05.2012
"At the present time he is working on his attempt to become the World's Oldest Man (personal best:33)" - Lizz reviews the Alex Horne gig...
Berlin Symphony Orchestra with Julian LIoyd Webber // St Andrews Hall - 09.05.2012
"Lloyd Webber joined the stage for the next two pieces, the three part Haydn cello concerto which blew me away. His style and playfulness made playing the cello look so easy...unbelievable."
Damon Albarn // Dr Dee
"Applecarts', possibly one of my favourite songs ever already, is the most lovely, birdsongy, gentle and folky piece you will ever hear..." - Lizz reviews the new Albarn LP
Interview with Alex Horne
"People were heckling with acronyms I'd never heard of. Back then I had no idea what ROFL meant. I've only just discovered that YSSSTSOT stands for You Simply Shouldn't Say That Sort Of Thing."
Graham Coxon // A&E
We have something that's quite thoughtful, ploddy and dark in paces, as well as times of manic repetitious desperation and occasional pop riffs.
Naughty by Nature // Anthem Inc
Did you know that the Naughty by Nature bwoys have been going for 20 years? Holy hip hop.
Field Music // Plumb
This is what Steely Dan would sound like if they started afresh in 2012. Orchestral at times, at others sounding a bit like The Feeling...
Alabama 3 // Shoplifting 4 Jesus
The heavy beats, the variety of sounds and pace throughout this album are like something I haven't heard for a long time, something innovative, brave and...dare I say it, fun and unpretentious...
The Lemonheads // Laughing All the Way to the Cleaners
"Apparently they had an album of covers out in 2009 which included guest vocals from people like Liv Tyler and Kate Moss (what? I know.)"
The Smashing Pumpkins // Siamese Dream (Remastered)
"Flannel shirts, big black jumpers, DM boots and an occasional floppy dress were de rigeur, and Nirvana and The Smashing Pumpkins were top of my listening list."
Midwinter Moonshine // NAC - 21.12.11
"It was completely sold out, full of the young and the old, some in finery, some in jeans, but all up for a toe tapping time courtesy of local bands..."
Wakey! Wakey! // Almost Everything I Wish I'd Said the Last Time I Saw You
"Basically it's Coldplay meets Keane meets John Barrowman, in a crazy melange of love songs directed in a rather insincere fashion..."
Herman Dune // Strange Moosic
"It's like a lovely, innocent return to the indie pop of the late 90s; if you liked The Auteurs, Pavement or the Divine Comedy, then you'll love this band..."
Interview with Gruff Rhys