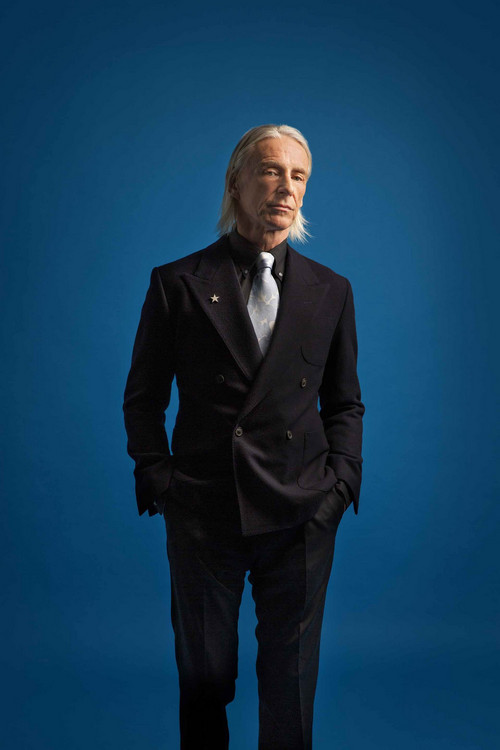 Paul Weller
...the Weller obsessives are treated to an array of Weller and Jam tracks of various hits, album tracks and misses from a back catalogue that now spans over the past fifty years going back to those very early Jam days.
Read full Article >
---
---
Shed Seven
The Libertines
The Specials – Protest Songs 1924 to 2012
Blancmange
$ebbuku
Is he the biggest rising star on the Norfolk music scene right now?
black midi - Calvacade
James - All The Colours Of You
Matt Sweeney & Bonnie 'Prince' Billy – Superwolves
David Gray - Skellig
$ebbuku - Nomad
$ebbuku
Tindersticks - Distractions
This Is The Kit - Off Off On
Paul Weller - On Sunset
Liam Gallagher - MTV Unplugged (Live At Hull City Hall)
Seasick Steve - Love & Peace
Martin Gordon Interview
In 2009, he was described by Classic Rock magazine as being "like Brian Eno fronting 10cc at a cleverness convention". He has just released a new album 'OMG' and quite remarkably it's his ninth to date,
Sparks - A Steady Drip, Drip, Drip
The opener All That is classic Mael brothers and would fit in with any of their most finest of works, it's an absolute joy to behold. Wow! What an opening track to start an album with.....How on earth they are still doing it to this extremely high standard I just don't know, but long may it continue.
David Gray - White Ladder
It's so very, very good to be reacquainted with White Ladder, this the 20th anniversary limited deluxe edition comes with as you would probably expect some previously unreleased tracks of original demos, rarities and B sides and for the first time ever it's even released on vinyl.
The Wonder Stuff
It would appear that the word is indeed out, the Stuffies are still sounding quite brilliant and at the age of fifty three, I am not quite sure how Miles Hunt is still doing it live with so much energy
Primal Scream
It cannot be denied that it's the last six songs that completely blow the roof off of the LCR building tonight
Feeder
The new material, in particular Kite, Tallulah, and Guillotine come over really well besides the classic Feeder material High, Feeling A Moment, Just The Way I'm Feeling, Come Back Around, Just The Way I'm Feeling, Comfort In Sound and of course Buck Rogers.
Icicle Works
Take my advice people. Next time he is in the fine City, make an effort to go and see him, if you can get a ticket.
Johnny Marr
Paul Weller
The very iconic music legend that is Paul Weller, 'the mod father' is back in Thetford Forest
Alan McGee
Find out more about Alan's fascinating life as a musician, manager, record label boss and more
Sunday Sessions Norwich
This is my first Sunday Sessions appearance at Earlham Park and I have to say I was suitably impressed with the set-up, sound quality and location for an outdoor daytime festival, the slope in the park really allowed the crowd to get a great vantage point of the stage from wherever they were positioned and this really seemed to add to the overall atmospherics of the occasion.
Kyle Falconer
Kyle was still most certainly on fire, he is most certainly still the Don
Idlewild
If anyone needed reminding as to just how good Idlewild were and still are, then they got it this evening
Billy Doherty of The Undertones
Cilla Black with the Royal Liverpool Philharmonic Orchestra
Sunscreem - Out of the Woods
Heaven 17
Gary Stewart - Oh My Weary World
Blancmange
Teleman
Richard Ashcroft - Natural Rebel
Get Cape. Wear Cape. Fly - Young Adult (Deluxe)
Blancmange - Wanderlust
The Kooks - Let's Go Sunshine
Chic & Nile Rodgers
The Wonderstuff @ the Waterfront
Hup!
Stereophonics @ UEA
Came with big expectations but didn't disappoint at all
The Wonder Stuff
"I enjoy it all, writing, recording, performing, even rehearsing"
Ian McCulloch @ NAC
Class is timeless.
Turin Brakes @ Open
An evening not to be missed
The Kooks @ UEA
It's time for a break boys.
Inspiral Carpets/Shed Seven @ UEA
The show was certainly a Maximum High for many tonight.
The Icicle Works @ the Waterfront
Still rock music's best kept secret.
The Icicle Works
"I'm proud that I've lasted so long and I'm still getting better"
You Me At Six at @UEA, Norwich
A rapturous response to a huge band
The Vaccines
The Vaccines tear up the LCR
Royal Blood
Biggest UK band in the world at the moment hits UEA
Embrace - UEA
Wow! What a night.
The Kooks
Wow! What a great atmosphere this evening in the LCR
Ben Watt + Bernard Butler // Norwich Arts Centre, 23.03.14
The man behind Tracy Thorn's delectable vocals, whilst not the greatest vocalist that you will ever hear, has once again written a very charming album.
Raglans – Raglans (Independent Records Ltd)
They already have their own loyal followers drooling at their every move and it's no wonder as they don't half knock out a good tune or three.
Flatlands and Garage Flowers // Animals - EP
A sound that's as crisp and fresh as a sharp frost on a winter's day as the wind blows in, from over the Shropshire hills.
Misty In Roots // NAC - 21.6.13
"Tonight's set would've been felt in Babylon, even if it was Norwich that was burning." - Steve reviews Misty in Roots at NAC.
Ian McNabb // Great Things
Ian McNabb - Great Things.
Order Of Voices // Order Of Voices
Order Of Voices - Order Of Voices.
Squeeze and Paul Heaton // UEA - 16.12.12
The end of tour frolics continue towards the end of their set as Paul Heaton and his band members appear on stage, brooms in hand in their caretaker overalls.
The View // The Waterfront, 04.12.12
"The View, The View, The View are on fire. Now where are those fire extinguishers?" - Steve reviews The View at The Waterfront
Paul Heaton // Presents the 8th
Heaton the smoking woman's crumpet, the working / thinking man's idea of a proper bloke might just have delivered the white man's answer to 'What's Going On'?
The Chrysalids // Neither Love Nor Money
It is pleasant enough, but certainly nothing new to get too excited about. Nothing more than a Scott Walker tribute band.
The Heartbreaks // Funtimes
Could this be the new McFly?
The Heartbreaks // Funtimes
"It's all far too fast, frantic and repetitive, resulting in them creating a real marshmallow of a sound..."
Luke White // Outside In
"Get a little closer for there is a great new British talent walking our streets..."
Tom Jones // Spirit in the Room
"The final track and also the brightest moment, with its spine chilling choral finale, it is quite simply stunning"
Feeder // The Waterfront, 26.04.2012
The energy levels remain as high as ever and Feeder are certainly still fighting fit, you will not see them hitting any walls at this stage of their almost marathon career of twenty one years.