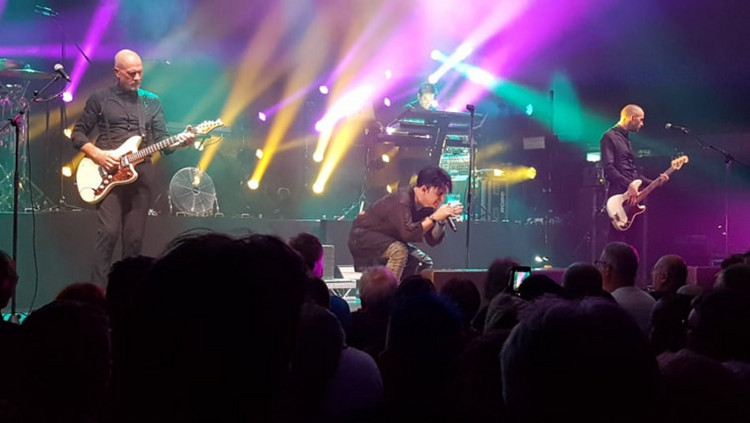 Gary Numan
I've only seen him live once before and again, I was struck by what an energetic performer he is, not at all the aloof persona I expected.
Read full Article >
---
---
Fat White Family
Must be amongst one of the best gigs this year
Reggae Legends
Norwich still has a big appetite for Reggae ......
Dave
I have to keep reminding myself that Dave is still just 20 years old, yet the confidence he has on stage is remarkable
GZA
I had a lot of fun attending the GZA show. I hung out with some friends, I listened to some loud classic tunes and I got to see an actual member of the Wu-Tang Clan in Norwich.
Stefflon Don, Big Tobz and Russ
Stefflon Don brought the kind of show that I would normally never see, and it was very easy to see why she is so popular. …… I left buzzing after a brilliant night of musical exhilaration, feeling joyous, and having seen something that will live long in my memory.
Sleaford Mods
...the fact that the whole night ended on current single Discourse shows how well received their new material has been.
AJ Tracey
AJ.. was great, his rapping skills are second to none, spitting out bars with machine gun precision.  
UFO
It may have been a Sunday night, but the Waterfront was completely sold out with an expectant crowd ready to show the band how much they have meant to us over the years
Stiff Little Fingers
This was my 6th consecutive year seeing the band and I go because I know what I'm going to get – a cracking live band, a great crowd and the chance to bellow along to some much-loved punk classics.
Fredo – LCR
2019 is going to be a big year for Fredo.
Blue Oyster Cult
Beginning with Dr. Music and Before The Kiss, a Redcap it was a strong start, but there were also some pretty major sound issues affecting thing
808 State
Sadly at 10pm it was over, when it felt like we were just starting.
Molly Hatchet
Operation : Mindcrime
The Studio was packed, and as the lights went down I immediately felt myself perk up.
Stick in The Wheel
I have been fortunate enough to have visited the Cambridge Folk Festival on two occasions on behalf of Outline and they were brilliant days of sublime music. Pick of my trip in 2016 were Stick In The Wheel, and I've been impatiently waiting for them to visit Norwich ever since.
The Damned
Two things gave this year's tour an extra edge of anticipation – firstly they are promoting their first new album in 10 years Evil Spirits, and secondly bassist Paul Gray has re-joined the band, having initially spent three successful years with them starting in 1980.
Acid Mothers Temple
Acid Mothers of Temple play Norwich once a year and you can always guarantee I will be in the queue to see them
Bugzy Malone + SL
The Melvins + Jon Spencer
Toots & the Maytals
Mono
Steve Davis & Kavus Torabi
St. Paul & The Broken Bones
Orchestre Poly-Rythmo
Ghostface Killah
Public Image Ltd
Let's Rock Festival
Akala
Rejjie Snow
Baxter Dury
GBH
Testament
MIST
The Bellrays
The Stranglers
Cannibal Corpse
Henry Rollins' Travel Slideshow
Richard Dawson
Dave
Happy Mondays
Wonk Unit
Status Quo
Hawklords
Macka B
Sleaford Mods
Krept & Konan
Declan McKenna
Jane Weaver
Acid Mothers Temple
Loyle Carner
Dizzee Rascal
Living Colour
Chas & Dave
Gilad Atzmon & The Orient House Ensemble
Cambridge Folk Festival 2017 - Sunday
DJ Yella and Lil Eazy E
Let's Rock Norwich 2017
Voivod
Sugarhill Gang with Grandmaster Melle Mel and Scorpio's Furious Five
Hawkwind
Kansas Smitty's House Band
Brad Mehldau Trio
Big Daddy Kane
FM
Giggs
PINS
Stormzy
Ventoux
The Wytches
New Model Army
Stiff Little Fingers
L.A Guns
KRS-One
Anthrax
Uncle Acid and the Deadbeats
The Damned
Teenage Fanclub
The Specials
Buzzcocks
Y&T
Hawklords
Norwich Sound & Vision 2016
Gary Numan
Ronnie Scott's All-Stars
Ronnie Scott's All-Stars @ Norwich Playhouse
Exciting, beautiful, ambitious, emotional and ultimately 57 years old.
MDC @ Owl Sanctuary
A well drilled machine
Love Revisited @ Norwich Arts Centre
I wasn't ever able to get over the fact that Arthur wasn't there.
Saul Williams @ Norwich Arts Centre
Captivating, educational and entertaining.
St Paul & The Broken Bones @ Waterfront Studio
Truly good for the soul.
Mbongwana Star @ NAC
Didn't quite match my extremely high expectations
Branford Marsalis @ Norwich Cathedral
A night of sophisticated, tasteful music
Sun Ra Arkestra @ Open
One of those once in a lifetime opportunities
Bad Breeding - Bad Breeding
This self-titled album is everything that has gone before, but better.
Udo Dirkschneider @ Waterfront
Heavy fucking metal made me do it.
Purson - Desire's Magic Theatre
9/10
Ulrich Schnauss @ NAC
Clean and crisp with plenty of bass.
Machine Head @ Open
A colossal set in a room full of craziness
Anthrax - For All Kings
6/10
Baaba Maal @ the Waterfront
A very special night of live music indeed.
Cancer Bats @ the Waterfront
A good gig, but not a great one
The Charlatans @ UEA
My love for the band has been completely reinvigorated
The Zombies @ Open
The very definition of seasoned pros.
Gentlemans Pistols @ the Waterfront
Left me wanting more
Talib Kweli @ Epic
Hip hop royalty was in the house
Hawklords @ Waterfront Studio
The kind of live show I probably thought I'd never see again.
This Is England '90 Soundtrack
7/10
Clutch - Psychic Warfare
9/10
Glenn Hughes @ the Waterfront
He has the purest falsetto I have ever heard
Acid Mothers Temple @ The Owl Sanctuary
A mind-blowing trip
Norwich Sound & Vision - full round up
Thank you Norwich Sound & Vision for everything you have done for us
PiL @ UEA
"My clothes were literally being blown by the bass wind"
Winterfylleth @ the Waterfront
My first black metal gig, but unlikely to be my last.
Blackalicious - Imani Vol 1
7/10
Barrence Whitfield - Under The Savage Sky
8/10
MDC @ The Owl Sanctuary
It's always a special gig that turns a Sunday night into the best night of the week.
D.R.I @ The Owl Sanctuary
Killer Hurts, Back Down Or Die, Shrapnel and D.R.I go hardcore.
Roy Ayers @ Epic, Norwich
Roy just didn't play his vibes enough
Wolfgang Flür @ Epic, Norwich
Techno and visuals from ex-Kraftwerk legend
Heaven 17 @ Waterfront, Norwich
Classic 80's songsmiths at the Waterfront
Abdullah Ibrahim
A captivating evening at the Theatre Royal
Django Django @ Waterfront, Norwich
A confident Django Django impress at the Waterfront
Songhoy Blues
Punk from Mali at the Spiegeltent
The Fall
The always controversial Mark E Smith at NAC
UFO
UFO play the Waterfront
Pony Up! feat Menace Beach
Mega bands at NAC
Stiff Little Fingers
Classic punks at the Waterfront
Jungle
Jungle busy earnin' at UEA!
Mungo's Hi Fi
Roots reggae, dub and dancehall at Open
Caravan @ NAC
I had my expectations hugely exceeded
Michael Schenker
A long set mostly filled with songs that I have known since my youngest teenage years
Turbowolf at the Waterfront
Macka B at The Owl Sanctuary
You can't really argue with someone that only refers to himself in the third person, something I'm hoping to do myself one day.
Ebo Taylor
Yet another brilliant night at the Norwich Arts Centre.
Agnostic Front // Owl Sanctuary
A great band playing in a great new venue.
Machine Head // Waterfront
Hell, yes!
Vain // Waterfront, 06.07.14
Shameless rock 'n' roll the old fashioned way.
Brian Jonestown Massacre & The Vacant Lots // Waterfront, 02.07.14
Brilliant band, excellent show, we were lucky to have them.
Melt Banana & MFOTWU // Norwich Arts Centre // 29.05.14
Two memorable performances at NAC...
Polyphonic Spree // Waterfront // 09.06.14
They had us eating out of their hands from R.I.P. Rik Mayall.
Hugh Masekela & Andy Sheppard // Theatre Royal // 21.5.14
Hugh rocks the Theatre Royal
Clutch // The Waterfront - 02.05.14
Often lazily tagged as a stoner rock band, it's fair to say in 2014 they are simply a great rock 'n' roll band.
Barrence Whitfield & The Savages // Norwich Arts Centre, 01.05.14
'I'm Sad About It' and 'Hangman's Token' were sensational – ass kicking, hell raising, down 'n' dirty stuff.
Horace Andy // Norwich Arts Centre, 18.04.14
Like many of the older reggae artists Horace's voice sounded absolutely perfect – sweet, delicate and soulful.
Stiff Little Fingers // The Waterfront - 26.03.14
Jake explained featured lyrics written in 1983 after a night on the town with Phil Lynott! Oh to have been a fly on the wall that night…
Michael Schenker // The Waterfront - 21.04.2013
It was a true privilege to witness a living legend in the flesh, especially one who was clearly having such a blast onstage.
UFO // The Waterfront - 28.03.2012
"His playing was tasteful, without ever being flashy, and he has been the main reason for the bands upturn in fortunes over recent years..."