Glenn Hughes
24/02/20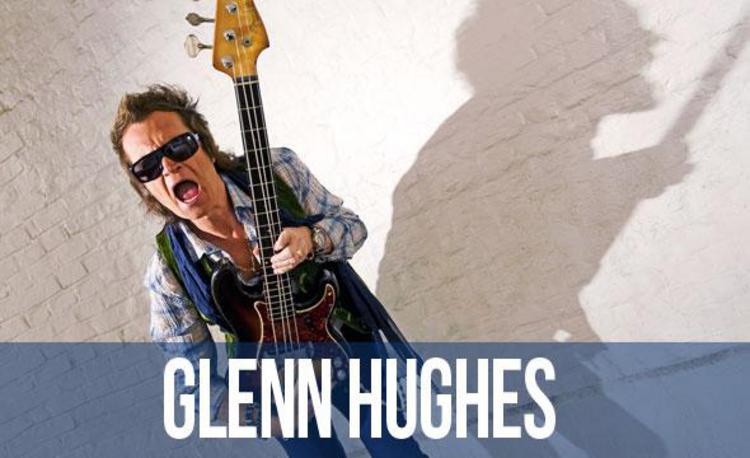 Music legend Glenn Hughes has been dubbed The Voice of Rock. His long career as a vocalist and bass player with bands such as Trapeze, Black Sabbath and Deep Purple, as well as winning a hard battle with various addictions have learnt him the respect of musicians across the world; he's one of Stevie Wonder's favourite singers. Glenn's coming to Norwich to play songs from throughout his career and I grabbed five minutes with him for a chat. Hit it Glenn!
 I know you were named after Glen Miller; what music was around you when you were growing up?
Glenn Miller's music was played in my parent's house all the time, alongside Frank Sinatra, who would later become my friend, and Tony Bennett.
How did you get into making rock music and why did you choose the bass as your instrument?
I sang in the choir as a pre-teen, then became a trombone player in the school orchestra, learning how to read music which led me to piano and guitar, which led to me being a bass player. My main instrument is my voice. It is my life's purpose to sing.
Your voice is incredible; in fact you've been dubbed "The Voice". When did you first discover your unique vocal talent?
I was a teenage guitar player in a school band, and when the singer went away on his holidays with his parents, I was asked to sing lead vocals. The rest, as they say, is history. No one is more grateful than I; to be called the Voice of Rock is humbling.
Who are your favourite singers?
I grew up listening to the Beatles. They were, and will always be the source for me. I turned my attention to Tamla Motown in the late 60s, listening to Marvin Gaye, Al Green, Wilson Pickett, Otis Redding and someone who would become a dear friend and confidante, Stevie Wonder.
You joined Deep Purple as a bass player and joint vocalist with the then up and coming singer David Coverdale. What was it like to be in a band like that in the 70's? It must have been an extreme time to be in the industry.
Prior to joining Purple, I had done three long years touring America with my first band Trapeze. I was ready to step up with Deep Purple.
You've battled with various harmful addictions during your time. How have you managed to pull yourself through those difficulties?
God has given me all that I am. There is no doubt in my heart, soul and mind that I'm here as his messenger. There are no winners when lives are run by drugs and alcohol.
You sang on the KLF track America; What Time Is Love? In 1991 which was quite a different song for you. How did that come about?
The KLF are Glenn Hughes fans. It was an honour to work and sing with them, giving me my first top 10 single in 25 countries.
 Which do you consider to be the three best or most important rock songs of all time?
Hey Joe – Jimi Hendrix, Gimme Shelter – Rolling Stones and Superstition – Stevie Wonder
Of all the songs or albums you've worked on over the years, which is the one you are most proud of being a part of?
The last one I made... ha!
Can you tell me a bit about Voodoo Hill's new album Waterfall, out in October?
I wrote and recorded the album Waterfall for Voodoo Hill, at my home studio earlier this year. It took me one week to write and record the entire album.
What makes you carry on wanting to perform, tour and make music? Does it become more challenging as you get older?
I relish challenges...no fear! It keeps me here.
Will you be playing songs from all through your career when we see you at the Waterfront here in Norwich?
My set list will scan four decades. Let the freak flag fly!
You're originally from the UK but have lived in LA for most of your adult life – what are you looking forward to when you come back to the UK on tour? Any particular places you want to visit or food to eat?
I have lived in Los Angeles for 43 years. I come back to the UK to visit my mum and dad, and to play my music to amazing fans, and to grab a curry at the end of a tour.
Who's in your band on this tour?
Doug Aldrich, ex-Whitesnake, is my guitar player and good friend, Pontus Engborg was my drummer before I formed Black Country Communion, so he's back..I'm building the house of GH behind me.
Glenn Hughes plays at the Waterfront Studio on 19th October. Tickets are available from ueaticketbookings.co.uk