Interview with Bad Rabbits
21/08/19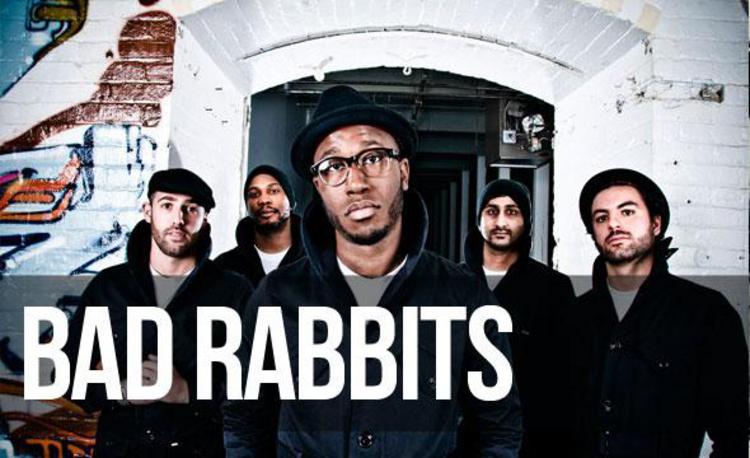 To navigate through the understandable enthusiasm in every press release ("the most exciting act since Bowie"; "the album that will change the way you think about music") is a task in itself. It's the PR's job to laud the talent and fan the flame of hype, and it's the recipient's job to read between the lines. When one PR's email basically consisted of "See this band. Thank me later," there was no doubting to be done. Hailed as – genuinely – one of the most exciting bands on the circuit, the 'funk-rock' of Bad Rabbits is an antidote to the baby oil brand of R&B often circulated, with an authentic dust and gravel feel. So I'm paying it forward; listen to this band. Thank me later.
You're coming back to the UK for your first headline tour here – are you looking forward to seeing how your own crowd reacts, compared to the Don Broco crowd that you played to on your last tour round the UK?Yes, we are absolutely looking forward to our first UK headline tour. It was intriguing to see certain pockets of the crowds going mental during our sets when we supported Don Broco over there. It's especially exciting to know that those same kids are going to come back, but in larger numbers, mainly to support us. If the crowds are anything alike, it's going to get rowdy.
I've heard that your live show is something else. What Bad Rabbits experience do we get live, that we can't appreciate on record? In my opinion, our live show is the side of us that sort of mirrors how we grew up. Some of us grew up playing in punk, hardcore and metal bands and we have always been inspired by heavy music. I believe in a live setting, it's where this side of us really shines. But by no means are we standing on stage mean mugging and sticking out bullhorns. There is a lot of on-stage buffoonery that keeps everything light-hearted and fun at our shows.
I love that you were picked to play the Vans Warped Tour, yet you're so atypical from the other bands on the line-up. Do you get a kick out of seemingly winning over punk, rock and metal crowds?This world is not atypical for us. We have a lot of peers in the punk, rock and metal scenes. The hustle that a lot of bands in that musical sphere possess is something that we all came up enduring, when we first started touring. I think we naturally fit in. Looking past the smokescreens a little further, which kids seemingly do more often now, allows us to be given the chance to win them over... in my opinion.
I know that Boston has a good heritage of music schools – did any of you attend? If not, do you think their association as such hotbeds of different music had anything to do with the rich musical tapestry you reference in your work?None of us went to school to study music theory specifically. Some of us were in off-shoot majors like music business or music technology, but I don't believe that you can totally learn the music business or even be totally independently creative, unless you try to navigate through it yourself. We got in a van, played in front of nobody, got booed off stage and have made terrible decisions that taught us things that a book nor a professor would have ever been able to prepare us for!
You all used to be in The Eclectic Collective, but that band obviously wasn't giving you the freedom to explore the new avenues you wanted to. Which one of you raised the issue first?I think it was a "collective" issue but I think I was feeling it first. There were too many of us in the band contributing too many things. It was hard to navigate and really be happy with things because there were just too many things going on. At one point there were 10 or 11 of us in the band. We could never really focus our sound or energy, which is always a challenge when so many inspired people are involved in all of the process. That band taught us a lot and provided endless memories, which we are forever grateful for. The band name stunk though!
R&B (loosely termed) was in danger of being swallowed up by computers. It was becoming something you could churn out commercially, and fabricate entirely artificially. How important is it for you guys to bring a live band back into the genre?I don't think it's something that holds a lot of weight on our shoulders, but we are aware that there may be a lack of R&B bands in the mainstream. I don't even know exactly what R&B is anymore. The genre has evolved so much - in a good way - that it makes some room for a band like us to even consider ourselves "R&B." For example, I consider a band like The 1975 an R&B band, but someone else would think I'm crazy for thinking that. I think it's all just a matter of who inspires you at this point.
Twitter kindly informs us, via you, that you're working on three albums at the moment. What can you tell us about each one?They are all a work in progress. We just got out of the studio tracking parts for a project that is sort of an acoustic album, but it's turning out to be more so; recorded re-interpretations of five of our previously recorded songs: three songs from our 'Stick Up Kids' EP and two songs from 'American Love'. We are writing songs for another EP that is going to be heavy, soul-crushing and hopefully very loud, if it ever sees the light of day. And, most importantly, we are in the midst of writing / demoing songs with James Fauntleroy and one of his teams, '1500 or Nothin', which will be for our next full length.
From a non-US citizen, the outside view of the American dream is it's something to strive for, but is never quite attained. It seems ironic that your own 'American Dream' is an album that has been worked on so hard, but still not seen the light of day. Can you tell us why? That album was a dream and a nightmare, which is sort of ironic I guess. We dreamt of making the songs we did on that album with Teddy Riley, but a lot of other things that came along with it, were a nightmare. We are still trying to navigate our way through the nightmare side of things but we hope those songs see the light of day before the world ends.
Chino Moreno was brought in to do some work for you on 'American Dream', I read. That's an awesome, heavyweight appointment. What did he bring to the mix?I can't totally describe that moment. As cliché as it sounds, it was surreal. To have Teddy Riley and Chino in the same room working with us... Man! Deftones - and Teddy Riley - are one of our biggest musical inspirations, so to have Chino in the mix of things for a day was a blessing. He helped write a song called 'Feet on the Ground' with us and Teddy, which is currently unfinished. We still have to get Chino's vocals on it.
I love the story that without meeting B. Lewis before, a quick chat post-gig saw you playing at his house the next day. To me, it indicates a band that moves to the roll of a dice, that takes their chances. Would you say that's true?Yes and no. We are definitely a risky band in many ways. Trying to put a little more calculation to the risk-taking is what I would say is a true statement about our band, at this point in our career.
Emma R. Garwood 
Bad Rabbits come to the Waterfront Studio on May 9th. For tickets, go to www.ueaticketbookings.co.uk. Read the full interview online at Outlineonline.co.uk
Norwich Arts Centre
Interview
Bad Rabbits