Interview with DELS
21/04/19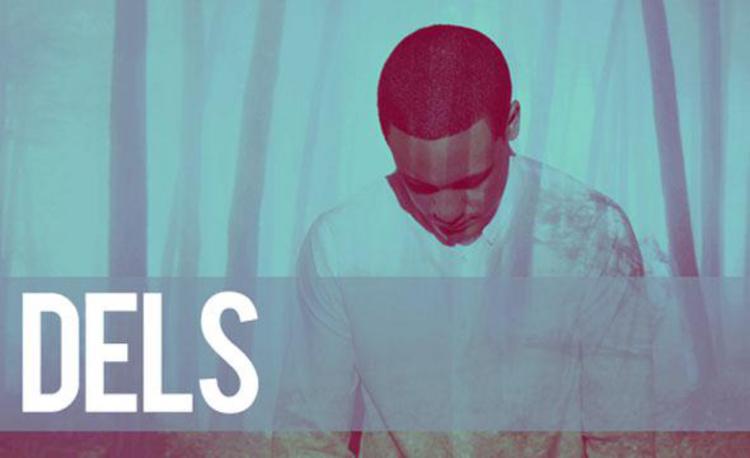 If ever there was an artist who embodied the dual notions of sound and vision, Ipswich's most dynamic export would surely be top of the list. DELS, aka Kieran Dickens has in his armoury not just the ability to write insightful lyrics and make genre-busting music, but from his experience in graphic design, he understands how the different mediums of art are intrinsically woven. His headline slot for Norwich Sound & Vision comes as part of his UK Tour, and just after the release of 'Capsize', his latest single, which comes across as a 'Ghost Town' for a new generation and shares its release date in the same month the UK sees its unforgettable riot scenes. DELS talks to us about all of this as we grab a little time with our East Anglian boy…
Now Kieran, I know we don't even need to get any Norwich vs Ipswich trouble out of the way before we start, because you're an Arsenal fan, aren't you?Yeah, yeah, exactly, my Dad always wanted me to support Ipswich Town, but I refused!
Well that's a good job for this situation alone! So where are you at the moment?I'm in London at the moment. Today I'm going to my friend's birthday this evening. What did I do last night…? Oh yeah, I went to see Arsenal last night and they won 1-0, so it was a good night.
Even though we're parking the Ipswich thing on the football front, I have to say that we know, from being in East Anglia ourselves, that people don't see it as an obvious place to spawn musicians of any kind. How do you see it, and did Ipswich help you musically?Yeah, it did because I started making music with some friends of mine when I was a teenager. I wasn't ever thinking about getting a record deal or pursuing a musical career, it was more out of boredom and wanting to create sounds and experiment, I guess. We were getting in to loads of different types of music that were coming out at that moment, in the breaks culture, it inspired us to keep making music. That kinda developed with me just because I started getting into other different genres of music.
How do you think it might have been different if you had come from a larger city?Erm, maybe my music would be different; I guess sometimes you can be a product of your environment. I mean, if I'd have grown up in East London on a council estate or something – I know it's very stereotypical, but maybe I would be making grime music. I don't know, I'm just in to what I'm in to; I grew up listening to Hip Hop in the '90s and my step-dad was always force feeding me loads of East Coast rap music from America. Also he was really into Dub music as well and my Mum was really into Jungle, old Soul music and Reggae, so the whole bass-driven music thing definitely had a massive impact on my musical tastes.
I guess you can take influences from your parents regardless of where you are in the country…Yeah, although I don't really see it as me coming from Ipswich, and that's the reason why I make my music like I do. I think it's an accumulation of things, you know. It's not just Ipswich that made me make music the way I did, it's also going to University as well and meeting loads of different types of people and getting exposed to lots of different types of music at that time. Getting in to Alternative music and old Rock music, listening to Joy Division and Animal Collective in my first year just broadened my horizons. 
Uni seems to have been a big turning point for you…Yeah, if anything, that kinda defined what I do now, I guess. There was a whole lead up, up until that point with the whole dancehall Hip Hop stuff I used to listen to, but things got really experimental when I started listening to stuff at uni. 
I guess you must be an advocate of the idea that university is important; not just for the education but also for the way it helps you grow as a person…Yeah, definitely; it was a massive turning point for me and if anyone ever asked me if I thought it was worth them going to university, I'd say yes, not just in an education sense, but what a good university can bring to you, you can't put a price on.
I'm interested in your studies as a graphic designer; it's flowed through the rest of what you do and whereas most artists learn the idea of a brand later in their career, you'll have understood from the beginning – do you see DELS as a brand though?Not really; I don't see it really as a brand, but more of a platform – not just for me, but for some of my friends who are up and coming designers and photographers. I always thought it was a project where me and my friends could all chip in and help each other out and get our ideas out there basically. When we were at university together and were working on projects, we always dreamed of doing album covers together and music videos. Because I work with two of my best mates, Christopher Barrett and Luke Taylor of US - a design studio in East London that they set up themselves - me having a record deal was a good time for us to come together again like we did at uni and showcase our ideas. I guess that in the musical sense, like when I write, it's a very singular clear vision that I want to present, but as a visual, it's a very collaborative process. Primarily it's about what I think and want to make, but I like having some of my friends contribute to my ideas; it's just what I do, it just doesn't become too self-involved then. 
I've watched all your videos and loved them and you can see you as a creative force all the way through them. How will you ever hand it over to someone else, or would you even want someone else to take that from you?No, no, that's one piece of advice I did get from Joe Goddard, that whether it be a music video or an album cover, the core concept for the visuals should definitely come from the artist, just because when people listen to the music, they always see a different picture. If I'm writing it, or producing it, it should come from you directly. Coming from a design background, I wouldn't really feel comfortable handing it over to someone else and letting them add their own ideas to it, because essentially it's come from me. 
I remember interviewing Felix from Hot Chip actually, and he said the only video they never felt quite comfortable about was one they let someone else come up with, so it shows that if you feel strongly, you should probably keep hold of it…Yeah, definitely, you need to nurture it. 
You're coming to Norwich as part of the Norwich Sound & Vision Festival, but it's part of a larger tour for you – what does this tour mean to you? It's your biggest one to date…This tour means everything to me, just because it's my first ever headline tour. I've only ever supported other bands or different types of acts. When I did my album launch party it was quite an eye-opening experience for me because everyone was there to see me. I didn't really think about it 'til I got on stage but it was a really daunting experience because everyone was looking at me! Yeah, it was a really good show though and I got a strong buzz from it and it gave me reassurance that I was kinda going in the right direction. I'm really interested to see how different parts of the UK, France – and we're also going to America as well in October, how they react, and also to meet loads of interesting people. 
You've come off the back of such an amazing summer as well. You've had some brilliant reactions to your festival appearances – are those festival slots important to you, to allow you to get your music out to people who might not have heard it?Yeah, yeah, totally; it's always good to play even if there's only 20 fans at a show. You're still keeping the ball rolling and keeping momentum going in the right direction. Also, from a personal standpoint, getting to see loads of other bands and see the way they present their music live on stage is kinda like a learning experience, you know, just like how to engage with the crowd. 
Emma Garwood
DELS headlines the Norwich Sound & Vision Festival on Saturday 1st October at Norwich Arts Centre. For full listings on the event, go to www.norwichsoundandvision.co.uk. 
Ipswich
Norwich
Norwich Arts Centre
Nac
Kieran Dickens
Dels
Emma Garwood
Norwich Sound & Vision
Norwich Arts Centre