Interview with Ducking Punches
12/08/20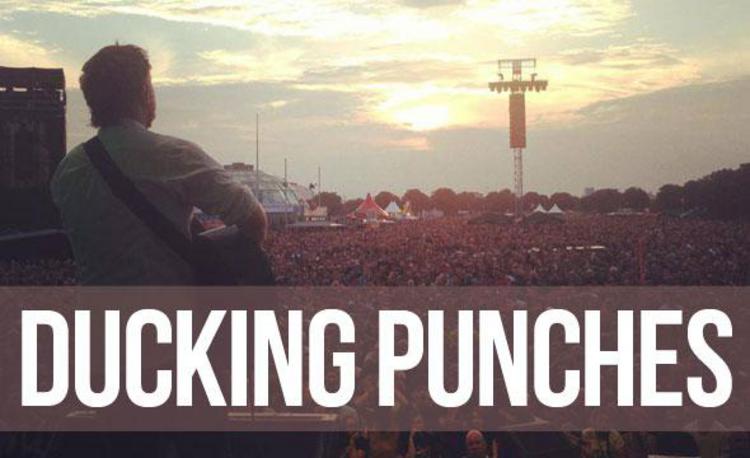 Who better to ink up Outline's first illustrated cover than one of our own city's hugely talented artists. It's no easy task, with Norwich having one of the most sizeable and notorious art scenes in the country, to choose who to put pencil to your paper. But in Dan Allen, the in-demand Norwich illustrator, you also get a guy who lives music right down to the tip of his pen, as founder and frontman of Ducking Punches and recently, guitar tech for Frank Turner. We took time to ask the man some questions…  
Dan, you're both a talented artist and musician. Do you see the two art forms as distinct, or do they both influence each other?  For me they are both inseparable art forms; I get influenced to illustrate by bands and vice versa. I just see it as a creative output, regardless of the form it takes.  
I'm imagining that, like most people, your love of drawing came at school, but for most people, it peters out. Yours strengthened – is it right that you went to Art School?  I've drawn since I was very young and have always loved it. It's super tough to make a living being solely an artist and musician, but it's something I could never give up... which links in nicely to art school - I did attend but quit before finishing my degree!   
You have a really strong style, and your illustrations of famous faces are incredible, and humorous. What will inspire you to pick up your pen?  I mainly work on a commission basis these days so I don't get too much time to do personal work, but I've always been fascinated with the grotesquely beautiful. I find there's a lot of humour and interest to be drawn from the 'ugly' and I draw huge inspiration from that.  
For a little insider knowledge, what pens, pencils or other instruments do you favour?  I tend to work in black fineliners and either acrylics or Photoshop for colour.  
Before we ask about Ducking Punches, recently you toured with Frank Turner. How did that come about?  I was already guitar teching for Frank and he injured his back pretty horrendously. He was told he couldn't play guitar for three months, and really shouldn't be touring at all, so he rang me up and asked if I could step in and play acoustic guitar. It was an amazing opportunity and an incredible experience to share the stage with such incredible musicians.  
What were the standout moments of the tour?  Wow, there were so many. A huge highlight was playing in Mannheim to 40,000 people. I'm not sure I'd even seen that many people in one place before.  
Frank Turner is the biggest commercial success of the folk-punk genre, which you are aligned with. Has he been a motivation for you?Yeah, for sure; I've always been a fan and I think he is up there with the best live acts at the moment, let alone just in the punk scene.  
So, tell us how Ducking Punches came together? You play often as a solo act, but there's a strong band behind you too… It started years ago as a solo outlet after the break up of a band. I couldn't bring myself to stop touring and playing music so it was the quickest and easiest way to carry that on. It's quickly snowballed into something that people actually cared about, which was a huge surprise to me. The next obvious step was to get some of the best musicians I've ever played with to come and join the band to give it a much bigger impact!   
You're going on a European tour in February – you've travelled around plenty before, but are there any new places you're taking in this time around?   I love playing Europe; it's always a blast. We're playing Prague on this jaunt, which is a first for me so I'm stoked about that, as well as doing two shows in one day in Berlin. We're also planning an American tour in summer, which is really exciting and a first for us all.  
How has the reaction been on your previous jaunts?   Incredible and really humbling; the amount of effort people make to come to our shows is outstanding. Plus we always get to party really hard with everyone, which rules!  
On the fan-o-meter, where has embraced Ducking Punches the most?Germany, always Germany! The crowds are great.  
What has the support been like from the local area? We try not to play Norwich too much as you can oversaturate your local scene, but every time we play, everyone is amazing. We're so lucky to have such a good music scene and it's a fucking pleasure to share the stage with the incredible bands we have in this town.  
You recently released a split album with Curves and Nerves. How do you feel working with other musicians benefits you? You always bounce ideas off other musicians and it's great to work with people who have a similar mindset, yet a different approach. It was also a pleasure doing the split with C&N as he is a good buddy and now plays guitar in Ducking Punches.  
You're recording an album in January – can you tell us a little about what we can expect, and what your hopes for the album are?   You can expect the heaviest and the softest songs we've ever recorded. It has some of my favourite songs I've ever written on it and the input the rest of the band have put in makes it soar above any release we've had so far! It's the most diverse album yet. As for hopes for the album, I just hope people dig it. I don't care about how many units we sell or the commercial success of it. I just want it to affect people's lives. I want it to be a record you can all relate to. I want it to be a record you love.  
Emma R. Garwood 
Check out Dan's artwork at http://danallenillustration.tumblr.com, and all the Ducking Punches action at http://duckingpunches.bandcamp.com, or by searching 'Ducking Punches' on Facebook. 
Interview
Dan Allen
Ducking Punches
Norwich
Illustrator
Band