Interview with Gnarwolves
20/01/21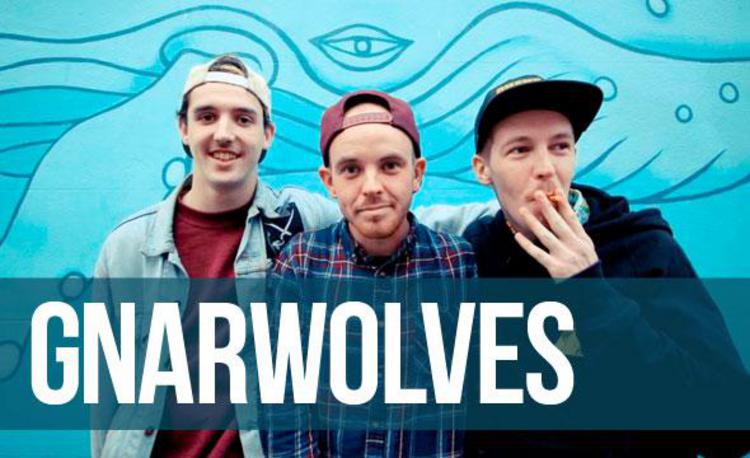 You're playing a Halloween show in Norwich. What treats – or tricks – are we in for?Well, depending on whether you like our band it'll either be a trick or a treat. We're going to play songs that we've written so if you're not into them we're going for serious ear canal damage. Happy Halloween!
Do you go in for Halloween in a big way?No more than your average Joe, although, last year we did a House Show for Halloween. That was pretty crazy. I think the resulting carnage is somewhere in the Youtube vaults.
So, you formed in 2011. Were you mates beforehand?Max and I were and are brothers, so we've been mates for quite a few years. We've known Charlie for a long time, as we played in the Kernow hardcore scene together with our old bands. We're buds for life ;)
Did you make your way into an established punk scene in Brighton? Or were you independent from what was happening musically there?When we first started playing in Brighton it was mostly through this collective called PVHC. They put us on pretty much every line up they did for the first 4/5 months of us being a band. The Punk scene in Brighton is pretty cool but we definitely could do with some more homegrown bands.
The first line of 'Melody Has Big Plans' says, "There's something wrong with the kids in my town." Are you alluding to hipsters?I honestly couldn't care less about hipsters. Having your taste chosen by the lack of popularity something has seems fairly pointless. We come from Cornwall, and there really aren't many hipsters down that way! The lyric is more about coming from a small community and never really having the opportunity or motivation to form your own identity. Birth, school, marriage, kids, dead.
Dudes, Gnarwolves is the band name of the decade. Do we dare ask from whence it came?!It's the title of a Human League B-side. (Sorry, we've been asked this a lot. It's something to do with Nature programmes!)
Your artwork and merchandise has become a strong calling card for the band. Who comes up with it?We've had several people involved with our artwork, but currently a friend of ours called James Burgess is in charge of the "pictures and shit" division of Gnarwolves. He's rad; you should check his stuff out!
You've been touring Europe recently. How has the reaction been, and were there any towns that you fell in love with?Europe was an almighty experience. We had an awesome time. One thing that really sticks in my memory was going to Prague and thinking "this is the most beautiful place I've ever been, I need to show everyone", then being in Budapest the next day and thinking "No wait, this is even better".
You released a double EP, 'Fun Club', which includes one 7" of your own material, and a 7" of covers. What was the reason, and was it good to pay homage to some bands that obviously resonated with your youth?It was a mixture of that and wanting to do more than just put out our bedroom recorded demo tape on vinyl. It was never intended for such a medium!
We run a tattoo convention in Norwich, so I'd love it if you could tell me about your relationship with that ancient art…?Charlie is a huge fan of tattoo culture and is pretty much plastered in tattoos by renowned artists. Me and Max have a slightly more casual relationship. I like them. I think they're pretty. I think sometimes they're really not pretty, which is also awesome. I think they are great for pinpointing a moment in time.
I read you sometimes tattoo each other. Artistically?Depends what your definition of art is? We're not great at drawing but Max and Charlie have got tattooing the word CRV down to a fine art now!
Thom has a tattoo of a guy's head who he's never even met, because a girl who's a friend of yours who was an apprentice. It's fair to say impulse seems to play a part in your tattoo choices…Not really man. Like I said above getting a tattoo doesn't necessarily have to be about what you plan to have adorning your skin, otherwise people would put some thought into getting something unique instead of the thousands of people with 'nautical' themed sleeves and fucking skull and crossbones designs. What does that mean other than "I think I will be a cool 19 year old with this on my neck".  I got a tattoo of that guys head because it reminds me of the tour I was on and the people I was spending my time with at that point. It also makes a great story to tell the grand kids.
What would you say against the old adage that you should think hard before getting a tat done?I wouldn't say anything. If you're the kind of person that feels they need to put some thought into getting a tattoo then you probably should do that. If you feel that you can't decide on what you want after a lot of thought you probably just shouldn't get one at all!
Emma R. Garwood
Gnarwolves play at EPIC Studios on Magdalen St on Friday 1st November. For tickets, go to www.epic-tv.com
Interview
Gnarwolves
Epic Studios
Brighton
Pop Punks