Interview with Lonely The Brave
16/12/17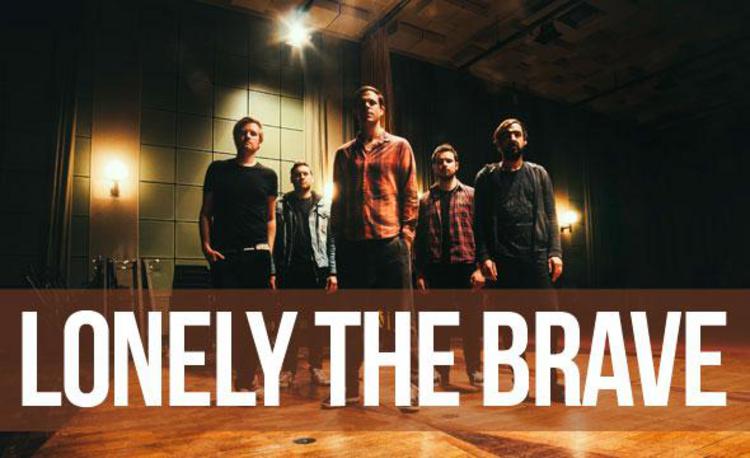 Lonely The Brave are one of those lucky few bands who have managed to stand out above the crowd and thus had the opportunity to hook themselves out of the overpopulated crowd of British rock and catch themselves some prime exposure in the form of Radio visits and a spot at Reading and Leeds. We catch up with the Cambridge 5 piece ahead of their debut UK headline tour to talk of their 2013 successes and the future of the band…
Where about are you guys right now?We are currently sitting in the van, waiting to go under the sea for a show in Lille, France, then, over to Holland for a handful of dates. Spirits are high!
Easy question to begin with – who, would you say, were your biggest musical influences?There are so many! Personally, for me I'd go straight to 'Where You Been'-era Dinosaur Jr. I've just always loved that band. Collectively we are all fans of The National, This Will Destroy You and Pearl Jam. On the flipside to that we all love metal and hardcore. In the van, our playlist can literally go from Springsteen to Converge in a second.
So I've heard from friends, who have seen you live, that your show is very unique in the sense that your singer stands facing away from the crowd. What was your thinking behind this?There was never really any thinking behind it, to be honest. It's just what we've always done at rehearsals and shows since day one. To people that have never seen it before, I can understand that it may look a little different from the usual stage set-up, but it's just what we've always felt comfortable with. It just seems to work for us.
You've been a band for - I believe - three years now, which is relatively short in terms of the success you've had so far. Where would you like to see yourself in 5 years time, in the futuristic-sounding 2019?So much has happened in that time! [Laughs] That does sound pretty futuristic indeed. Personally, I'd like to see us still touring heavily because we love being on the road, and with about five albums under our belts. Hopefully we'll have got over to the States by then, as it's somewhere I've always wanted to go. Plus, I like burgers a lot.
Your song 'Black Saucers' premiered on Zane Lowe's Radio 1 show as the 'Hottest Record in The World'. How was that, and has your experience as a band changed since receiving exposure like that?Just totally mind-blowing; the fact that this little band from Cambridge that we started, without any real agenda has got the support of Radio One is just the best thing. It's certainly gained us a lot of new fans and opportunities, but we just try and keep our feet on the ground and not get too carried away. It is a great feeling though!
With that, signing to Hassle Records and playing Reading & Leeds, 2013 was a pretty special year for you. What would you say was the favourite moment you've shared as a band? The aforementioned signing to Hassle Records was one of those 'is this really happening?' kinds of moments! Signing to a label, and especially one that we've always been fans of was just the Holy Grail for us. The other thing that stands out is opening up for Deftones in Paris. Every one of us is a huge Deftones fan, so that was a real honour. And they're the nicest guys, too!
I see you've got your debut UK tour coming up in a couple of weeks! How are you feeling about this and how have you been preparing?Really excited about it! This headline run of shows is a big one for us but we'll just go out there each night and give it all we've got, like we always try and do. Also, we have a great band coming out with us called Fatherson. They're going to blow people away this year. 
I can assume you're concentrating on the tour for now, but how long will it be until we can expect news of an album?The album is finished and pretty much good to go! We spent a fair bit of time on it and we're really stoked with how it's come out. All going well we're hoping to have it out at the start of the summer. Hopefully people will like it.
You're popping in all over the country and one place you're stopping is Norwich! Have you been here before and if so, are you excited about coming back?We've played Norwich a bunch of times before and we always love going there. It's a beautiful city, so we always try and have a good look around when we're in town. Plus, it's the home of the great Alan Partridge, so that's always going to be a winner for us.
Ellie Smith
Lonely The Brave are set to play Open on Friday 7th February. For tickets and more info, visit www.ueaticketbookings.co.uk or http://www.open247.org.uk.
Interview
Lonely The Brave
Open Norwich
Gig
Norwich