Larkins
16/04/22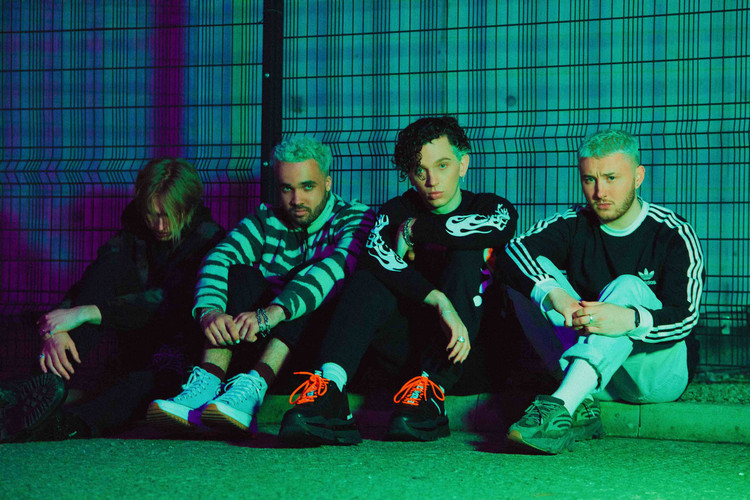 Ahead of their UK wide tour, kicking off on April 19th, to perform their debut album, JCOY, I had the chance to chat with Larkins, guitar and bass player, Henry Beach and Dom Want. Talking all things tour, upcoming shows and their best gigs to date.


So just to start off with, how are you feeling?

We're feeling good, yeah, we're feeling good. We're excited to get back out obviously, we're coming to the end of coronavirus now, touch wood, which just effected everything so hopefully.

It's looking like we're coming out of it now, so fingers crossed. How are you feeling for your tour?

We're feeling good you know, we played one gig in Manchester, a tiny gig in at the beginning of March and that was one of our favourite gigs that we had ever played. We were really happy with the set, the way we all played, it was just really good to be back playing live again, and since then we've literally been counting down the days to this tour. We'd gotten a little taste of it, and we wanted more.


Yeah, I bet with the adrenaline of playing live again! So, is this your first tour that you're about to go on?

In 2019, before coronavirus, that was the last big tour that we did, which was a 30-date tour. We did a few dates in the middle of lockdowns, when we were allowed back out and venues kind of opened, then things closed again. It's been a weird one, but this is the first one back where it feels like it's all guns blazing.

Where is your first gig for the tour?

The first date is in Brighton, which is a big trip for us, starting far away from home. We've played Brighton a few times and it's always been good, so we're looking forward to it, it's a good place to start.

So, are you guys in Manchester rehearsing at the moment?

Yes, the first show is on the 19th on a Tuesday, so we're having a last-minute rehearsal Monday evening, then we set off Tuesday morning.

Do you have a favourite city to play in at all?

Manchester is like the hometown, so it's hard to beat a Manchester crowd. You know what I don't think that's just us, I think even bands that aren't from Manchester, when they come up always say it's such a good night. I think, external to Manchester, some cities and towns really surprise us. I can remember just weird places, like we did a show in Tunbridge Wells, a couple of years ago and I'd never even heard of Tunbridge Wells, and it was mad! There's just random places and random gigs that stick in your memory as just being a weirdly amazing night.



I can imagine Manchester for the night life anyway, it must be a good audience then you have people from all over for university. Does that would all add to the atmosphere?

Exactly, exactly. You tend to find the cities with a lot of uni students are always just a really good night to play at.


For your tour you have special guests Belle MT and more recently you announced Juno James too, have you played with either of them before?

Yeah, Josh set up Soap Sounds doing some writing and recording, and he met Juno through that and just loved her. She played our showcase night that we spoke about before that we did in Manchester, so we were really happy to get her on the tour. We've actually got Phoebe Hall as one of the supports acts, who Josh has done some writing with, who also played that night in Manchester, she is doing the Edinburgh date with us, so we're looking forward to that yeah, it's nice to play with some friends!

Yeah definitely, then I'm sure it makes you all feel a bit at ease to as you know each other, you're comfortable with each other, do you think that helps?

Yeah, that's it exactly. The tour that we did in August, an artist called Lucy decan, who went to my uni and Josh wrote with, did a few of the dates with us and it was just really nice to have people that you know well backstage all the time and just there. It does make the atmosphere of a show a bit different.

Do you know what I think it is, and I know this is going to sound really weird, but I think it's just being with someone that you're relaxed around. Not thinking, oh we've got to get ready to play this show where everything has to go well. As well as thinking we've also got all these new people to meet, be friendly to them, as you do because you don't want to be rude, you want to stay and chat with everyone that's coming and playing the show. So, it is nice getting the opportunity to do gigs with friends, because you just feel so relaxed.

The more intimate gig in Manchester that you talked about, what made you want to have a smaller, more close-knit audience for that performance?

We loved doing those type of shows, we've done a few. There's a place called 'Rose and Monkey' in Manchester, just this tiny little pub, we've done two shows there, I think it was the night our album dropped, we went and just played it in full there. We always find that there's just no pressure, there's nothing that can go wrong when you're with a load of people in a room having a sing song and everyone's just loving it. It's kind of nice and relaxing, at the end of the day we do shows because we enjoy them, they're what we love to do.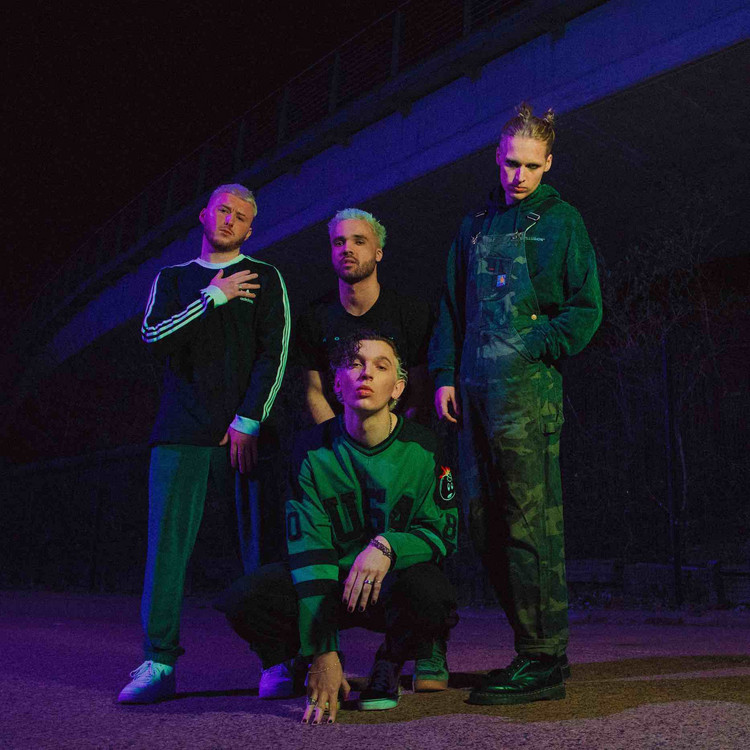 Jumping back to your first release in 2015, when you had several years where you released singles annually and bi-annually, so was it quite a shock when 'TV Dream' was released and that was the biggest reaction to your music you'd had yet?

Yeah, you know what in ways it was a shock, but I feel like with every project we've done, we've been aware that it's been better than the last. So, I think when we did our early stuff, then the EP we did before 'TV Dream' and the last single which was 'Something beautiful', which was a step up of everything we had done before, Then the next big single was, 'TV Dream'; which we knew was even better than the last one. I'm not saying that we weren't surprised that it did better than everything that we'd done before, but it was kind of like we thought would happen, because we know that this was a step above everything that we'd done before.

Obviously, we did release quite a few tracks before that, but that was the first time we had really sat down and said, 'let's do this'. We'd all been at uni, at college and doing other jobs like that, but just before 'TV Dreams', we said, 'this is what we want to do, let's just start nailing it' and that's when everything started happening and the ball really started rolling.

I also think it's the first song where we went, this sounds how we want to sound. It was the first time where it felt like, this is it, we've done the thing that we've been trying to do all this time, from now on this is the bar.


So, after 'TV Dream' went big that was mid 2019, which must've been a bit weird as you'd released it and had 6/7 months of things kicking off, then the pandemic hit so that must've put a major halt on everything?

Saying that, you've reminded me that 'TV Dream' was 2018, which we actually released on Valentine's day. So that was 'TV dream', then 'Are We Having Any Fun Yet?' came out while we were in the pandemic.

That must've been even weirder to have released that and then think, what do we do now whilst were all just stuck at home, when things weren't back to normal yet?

The release of that song was really good in a few ways, it was strange being at home but it was a song that we'd had for a while, we'd actually opened the set of the last tour we'd done with that song. So obviously a lot of people that had been to the tour or a lot of people that knew us, knew the song. Then we announced we were dropping it in COVID, the whole roll out was from us being stuck in our homes, not being able to see each other which was really strange. But yeah, it was a fun track and I think it kind of made us think outside of the box with ways to make bringing out a song exciting, whilst not being able to get together. I think everyone involved was really happy with that whole release. I remember we did the zoom parties with loads of people, we did all sorts during the pandemic to help get us through it as well as everyone else as well.


How did you connect with your fanbase during the pandemic?

It definitely helped with that, we did all the zoom parties, I remember we did a birthday party for Josh on zoom, with like 100 or 50 fans in there as well. I was doing twitch streams like every night, just messing about with loads of people watching. We did the podcasts as well! Josh went on Instagram live with a few people that we've worked with in the past, one of them was with Carlotta, our stylist for a while, one was with our photographer and just spoke about what they do. I think the fans had a bit of an input on who Josh got on to the lives as well. So, we really enjoyed that lockdown period looking back.


They sound like really good ways to keep people engaged and I think at the same time, your fans get to see a little insight onto who else is on the team, what goes into all of this.

Yeah, that's a big part of everything we've done to be fair, with tour and everything else I think we're really transparent of the fact that when we do something, it's not just us four doing it. Larkins is a much wide thing that a lot of our friends, along the way help us out with as well and we like doing that. When we go on tour, we make sure everyone knows who's on merch, who's on sound, who's with us, who are tour manager is, so when people see them around they know they're part of us too.

Have you got any festivals booked in this year that you're headlining or playing at?

We have 'Y Not', which is always a really fun festival, always a very muddy weekend, but it's a fun one, so we've got some stuff to look forward to. We've got a few more like 'Great Escape' festival too, we've got quite a busy summer to be fair.


Are they mostly festivals that you're going to be doing this summer or do you have plans for another tour or any concerts?

We'll definitely have other shows involved. I think now that we can, we won't go too long without doing any shows, now that we're allowed to play them again.


You guys released your album 'JCOY' in October, was that when you had just finished working on it or did it just feel like the right time to release it?

We're going back a long time when the first song would've been written for the album. There was always the debate of whether to put our singles that had done really well onto the album, so there was 'TV Dream' and 'Are We Having Any Fun Yet?'. I think it really started with 'Are We Having Any Fun Yet?'. We'd been in LA, touring a bit in America and Canada and I think that was really the start of that sound that we were trying to find, with Josh and Dan Nigro. Over the next few months, lockdown especially, that was the time to sit down and delve into it.

I think five or six of those tracks were all done within about a year of each other and then 'Are We Having Any Fun Yet?' was done just a little bit before that.

When you went to LA, what was it there that made you think, we've found our sound and gave you more inspiration for your music?

Yeah, a lot of the artists and bands are from America and that kind of sound had been in our ears for a long time before that. I actually think we knew that was the sound we wanted before we went there, which was one of the reasons that we went there and spent some time with Dan Nigro. When you go there you realise why the music sounds like that, it's a very interesting place as it's very different to anywhere we've been before, it's a creative place with so many people working out there, so I think it definitely inspired us in that way.

So, they were more your recent music influences, but do you have any musical influences from when you were younger, what you grew up around?

For sure! We get asked this question all the time and it's a complicated one to answer as all four of us have such different musical backgrounds. Henry and Joe care more classically trained musicians, they both studied it at university, (That makes me sounds posh that), maybe not classically trained but you get the idea. Dom and Josh are more kind of, picked up a guitar and were great at it. All our parents influenced our music in a lot of ways.




Do you think living in Manchester had quite a big effect on that as well?

Josh always answers this question very well, it did, but in a more inverse way. Don't get me wrong there are so many incredible bands from Manchester that we love, but especially being an up and coming band in Manchester, you see there are so many bands that want to sound like those bands that have come before them in Manchester. I think that when we went there and started playing shows we very quickly knew that we didn't want to sound like every single one of those other bands, that were trying to recreate this sound that had come years before; It kind of pushed us to do something different.

I think the best thing about coming from Manchester and the biggest impact that it had on us musically that on your door step you have 20, 30, small venues all playing a show 5 nights a week, that you can go in to. Everything that's on, there's posters everywhere, you can just kind of bathe in this musical hot tub. It's really amazing, it's an amazing place.



So now that the album is released and the tour is underway, what are you plans musically after this? Are you thinking another album or just rolling with whatever comes?

We're just rolling with whatever comes at the minute. There are a lot of decisions to be made, now is the time to sit down and really think about what we want to do musically and what we want to do album wise. Weather it's another album or an EP or a single, I think 100% there will be new music from us this year.

Whatever we do there will be new music, Josh is writing so much at the moment, we don't know what that's going to look like album wise or single wise, buts it's going to be a surprise, for us too!

Ultimate goal wise, where is your dream venue that you would love to play at that you haven't yet?

We've always said Pyramid stage at Glastonbury. I remember us once in a meeting and Josh saying, we don't want to be this kind of band, we want to be a pyramid stage kind of band, that's the goal. I think for a lot of bands as well, Glastonbury is almost like the Holy Grail of festivals you wants to play, for UK music it's the pinnacle.





LARKINS LIVE IN CONCERT – JCOY TOUR 2022

DATES AND SUPPORT ACTS

20th - EPIC Studios Norwich. Local support: Gabby Rivers
23rd - Edinburgh. Local support: Phoebe Hall
24th - Newcastle. Local support: ZELA
28th - London. Local support: Juno James


Tickets available to purchase for the tour here - https://www.larkinsband.com/live