Leona Lewis
24/02/20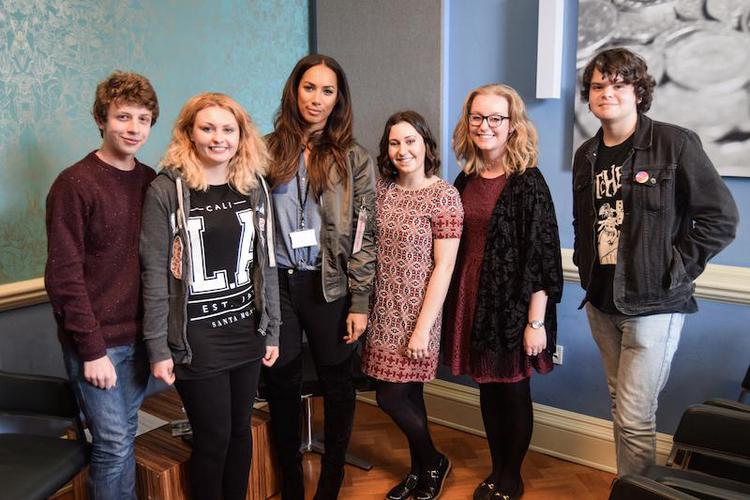 Now 30, the Bleeding Love singer, songwriter and animal welfare campaigner Leona Lewis is releasing a brand new album in 2015 and announced in September last year that she was leaving Syco. The well-known, surprising talent has taken us all by storm with new anthemic single Fire Under My Feet, and we had a chat with her as part of Outline's BBC R1 Academy workshop.
 Your latest single Fire Under My Feet is a step away from your previous style. Tell us about your change in direction.
 I'm really influenced by a lot of gospel music, I was in a choir when I was younger so there's a lot of gospel and soul influence on the new record, and I just kind of wanted that to come through a bit more on this record, I'm with a new label now and I've taken it kind of up on myself to do it myself a bit. I went out with pretty much one producer; we wanted it all to feel very consistent and have a certain kind of feeling. We wanted it to all be up-beat and positive and so that's where the different energy comes from.
So you have left SYCO and now signed with Island; how are you feeling about this change?
I'm feeling good about this new label. I was with SyCo for about six or seven years so it was quite a bit change cos I got used to a certain way of working but leaving them has been very refreshing. Sometimes it's good to just have something new and a new energy and a new team around me has kind of helped me; it's been great so far.
Tell us about 'Fire Under Your Feet' and the inspiration behind it?
The song for me is about overcoming adversity and kind of getting away from people telling you what you can and can't do and what you can and can't achieve. We made a video for the song with a lot of people who had been through situations that could have been adverse, like there's an athlete in it who was born without the lower half of their limbs and now she's running marathons and achieving amazing things. It's just about not letting people put you in a box and doing what you're passionate about.
You have taken some time off whilst preparing for you new album. What do you think of the state of pop music now that you're back?
I think it's great! I listen to so much different music, I have a really eclectic taste and I love what's going on right now. I'm really obsessed with the Alabama Shakes, I love soul music. I love Sia as well who's just cleaning up! I think it's really good, we've got some really strong female artists right now who I'm a big fan of so I think it's strong.
Can you tell us about the inspirations and influences behind your new album?
For the past couple of years I've had a lot of changes, leaving my previous label and joining a new label that's very different to how I've worked before, so a lot of it is about that and about just finding myself. It's been 10 years since I was signed and obviously that's a long time; I've had experiences, I've travelled a lot, my life has changed so much so I have a lot to speak about and sing about and that's a lot of the influence on the album.
You have already collaborated with the likes of Jennifer Hudson, One Republic and Avicci. Who else would you love to work with next?
I would love to work with, I mentioned them before, the Alabama Shakes, I think they're amazing. I have worked with Sia before, but that was a few years ago so I'd love to work with her again. Classic collaborations I guess people like Stevie Wonder is a huge, huge influence for me so someone like that would be amazing. On the new album I've kept it just me, so no collaborations, but maybe in the future.
Before The X Factor you were a secretary and worked in Pizza Hut. How did you cope with the complete change of lifestyle and the fame that The X Factor brought?
It is a huge change, especially going on a show like that it quickly built up; I think literally 13 million people were tuning in every single week so I remember one day I'd be going to work and the next day people would be like "oh you're…" or people would come up to me and I'd be like "oh my god" and approaching me in Sainsbury's whilst doing the shopping! It kind of goes up and down; I'll travel to different places and sometimes no one will recognise me and sometimes I'll go to places and loads of people will recognise me so you just go with it and get used to it.
Was it difficult to break away from The X Factor stereotype whilst developing your own style?I guess it was 10 years ago, so it's given me a bit of distance. It was a really valuable platform for me. At the time it was the third series so it was really new. It meant I was able to be exposed worldwide so it was amazing for me to tour an travel the world with my music and it all started there.
Would you go on The X Factor now if you were just starting out?
Yeah. Or The Voice!
Which producers do you admire?
On my new album I've worked with Toby Gad who's worked with Beyonce and Fergie, and Ed White also who's worked with Adele and Sam Smith. In terms of producers I'd love to work with Pharrell or Bruno Marz.
What music have you been listening to recently?
I listen to a lot of old music; Stevie Wonder, The Beach Boys and Bob Marley…everything really. Eva Cassidy is always on my playlist.
Who have you seen live recently?
I guess the last gig I went to was Sam Smith, although I know Alabama Shakes played in London a couple days ago and I couldn't go! I haven't been to many gigs recently as I've been recording my own music and I don't want to be too influenced by too much else that's going on.
You haven't announced any live dates for this year yet; will the UK get to see you play live in 2015?
I am hoping so, yes, and we've potentially planned out a tour but we haven't confirmed anything yet.
Interview by Alex Cabré, Georgia Pinfold, Georgia Arundell, Georgia Williams, Will Roxby