Ride
29/09/15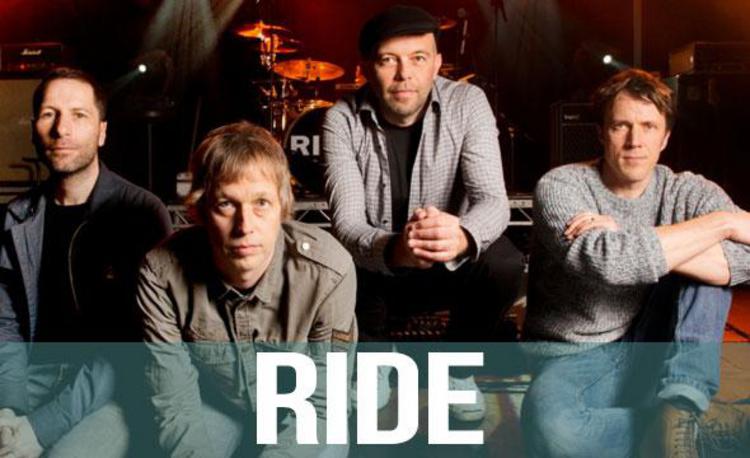 Ride in the early 90's were where it was AT if you were a teenage girl like me. Mark, Andy, Steve and Loz were four floppy haired boys from Oxford, signed by Alan McGee to Creation records who created a whole new sound, known henceforth as Shoegaze. Their first two albums knocked everything that we knew about British indie music right out of the park, but the onset of early Britpop led to the band's sad demise. Some members went on to play with other groups like Beady Eye and the Jesus and Mary Chain, follow a solo career or just stop making music altogether. Ride are now back, 37 years after they first got together, and they're coming back to play all their best songs for us here in Norwich. I had a chat with drummer Loz Colbert, who has since gone on to play with the Jesus and Mary Chain and Gaz Coombes, about being Ride being reunited and whether it feels so good.
Have Ride played in Norwich before?
I think when we were playing all round the UK, we played Norwich Arts Centre once or twice. Because Norwich is a tricky one to get to, I think whoever did the tour routing just didn't think about after that. Sorry about that! We're coming back now though.
You met Andy and Mark at art college; had you already been in bands at that point?
I had, but nothing serious. The first band I played in when I was 16 was learning cover versions which was really good for me,. There were some older teenagers in the village where I lived and I ended up playing drums at rehearsals, which never led to anything but was worthwhile. I had a joke experimental band with a friend at college called The Lobotomists; we used to use liquidisers and chainsaws to make music. Weirdly that set me up nicely for art college!
Where did the name Ride come from?
There was a spat of one word named bands at the time like Mudhoney and Loop, and we were at art college so the aesthetics of it all was important to us. I actually came up with the name; it just seemed to fit. I bought a ride cymbal when we started rehearsing, so maybe it was just seeing the word "ride" on the cymbal? For me, the ride cymbal suggests a smooth forward motion when you're drumming and that's quite similar to our sound I guess.
When Ride first started what were you all into listening to and to what extent did those artists influence your sound?
When a band starts to play for the first time their entire life history comes into play, plus everything they've ever heard, it's all subconsciously in there. We were all passing round 4AD records, Mudhoney and My Bloody Valentine, absorbing each others influences. Steve brought in a dub reggae thing, I was really into the hip hop revolution of the time which was so much about beats, and that in itself was a change as it was a step away from the troubadour/singer songwriter tradition because it was about the idea that beats could be cutting edge and shocking. Mark was listening to The Smiths a lot, Andy had a lifetime of listening to The Beatles and we were all united on My Bloody Valentine as it touched on a lot of things we were all into. When we got together it surprised us as to how easily it came together; we didn't talk about it much, we just got on with it. Without sounding too wanky about it, being in Ride was like having a conversation musically more than anything and that carried until the end of the band really.
Oxford has a very good reputation for fostering interesting bands; you, Radiohead and Supergrass all came from there, and most recently, Foals. What was the scene like when you were just starting out?
There wasn't much help for us; we were the first out the gate! The thing that people used to pick up on was that no one big had come out of Oxford for 20 years before us. There wasn't that big a scene when we started, but there certainly was after we finished. By the time Ride had done it's whole cycle and had finished there were people moving to Oxford to try to pick up on the music scene. In some ways I think we played quite a large part in creating something. When we started to turn up in the NME or the Melody Maker, and the Oxford thing started to come up, people took notice, in the same way as the Madchester scene. Basically Ride, Radiohead and Supergrass all happened at the same time, and people started to sit up and take notice.
You were signed to Creation Records pretty early on after Jim Reid from the Jesus and Mary Chain brought you to the attention of Alan McGee. Signing to certain record labels back in the early 90's meant that you would almost literally be 'labelled', so for example Creation acts or Heavenly acts would be grouped together. There was also the fact that these labels were really respected, so you gave new bands. Has that concept been lost now?
Yeah, you're absolutely bang on there. It was very much about personality and character, and it kind of centred around some slightly mysterious individual like Geoff Barrow or Alan McGee. There was also the culture of the label, for example, 4AD for us existed in another parallel universe; the artwork was incredible, so diverse and well chosen. We'd have loved to have been on 4AD although I don't think our sound was right for them. At some point at least, the Jesus and Mary Chain, My Bloody Valentine and Primal Scream had all gone through Creation Records, and they were who we were listening to and were influenced by. So of course when you see that Creation logo spinning round on the record you've made it starts to mean something to you.
Your debut album Nowhere is often described as one the greatest indie albums of all time, and it's now been out for 25 years. What do you think it was about that album and the early EP's that people took to so heartily?
I think it got noticed in the first place due to the jangly 60's-style guitars from Andy and Mark's vocal delivery, which was perfect for the time. We actually sounded like a band, not just a riff and a vocal. Nowhere was a stab at what it was like to see us play live. What people call the Shoegaze movement emerged from noise, and we emerged with more of a psychedelic sound even though we loved our noise; we were a bit more colourful. When you listen to that album there's a melodic aspect to it that captures the attention but there's a lot of depth there from us as musicians as well even though we were just teenagers at the time.
I know that relationships within the band during the last couple albums were quite strained. Did you maintain contact with each other when Ride were no longer working together?
We had a natural and inevitable cooling off period after the band split for about a year, then we were happy to be in touch with each other. We've been meeting up every year since; there's not been a break in communication between us apart from that one year. I think we're quite good at forgiving each other, perhaps because we grew up together; whether we liked it or not we spent a lot of time together. The band brought us together and that was really all we were interested in, so we left the big issues at home and got on with the music!
You went on to play drums with the Jesus and Mary Chain and Gaz Coombs amongst others. What was it like going from playing with Ride to working with other bands, and then back to Ride? Were they easy transitions?
Yeah, I suppose when you describe it like that it's been perfect. I learnt how to play drums while I was in Ride! I wasn't a perfect drummer on day one. We were all complete beginners when we started; by the time we finished I'd covered a lot of ground and worked with a lot of producers. After Ride finished I started to look at drumming as an art and a skill and as a profession; they were all new things for me. I even went to a drumming college and studied full time for a year. Playing with other bands has made me more humble and means I'm more able to provide a skill and service and to try to get better at giving other people what they want. And that's a great thing to bring back to your original band; I feel much more complete as a player and more able to give selflessly.
How have the live shows gone so far? And the festivals…Field Day and Primavera? It's a real testament to the band's legacy and reputation that you can come out of retirement after this long and can headline stages at major festivals.
It's been off the scale, as far as I'm concerned. We're absolutely playing out of our skins, and we've never played as well as this. We were nervous at the start but as soon as we got going it was just so obvious that we're just having it on stage. And it's only going to get better as we go on; we're having an absolute ball playing live again. We can hear each other well, we've got better monitors so we're having a great time, and the audience then gets buzzed off that and likewise. It's a real pleasure to play live right now.
How have you gone about choosing your setlists for these gigs? I'm hoping for Time Machine…
A ha! I really wouldn't want to say anything but gosh, that suggestion really struck a chord with me! These first few months we've just been focused on playing the songs that everybody wants to hear. We didn't want to go really obscure or play eight new songs or anything like that; we just decided to give everyone what they want. I think it's a great thing to do as it's like a celebration at the gigs. But as we're getting more confident in playing we've started looking a bit deeper into our back catalogue. We're looking to mix it up a bit more, and play some tracks from all our albums. All I can say is Time Machine might be in there!
Will there be a new Ride album?
I think it's the sort of thing that would make sense for us all to do at some point. When we got back together we were just focused on playing these shows as we didn't know how it was going to go and was a bit daunting. But yeah, we'd really love to take it further.
Ride play UEA on 12th October. Tickets available from ueaticketbookings.co.uk