The Hold Steady
23/09/14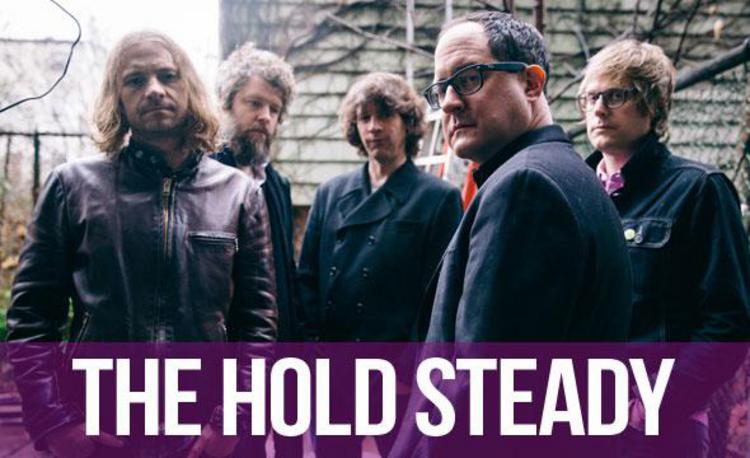 The Hold Steady are one of America's most loved rock bands, and their sixth album, Teeth Dreams was released in March to critical acclaim. Their sound is pure Springsteen-after-staying-up-for-72-hours-accomplished-ROCK, with the most beautifully dense lyrics I've heard in a while. They're now entering their second decade as a band, and having played in all 50 US states, they have their sights set firmly on Epic Studios, Norwich. With 75,000 Facebook fans, and live shows that  have been deemed "AMAZING", this band come with a bag packed full of warmth, passion and energy. I caught up with Tad Kubler, guitarist and songwriter for the band as he grabbed a few days off tour.
Where are you right now?
I'm at home in the States. We were out on tour for six weeks around the USA and then we had a little break, and then we were out again for two weeks, and now we're home again. We're kind of a touring band so we've done as much as 200 plus dates a year.
How did you come to be a musician?
I'm not really good at anything else! Music has been a huge part of my life from very early on. The older kids in my neighbourhood would lend me records, anything from Cheap Trick to Queen, and then in my early teens I got into punk like The Buzzcocks, and also The Violent Femmes, which then developed into liking bands like Black Flag and Fugazi. I got my first Led Zeppelin or Van Halen album and decided that was what I wanted to do. And you know, you're never gonna do that, because those guys are who they are, but when punk rock comes into the picture it seems much more attainable. I started playing in bands in high school; some of them were pretty bad, and then I continued to evolve and find my own style. Playing in bands in my '20's, it was right when Mudhoney and Nirvana and the Afghan Whigs were big. I remember we played with Green Day in high school at a roller-rink, and all of a sudden they were the new guard. There was this big hope, where we thought we might be able to be successful at it. Or at least do it to the point of not keeping the swimming pool full of champagne, but at least paying the rent.
How did The Hold Steady begin?
Craig Finn (the vocalist with The Hold Steady) and I were in a band called Lifter Puller, and that dissolved in 2000. He moved to New York, and I moved there after a year; I was mainly doing photography work, fashion and music. Craig and I started hanging out in New York; we were both working other jobs, but decided to get together a couple times a week and play some music and drink some beer, with no expectations. We did it because we loved it. And that's how The Hold Steady started. We've been all over the world and had six records out since then. When we started to play shows and started a bit of modest touring, we saw that there was a place for what we were doing and people liked it, so as that continued we set our goals a little higher each time.
How did you get your foot on the musical ladder?
A couple of guys from the Upright Citizens Brigade, a comedy troupe here in New York, had a little spin off show on the first Thursday of the month at Arlene's Grocery, a little club on the East Side. They wanted a house band, like something you'd see on Letterman, to play classic rock songs in between skits. It was so much fun to play the music which I learnt how to play guitar with. Rock n roll always sounds good! The indie rock scene seemed to have other motives other than seeking out joy; it was more exclusive. Rock 'n' roll is just about having fun.
Why are you called The Hold Steady?
We didn't have a name when we started playing at Arlene's Grocery, but as soon as we started having our own shows we needed a name. Craig wanted something which was a command or a directive, and he came up with The Hold Steady. At first I thought people might think we were a ska band, but I did think it was a good one. It's so hard to name bands; it's either too clever or too dumb.
 ou've been going for 10 years now and have some very loyal fans. Is your relationship with them closer now as a result of Twitter and Facebook?
Yes, absolutely. I think that's one of the most special things about our band; it's very inclusive, and we like people to feel they are a part of something. I've heard so many people say I never mind going to a Hold Steady show by myself as I know I'll see a couple hundred people there who will be friendly. The community around the band is something that we've been really fortunate with, and really try to celebrate.
What's your favourite Hold Steady song to play live?
You could ask me that on any given day and I might give a different answer. There are some songs which are really fun to play, and that's what makes them my favourite, and others I have a particular connection to in terms of how or when they were written. There are times when I'm screwing around with a chord for months and months and then I'll be sitting in front of the TV and all of a sudden something else comes up and I'm like "Woah, what was that?" Then there are some songs where you go in with a deliberate goal or try to accomplish something, you finish the song and realise that it's no longer what you wanted it to be and it's become it's own thing. From the new record I would say Oaks is definitely one of those songs which has had a real journey to it. It's tough to pull off live as it has kind of a slow tempo with a lot of dynamics in it and that's something you need to watch carefully. On With The Business is another song that's great to play live; it's really powerful.
Do you fight about what's played in the tour bus?
Now that we're on a bus, with technology as it is, it can sometimes be that everyone's got their own iPod or iPad and headphones on and is in their own little world. It isn't like it was back in the day when we toured in a van; we always had Dealer's Choice, where the person who was driving chose the music. In those days we listened to a lot of books on tape or live comedy records which was a nice break as we are bombarded with music all the time; if you're not playing you're doing the soundcheck, or watching the opening band. I would say after a few hours after a gig these days, after we've had a few drinks and we're back on the bus we take turns to play each other great music we've heard. That's one of the exciting parts about playing in a band; sharing what inspires you personally with everyone else. Steve and I are big Zeppelin fans, and he has more live bootleg tapes of Zeppelin shows than anyone else I know. Also we really love Kiss live shows as they're so ridiculous. Some of the more recent bands that have come out that we've been listening to including White Denim, Father John Misty, The Donkeys from San Diego and the new War of Drugs record.
Do you think non Americans 'get' The Hold Steady as naturally as Americans? Is it a particularly American sound in your opinion?
Most of the music that I love and that I am inspired by is actually by English bands. Everything from The Smiths to The Stone Roses, Primal Scream, Oasis, all the way back to Black Sabbath and The Who. When you get back to 60's and 70's rock from England, the American Blues inspired most of those guys, so it's hard to say. I would say that we are classified as a very American band, and I think a lot of that has to do with the narrative thread in our songs. Craig's lyrics are so specific and they reference a lot of geographic places that are American. When you get into other parts of Europe and the world where not a lot of people speak English, as we are a lyrically dense band, people might not connect to it quite as well.
The Hold Steady are well known for their fantastic lyrics. What's your song writing process?
The music always comes first, and then I'll give him a rough demo or a couple of ideas to work on. In fact on the last record, the songs were pretty much finished by the time I gave them to him. It's actually not something we ever talk about which is weird. There have been times when I've tried to say "Hey, why don't you give me a finished set of lyrics?" but Craig is always rewriting until stuff goes to tape. The lyrics are always in flux until they're recorded and then they're done.
 The Hold Steady play at Epic Studios as part of Norwich Sound & Vision on 11th October. Tickets from ueaticketbookings.co.uk