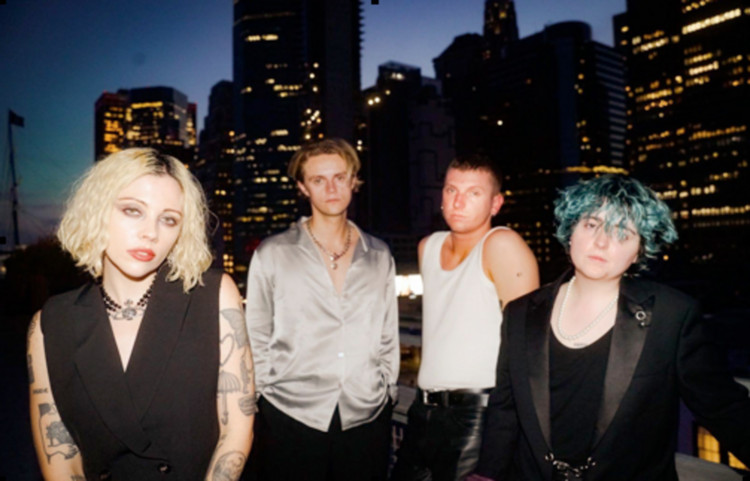 ---
---
MARC VALENTINE – FUTURE OBSCURE
Saturday, July 9th 2022
Look, I know I am biased but this album is an instant classic. Buy it. Better yet, go see Marc and band, supported by the very marvellous Carol Hodge, at Voodoo Daddy's on 16th July then buy it. You will not be disappointed.
The Kooks – Echo in the Dark
Wednesday, June 22nd 2022
Beabadoobee - 'Beatopia'
Friday, June 17th 2022
Destined to be one of the standout albums of 2022, make sure you catch Beabadoobee at Reading and Leeds Festival this summer, or at the Nick Rayns LCR here in Norwich on October 8th. This is going to be the year of Beatopia.
MILLIE MANDERS AND THE SHUTUP – SWEET MELODY
Friday, June 17th 2022
Liam Gallagher - Down By The River Thames
Wednesday, June 15th 2022
Just Mustard - Heart Under
Monday, May 30th 2022
Although the intention of the album was to feel the experience of driving through a tunnel, Heart Under takes you to so many other places (some of which you'd rather keep locked away). It's a terrific second album.
PETROL GIRLS - BABY
Friday, May 27th 2022
Liam Gallagher - C'mon You Know
Wednesday, May 25th 2022
C'mon You Know is Gallagher's best album thus far
Peach Pit - From 2 to 3
Wednesday, May 18th 2022
By the end of my first listen to 'From 2 to 3', it became clear that the band have crafted a soundscape that is uniquely theirs.
Florence + The Machine- Dance Fever
Saturday, May 14th 2022
I implore you to explore this album for yourself and become immersed in this new fairytale world Welch has created with this Dance Fever character. I for one don't see myself leaving it anytime soon.
PEANESS – WORLD FULL OF WORRY
Friday, May 13th 2022
On this album, Peaness don't do many thing particularly new but by heck they do it well and the songwriting is of an exceptional standard.
Sharon Van Etten - We've Been Going About This All Wrong
Wednesday, May 11th 2022
The singer-songwriter's sixth album is an immersive collection of songs, wrestling with trauma both collective and personal in an increasingly destabilising world and will be the greatest record you'll hear this year.
Tess Parks - And Those Who Were Seen Dancing
Friday, May 6th 2022
The album closes with a piano and the sound of rain in 'Saint Michael'. Retrospective and atmospheric rather than apostolic in its tone,
EAT YOUR OWN HEAD – NECK-DEEP IN THE BLYTH
Thursday, May 5th 2022
These guys can play – hell, these guys can play – but, like the very best math-rock, prog and jazz, technique never takes precedence over the song.
Loose Fit - Social Graces
Wednesday, May 4th 2022
From start to finish this is an absolute peach of an album, a juicy slice of post-punk, pop perfection.
Sta Prest - Shadow Boy
Wednesday, April 27th 2022
Susanna - Elevation
Sunday, April 24th 2022
If you are not already familiar with the work of Susanna Wallumrød (or, come to that, Charles Baudelaire) I would implore you to give 'Elevation' a listen. It is most certainly an album that is all that I cannot leave behind.
C Duncan - Alluvium
Monday, April 11th 2022
Alluvium's sense of fluidity and pace continues in the cinematic harpsichord-led title track, whilst 'Earth' creates a distinctly retro revisitation of Colin Blunstone on a 1970's Alan Parsons concept album
Wallows - Tell Me That It's Over
Saturday, April 9th 2022
Wet Leg - Wet Leg
Friday, April 8th 2022
The day is finally here…Isle of Wight's most of exciting new band have delivered an album that does not fall short of expectations.
ROMERO – TURN IT ON!
Thursday, April 7th 2022
CROWS – BEWARE BELIEVERS
Wednesday, April 6th 2022
Another cracking album and I can't wait to see 'em blast it out live.
Ho99o9 - Skin
Thursday, March 31st 2022
Nilufer Yanya - Painless
Monday, March 28th 2022
Placebo – Never Let Me Go
Monday, March 21st 2022
Finn Doherty - You're Still in My Dreams
Friday, March 18th 2022
Zakoor - Life Cycle
Wednesday, March 16th 2022
The Ninth Wave - Heavy Like A Headache
Monday, March 14th 2022
WIDOWSPEAK – THE JACKET
Thursday, March 10th 2022
Samana - All One Breath
Friday, February 25th 2022
it is almost as though the listener has been taken on their own enlightening journey of discovery as well.
OH HIROSHIMA – MYRIAD
Thursday, February 24th 2022
....have created a sound that is wholly their own and it is IMMENSE.
Stereophonics - Oochya!
Wednesday, February 23rd 2022
Kristine Leschper - The Opening Or Closing of A Door
Wednesday, February 23rd 2022
This is a stripped-back work that is overwhelmingly enhanced by the beauty and fragility of Leschper's vocals, creating a naturalistic and folkier feel to previous works, and producing an authentic sense of natural impermeance.
Fatherson - Normal Fears
Tuesday, February 22nd 2022
Ultimately the album shows an expressive side to the band, one that brings delight and hopefully a new swarm of fans while keeping the old ones happy
Seven Seals - Owl Cage
Wednesday, February 16th 2022
'Owl Cage' is an album that should now be heard way beyond the rugged peaks of the Cumbrian countryside
Skinny Lister - A Matter of Life & Love
Monday, February 14th 2022