Daddy Long Legs
Bedfords
23/11/17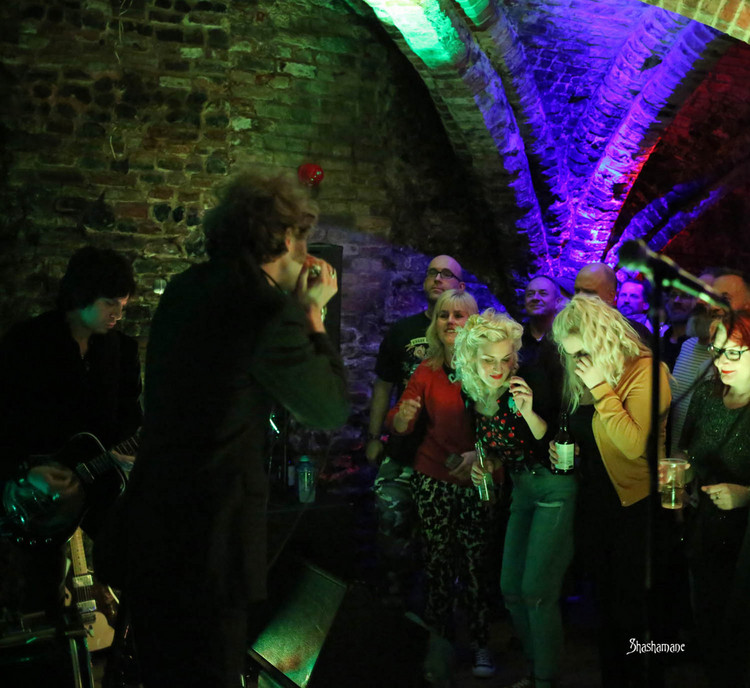 Daddy Long Legs were certainly one of my main highlights of the Red Rooster Festival when I saw them on the main stage there in 2016. One of those "stop you in your tracks" sets that become a defining memory of the festival itself, so I was delighted when I noted that they were booked for a Norwich date on this 2017 tour for Punk Rock Blues, their first visit to Norwich. To make it even more exciting was the prospect of seeing them in this tight and intimate, historic venue of Bedfords Crypt, scene of one of my favourite gigs of all time - Starcrawler, earlier this month - as well as the classic Jug Jaw's Beat Club nights of recent years which is closely connected to Punk Rock Blues.
To say that I was a tad excited about this gig would be some understatement but I was far from alone in this feeling, and arriving shortly before the doors had even opened it was interesting and noteworthy speaking to some of the other early arrivals, a few of whom had travelled from the outer reaches of the region and beyond for this gig, which tells you a lot about the draw, appeal, and escalating reputation of the band. Tickets were in short supply and high demand, the hottest ticket in town on the night by far.
Opening was Tuppenny Bunters, a gloriously noisy male-female duo whom I later learned were Southend-based. Sharing vocals and also switching between drum-kit and a grungy, battered piano, the sort that looked like it might have been bequeathed by James Leg on his last visit here but I loved its sound and they were the perfect way to start the night.
The Crypt was rammed by the time Daddy Long Legs made their way down the stairs to a Morricone intro tape. (I love intro tapes!) The gig having sold out months earlier it was already hot and sweaty before they'd even played a note and it was to get a whole lot steamier. There is always a palpable sense of excitement for gigs like this in the Crypt, a medieval undercroft which also has history as a beat club in the 60s and 70s (as it is again now), the intimacy, closeness of band and audience, the sweaty vibe ... it's just as it should be, especially for a band like Daddy Long Legs. This is our Cavern and should be recognised as such.
What an engaging and exciting show Daddy Long Legs delivered too. It was not difficult to pick up on their influences of the likes of Howling Wolf, Dr. Feelgood, MC5, John Lee Hooker et al, and judging by one of the encores, Sonny Boy Williamson too, as vocalist and blues harp player Daddy Long Legs himself amazingly sang, played guitar, and harp simultaneously! The whole that this band deliver - dirty, punky, stompy blues - vocals and harp through a rough old vintage mic, is a delicious combination. And in the Crypt too! It doesn't get much better than this.
With Josh Styles punching the drums with maraca and drumstick providing the bass beats, and Murat Akturk on guitar and backing vocals this was a full-on sound rooted in another era but feeling totally Now! Very cool and with great songs, such as Evil Eye, the audience obviously loved it. Really loved it! Especially the theatrical final few songs where once again we had a singer (and percussionist) weaving their way through an ecstatic Crypt audience. Drum brought to the front of the stage with a layering of water, it was quite a spectacle and the gig was about as exciting as they come.
Actually we are living in musically exciting times in Norwich, 30-40+ gigs on at least three or four nights a week at the moment and some of them of this sort of calibre on a Wednesday night, where some cities get half that number in a whole week. As a city of this size we're very lucky and becoming more of a name for the tour circuit, I feel, or certainly hope. This one was special and speaking to the band afterwards they seemed to feel the same way about it and certainly got a kick out of the venue and the up-for-it audience. Good times. Great gig, sound, venue and crowd which is always a magical combination. "Primitive, Raw, Blues" read the label on my vinyl purchase at the end of the night. That about sums it up but I'd have to add "fun and exciting" to that.