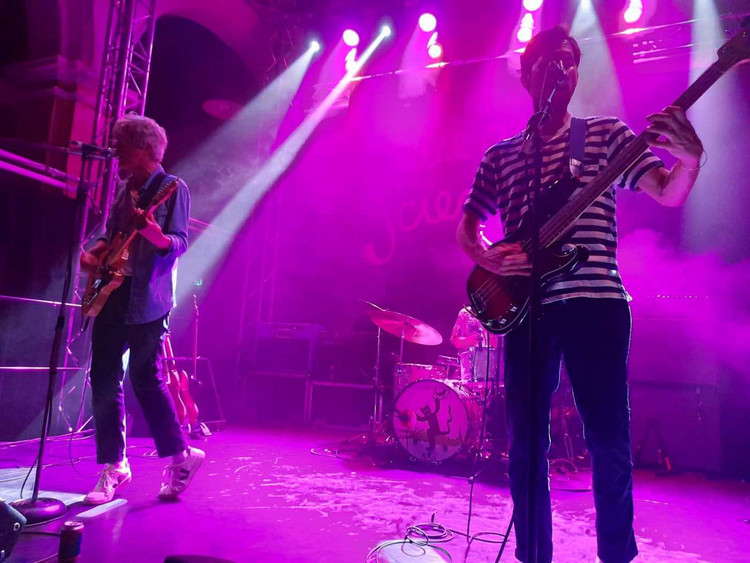 We Are Scientists - Coach Party
Thursday, July 28th 2022
Neither current nor heritage, We Are Scientists remain part of a noughties phenomenon of acts that burned bright with their debut album but never quite matched it, producing literate songs heavily disguised with pop camouflage, just in case anyone noticed how clever they were.
Read full Article >
---
---
Show Me The Body + Militarie Gun + Red Mar + Haavat
Friday, July 1st 2022
They're impressively tight and obviously great musicians. A whistle stop tour of their discography really highlights their talent as writers too. It's harsh and defiant.
Elvis Costello. (The Boy Named If & Other Favourites)
Monday, June 27th 2022
FLORAL IMAGE, SHE'S IN PARTIES & BEN AULD
Saturday, June 25th 2022
Chances are that those at Glasto won't see anything better than tonight's headliners.
THE MISSION & SALVATION
Thursday, June 23rd 2022
Less than perfect sound but a glorious celebration of 36 years of The Mission.
Keane. Thetford Forest
Wednesday, June 22nd 2022
Seven and a half thousand people have very clearly had a fantastic evening, Keane have absolutely smashed it out of the woods, just like they did the last time that they were here.
William Basinski + Tom Rogerson
Friday, June 17th 2022
SEPULTURA, RAGING SPEEDHORN & CAGE FIGHT
Friday, June 17th 2022
Roger Eno
Saturday, June 11th 2022
Sorry - Wunderhorse
Wednesday, June 8th 2022
The music can be uncomfortable, unsettling, but simultaneously honeyed and sweet. The juxtaposition is what makes it such an engaging act to see and hear.
Neck of The Woods
Friday, June 3rd 2022
... what a marvellous and memorable day it has been? As the song says, 'We're just having a good time'. See you next year for more of the same please.
Neck Of The Woods Festival
Monday, May 30th 2022
I really hope this festival returns next year. It was a joy to witness and it proves that there is not only the audience in Norfolk but there's talent too. See you next year, same time, same place.
Dat Brass
Sunday, May 29th 2022
Dat Brass, not bad but it didn't ignite for Pavlis.
Anna Meredith
Sunday, May 29th 2022
I would not have missed this evening's show for anything. However, twenty four hours on, I cannot help musing on how this was something of an opportunity missed
Yard Act + Nuha Ruby Ra
Sunday, May 29th 2022
The band are tight, every song is performed with surgical precision – it's proper pop music. It's got mass appeal and it seems like they as a band have tapped into something.
Levitation Orchestra
Friday, May 27th 2022
Levitation Orchestra's sound is a potent cocktail of uninhibited energy and elegant exploration, bound together by an egality of interwoven
Sean Shibe
Friday, May 27th 2022
Shibe was an absolute gentleman, talking us through each piece, and playing to the wonderfully attentive audience with virtuosic confidence and class.
OTHER HALF, CHURCH GIRLS, APHRA & SUDS
Friday, May 27th 2022
By the time they close with Tiny Head, what could easily have been a disaster has been turned into a massive TRIUMPH.
Peggy Seeger and Calum MacColl
Wednesday, May 25th 2022
..the sparkle in her eye tonight, and the obvious love shared between mother and son, turned this Spiegeltent show into a wholly unforgettable experience.
Rolling Blackouts C.F. + Stella Donnelly
Tuesday, May 24th 2022
It was a good showcase of a few bands from Australia that are doing indie music a little bit diff
Fairytales and Nightingales
Tuesday, May 24th 2022
These three musical artists delivered a venerable tribute to Jenny Lind that was sensitive, informative and beautifully presented
Gesualdo: Cruel Ecstasy – performed by the Exaudi Vocal Ensemble
Monday, May 23rd 2022
The Exaudi Vocal Ensemble took to an otherwise bare stage to perform a selection of Carlo Gesualdo Madrigals that were dripping with melancholy and emotion. Using only the considerable power of their voices, this unamplified concert was the music the acoustics of St Andrews Hall were built for.
Broadside Hacks
Monday, May 23rd 2022
...the audience tonight were treated to something rather special, listening to a fresh generation of musicians discover and revive the songwriting treasures of the past
Grace Petrie
Sunday, May 22nd 2022
Petrie's fierce musical stand for the things that she feels passionate about has triumphantly fired the bellies of another festival audience.
Sō Percussion and Every Step
Thursday, May 19th 2022
James Bay - Kevin Garrett
Wednesday, May 18th 2022
Daniel Pioro and Erland Coope
Wednesday, May 18th 2022
Slowly, very slowly, the sense of something musical emerged, as if the performers were teasingly grappling for out of reach harmony. Only then did Cooper join the party, with delicate, gossamer light touches on the piano. Subsequently, he would play music of sublime beauty, as Daniel Pioro prowled around the performance area, accompanying and complementing faultlessly.
Moor Mother
Wednesday, May 18th 2022
Intelligently structured and intense surmises the music of the evening
Hermeto Pascoal
Sunday, May 15th 2022
CONFIDENCE MAN & MIND ENTERPRISES
Friday, May 13th 2022
What Confidence Man do is some distance from my usual tastes but – as with Self Esteem –the music is different and strange enough to appeal to me whilst being dance-oriented pop enough to appeal to the mainstream and keep this crowd groovin' like loons.
THE MEFFS, RATS AS BIG AS DOGS, SUPRACELESTIALS, STUDY OF US, NOVEMBER
Wednesday, May 11th 2022
Reef
Monday, May 2nd 2022
...an absolute joy to rock out to new album tracks- they were raw, heavy and full of life (I particularly liked "Best of Me" and Wolfman) and perfectly interspersed between their well-loved classics.
The Nightingales - Rats on Rafts- Ted Chippington
Wednesday, April 27th 2022
What I got was a seamless set list of quite brilliant, and quite brilliantly performed, tunes.
RIDE & BDRMM
Monday, April 25th 2022
Ride are fantastic and this has been one of the best gigs I have seen so far this year.
Max Cooper - Dom IV
Friday, April 22nd 2022
As a performance, it's difficult to categorise – it slides between gig, clubnight and art show.
SKUNK ANANSIE, MORGANWAY & HOLOCENE
Friday, April 22nd 2022
CARL PALMER'S ELP LEGACY
Saturday, April 16th 2022
This was a fine display of extremely talented musicians playing technically complicated music not just for the sake of showing off their chops but because they enjoy it.