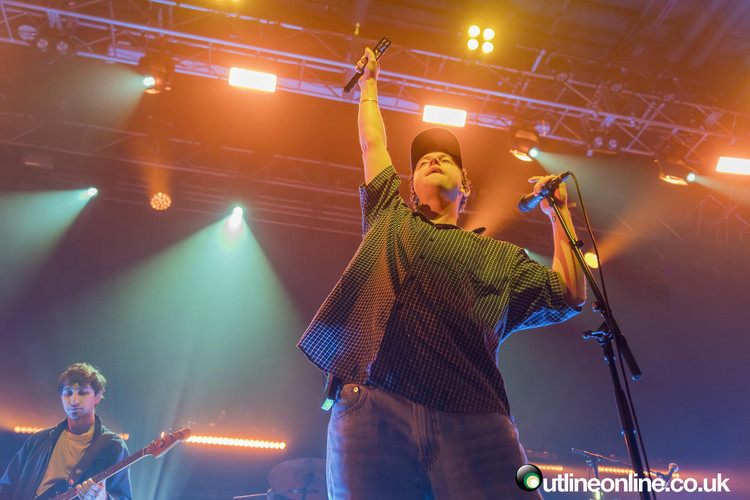 ---
---
Sundara Karma, Ten Tonnes, Pleasure Inc.
Tuesday, December 5th 2023
Sundara Karma are truly one of those must-see bands who simply will not fail to set alight everyone's indie rock flames.
Skinny Lister + Life Aquatic Band + The Molee Shakes
Friday, December 1st 2023
Skinny Lister had an absolute ball delivering a set that is high on energy and audience participation. They are greeted like returning heroes. Almost all of the audience mouth along word perfectly to all of the songs, even those from one month old, new album Shanty Punk
Waterparks and Stand Atlantic
Wednesday, November 22nd 2023
UK Foo Fighters
Tuesday, November 21st 2023
Tribute bands are often hit or miss but it's safe to say that when the UK Foo Fighters played Norwich's LCR on Saturday night, it really did feel as though Dave Grohl himself and the Foos were right before our eyes.
The Mary Wallopers
Monday, November 20th 2023
The Mary Wallopers have it all. You simply could not ask for better craic on a Sunday night in Norwich.
The Pigeon Detectives
Tuesday, November 14th 2023
The levels of energy and enthusiasm (both on and off stage) prove that The Pigeon Detectives are still up for a grand night out. Whatever night it is.
The View
Tuesday, November 14th 2023
Matthew And The Atlas - Memorial
Monday, November 13th 2023
Baby Queen
Tuesday, November 7th 2023
The peak of the night came with the cataclysmic "Dover Beach" that had the entire room bouncing to it's rocketing chorus,
National Symphony Orchestra of Ukraine
Monday, November 6th 2023
The enormity and significance of this concert suddenly sank home, and I felt guilty for simply being free to come along and listen to this great classical music.
McFly - Lost Alone
Monday, October 30th 2023
Tom's crisp vocals and skillful guitar playing, Danny's charismatic performance, Dougie's bass grooves, and Harry's drumming expertise were a testament to their musical prowess.
Jesca Hoop
Friday, October 27th 2023
She's soulful, mystical, mysterious and wacky with a real aura (a quite magical stage presence)
Golden Panda
Thursday, October 26th 2023
Hard Fi
Sunday, October 22nd 2023
This house is on fire and yes Thursday is indeed the new Friday
Kezia Gill
Thursday, October 19th 2023
Kezia Gill's first journey back to Norwich since supporting The Shires at Epic Studios two years ago
Pip Blom
Tuesday, October 17th 2023
The band seem very happy and confident on stage, relaxed in knowing they are producing the goods. I hope they return to their home from home soon.
The Bluetones
Sunday, October 15th 2023
Funeral For A Friend - Dashboard Confessional
Saturday, October 14th 2023
The Xcerts
Tuesday, October 10th 2023
Long live The Xcerts, here's to another 14 years and hopefully bigger things to come.
The Sherlocks
Sunday, October 8th 2023
This was an evening to let the music do the talking
Lovejoy
Wednesday, October 4th 2023
Sheer, whole-hearted, fun is the best way to sum up Lovejoy. They've harboured a beautiful sense of community and long may it continue.
Mike Oldfield's Tubular Bells - The 50th Anniversary Experience
Tuesday, October 3rd 2023
A magnificent tribute to one of England's finest modern contemporary rock composers.
Deepdale Festival
Wednesday, September 27th 2023
Thank you Deepdale – you did it again. This is still my favourite festival of the year, and judging by the number of returning acts and audience members, everybody else's, too.
Erland Cooper and Ensemble
Tuesday, September 19th 2023
All in all, another great evening at the Arts Centre.
Nina Nastasia
Saturday, September 9th 2023
This was a mesmerising performance by a completely singular artist
Mama Oh No
Wednesday, September 6th 2023
Obituary
Friday, September 1st 2023
An evening of clean, wholesome, melodic pop this most certainly wasn't. It was however good deathly fun.
Inspiral Carpets - Floral Image
Tuesday, August 29th 2023
Let's Rock Norwich 2023
Monday, August 21st 2023
The Let's Rock festival is unashamedly a retro festival - often a curate's egg of one hit wonders, war horses and hardy-perennials, but the roll call for Norwich was unusually eclectic. Whether that was by design, or just who they could get, is hard to say, but the inclusion of bands like The Farm and Happy Mondays suggest the festival is starting to take itself more seriously – becoming more about music and less about mullet wigs – which has to be a good thing.
N-Dubz
Sunday, August 20th 2023
N-Dubz's performance was a seamless blend of their greatest hits and newer tracks...The evening was a whirlwind of energy, talent, and good vibes. Whether you're a long-time fan or someone looking to experience the essence of British urban music, an N-Dubz concert is an event you won't want to miss.
Hamish Hawk and Redolent
Thursday, August 17th 2023
...as the evening comes to a close there's smiles all around, from those on the stage to those who stood, danced and sang along. Thank you, Hamish and your wonderful band. Haste ye back!
STREET SOLDIER, NEGATIVE FRAME, NO RELIEF & FINAL NAIL
Tuesday, August 15th 2023
Fierce, heavy, intense but Pavlis left feeling slightly disappointed.
Miles Kane
Friday, August 11th 2023
Nothing But Thieves
Wednesday, August 9th 2023
MONDO GENERATOR, ACID THRONE & RED EYED CULT
Wednesday, August 2nd 2023
Glenn Hughes
Sunday, July 23rd 2023