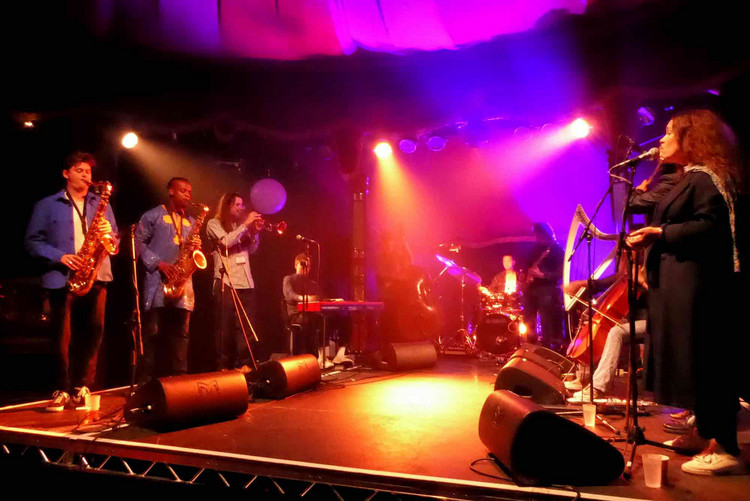 Levitation Orchestra
Friday, May 27th 2022
Levitation Orchestra's sound is a potent cocktail of uninhibited energy and elegant exploration, bound together by an egality of interwoven
Read full Article >
---
---
Rolling Blackouts C.F. + Stella Donnelly
Tuesday, May 24th 2022
It was a good showcase of a few bands from Australia that are doing indie music a little bit diff
Fairytales and Nightingales
Tuesday, May 24th 2022
These three musical artists delivered a venerable tribute to Jenny Lind that was sensitive, informative and beautifully presented
Gesualdo: Cruel Ecstasy – performed by the Exaudi Vocal Ensemble
Monday, May 23rd 2022
The Exaudi Vocal Ensemble took to an otherwise bare stage to perform a selection of Carlo Gesualdo Madrigals that were dripping with melancholy and emotion. Using only the considerable power of their voices, this unamplified concert was the music the acoustics of St Andrews Hall were built for.
Broadside Hacks
Monday, May 23rd 2022
...the audience tonight were treated to something rather special, listening to a fresh generation of musicians discover and revive the songwriting treasures of the past
Grace Petrie
Sunday, May 22nd 2022
Petrie's fierce musical stand for the things that she feels passionate about has triumphantly fired the bellies of another festival audience.
Sō Percussion and Every Step
Thursday, May 19th 2022
James Bay - Kevin Garrett
Wednesday, May 18th 2022
Daniel Pioro and Erland Coope
Wednesday, May 18th 2022
Slowly, very slowly, the sense of something musical emerged, as if the performers were teasingly grappling for out of reach harmony. Only then did Cooper join the party, with delicate, gossamer light touches on the piano. Subsequently, he would play music of sublime beauty, as Daniel Pioro prowled around the performance area, accompanying and complementing faultlessly.
Moor Mother
Wednesday, May 18th 2022
Intelligently structured and intense surmises the music of the evening
Hermeto Pascoal
Sunday, May 15th 2022
CONFIDENCE MAN & MIND ENTERPRISES
Friday, May 13th 2022
What Confidence Man do is some distance from my usual tastes but – as with Self Esteem –the music is different and strange enough to appeal to me whilst being dance-oriented pop enough to appeal to the mainstream and keep this crowd groovin' like loons.
THE MEFFS, RATS AS BIG AS DOGS, SUPRACELESTIALS, STUDY OF US, NOVEMBER
Wednesday, May 11th 2022
Reef
Monday, May 2nd 2022
...an absolute joy to rock out to new album tracks- they were raw, heavy and full of life (I particularly liked "Best of Me" and Wolfman) and perfectly interspersed between their well-loved classics.
The Nightingales - Rats on Rafts- Ted Chippington
Wednesday, April 27th 2022
What I got was a seamless set list of quite brilliant, and quite brilliantly performed, tunes.
RIDE & BDRMM
Monday, April 25th 2022
Ride are fantastic and this has been one of the best gigs I have seen so far this year.
Max Cooper - Dom IV
Friday, April 22nd 2022
As a performance, it's difficult to categorise – it slides between gig, clubnight and art show.
SKUNK ANANSIE, MORGANWAY & HOLOCENE
Friday, April 22nd 2022
CARL PALMER'S ELP LEGACY
Saturday, April 16th 2022
This was a fine display of extremely talented musicians playing technically complicated music not just for the sake of showing off their chops but because they enjoy it.
TEENAGE FANCLUB & FRØKEDAL AND FAMILIEN / BLACK WATER COUNTY
Saturday, April 16th 2022
THE LOVELY EGGS, ROB AUTON & THE BUG CLUB
Thursday, April 14th 2022
Bambara
Monday, April 11th 2022
After an explosive delivery of 'Serafina', they slip into the operatic closing track on Stray 'Machete'.
Everything Everything
Monday, April 11th 2022
The Genre-bending band, definitely put on a show which keep your eyes glued to their movements and subconsciously dancing along to their hyper tunes
Rex Orange County
Tuesday, April 5th 2022
The Surrey-born star shows what it takes to keep a crowd mesmerized by catchy tunes with deeper meanings, definitely delivering a night that was '10/10' (Excuse the pun).
Paul Weller
Monday, April 4th 2022
...the Weller obsessives are treated to an array of Weller and Jam tracks of various hits, album tracks and misses from a back catalogue that now spans over the past fifty years going back to those very early Jam days.
Group Listening
Friday, April 1st 2022
Extraordinarily talented musicians in their own right, they craft beautiful soundscapes that fill the former church in a way a building like the Arts Centre was designed for. There's a certain meditative quality.
Slowthai - Deb Never
Monday, March 28th 2022
William The Conqueror - Chloe Foy
Saturday, March 26th 2022
THE ALARM & DAVE SHARP
Monday, March 21st 2022
DREAM WIFE, PRIMA QUEEN & SWIMSUIT COMPETITION
Thursday, March 17th 2022
Gong
Tuesday, March 15th 2022
RICKY WARWICK AND THE FIGHTING HEATS, THE VIRGINMARYS & THE HOWLING TIDES
Saturday, March 12th 2022
CLOWN SMASH EVERYTHING, CAROL HODGE BAND, DYNAMITE AND DINOSAURS & RAWBOTS
Tuesday, March 8th 2022
GREEN LUNG & TORUS
Sunday, February 13th 2022
Echo and the Bunnymen
Sunday, February 13th 2022
GAFFA TAPE SANDY, DAMP MATCHES, ANNA'S BONES
Saturday, February 12th 2022
NOVA TWINS & KID BOOKIE
Monday, February 7th 2022