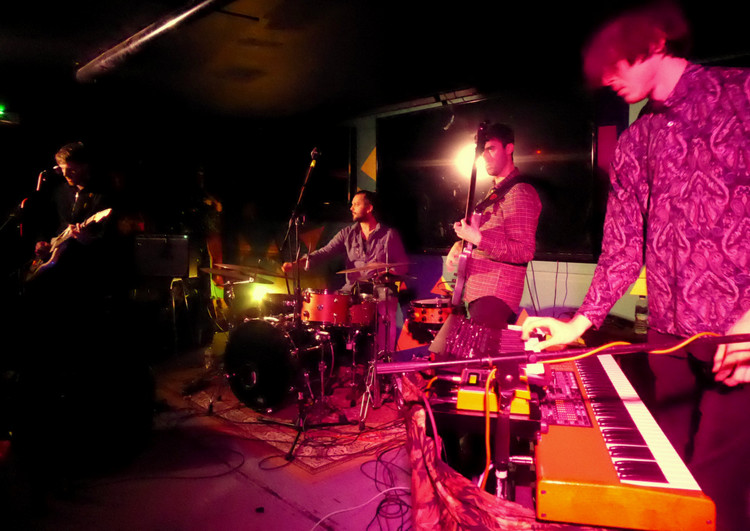 ---
---
GAFFA TAPE SANDY, HEX FRIENDS & SLEEMO
Tuesday, December 17th 2019
Tonight has been exhausting, in a good way. Three great bands playing to a young ... and passionate crowd. How could it get any better?
Boris + Arabrot
Sunday, December 15th 2019
The music itself was full of stark, thunderous menace, counterpointed with moments of surprising delicacy. On occasion I was gobsmacked by the band's symphonic ambitions; at other times I felt I was listening to little more than a cacophonous row.
The Neutrinos & Birds of Hell
Saturday, December 14th 2019
Throughout the night, the mutual respect between the two bands becomes clear when they share the stage, feeding off each other's energy and championing each other's work. I went into this show with open eyes and ears and left feeling inspired
Kate Rusby
Tuesday, December 10th 2019
Slade
Tuesday, December 10th 2019
Primal Scream
Sunday, December 8th 2019
It cannot be denied that it's the last six songs that completely blow the roof off of the LCR building tonight
Uriah Heep + Diamond Head
Friday, December 6th 2019
The evening inevitably finished on a rousing encore of Easy Livin' (proving not that every song had to be tricky to be good) and the band grinning from ear to ear as they played. It only served to consolidate the abiding impression throughout, of the strong bond between the men on stage, delighted that they still got to do this for a living.
Beak> & The Hysterical Injury
Tuesday, December 3rd 2019
Comet Is Coming + Leaftcutter John
Tuesday, December 3rd 2019
Sports Team + Alfie Templeman
Friday, November 22nd 2019
The Amazons - Demob Happy - Mysterines
Thursday, November 21st 2019
Guitar music is by no means dead. It has just been resting.
THE HOT CLUB OF COWTOWN
Saturday, November 16th 2019
You know you have witnessed a great gig at the Arts Centre when the security have been clappin' and hollerin' with as much, if not more, enthusiasm as anyone opinion the audience!
Jade Bird - Annabel Allum - Mosa Wild
Friday, November 15th 2019
If I was going to recommend anyone to go see this year it would be Jade Bird. She opened with the first song on the new album "Ruins", a song that epitomises her unique blend of vulnerability, powerful grungy vocals and country guitar
Feeder
Tuesday, November 12th 2019
The new material, in particular Kite, Tallulah, and Guillotine come over really well besides the classic Feeder material High, Feeling A Moment, Just The Way I'm Feeling, Come Back Around, Just The Way I'm Feeling, Comfort In Sound and of course Buck Rogers.
Kate Tempest
Saturday, November 9th 2019
After taking their bows together, she and Clare Uchima leave the stage, and an audience that has just given them the biggest, most rapturous, ovation that I can ever remember hearing at the LCR.
THE BLOODSHAKE CHORUS & THE MEN THAT WON'T BE BLAMED FOR NOTHING
Thursday, November 7th 2019
What a night.
Phil Campbell & The Bastard Sons - King Creature
Tuesday, November 5th 2019
..it was with some trepidation that I went along to see him play with his Bastard Sons, and I desperately wanted to like what I found.  What a pleasure it is, therefore, to report what a great band they are....
CLOWN SMASH EVERYTHING, I SAID GOODBYE & SUCKING GRUNTS
Saturday, November 2nd 2019
Musically, Clown Smash Everything are hard, fast, heavy and intense, combining the best elements of hardcore, metal and desert rock.
Wild Paths Festival
Friday, November 1st 2019
What a weekend see Pavlis' journey, suffice to say ...his closing words "Here's hoping there is more of the same next year (and that I manage to get my bike fixed between now and then). Kudos to Ben and the team for putting it together."
The Membranes + Other Half + Skint and Demoralised
Monday, October 28th 2019
The band was uniformly excellent....
Icicle Works
Sunday, October 27th 2019
Take my advice people. Next time he is in the fine City, make an effort to go and see him, if you can get a ticket.
[UNIT] Reach The Moon
Saturday, October 26th 2019
Reach The Moon, managed to achieve what many others have tried and failed to do – to recreate the excitement and overwhelming sense of achievement that emerged from that historic moment on July 20th, 1969
Hot Chip and Rosie Lowe
Friday, October 25th 2019
They may have been around for almost two decades, and may not have visited Norwich for a while but, judging by tonight's show, Hot Chip have certainly not gone off the boil.
Swim Deep + Phoebe Wood
Wednesday, October 23rd 2019
Wild Paths Festival
Tuesday, October 22nd 2019
Was Wild Paths 2019 a success? Well, you had better believe it. With its incredibly ambitious goals for a first year, booking a ridiculously rich array of artists and venues, but by galvanising a fantastic team of organisers and volunteers, somehow Ben Street had pulled it off – four days and nights of remarkable shows that reinforced Norwich's position on the musical map, and gave the city's music fans plenty to talk about for months to come. Thank you, Ben.
Heavy Lungs - Wild Paths
Sunday, October 20th 2019
Hawklords
Saturday, October 19th 2019
The gentlemen of Hawklords have long since been able to stand on their own feet, a comfortable distance from their Hawkwind association as they prolifically pump out freshly minted material that continues to impress
Easy Life
Wednesday, October 16th 2019
Snapped Ankles
Wednesday, October 16th 2019
Inhaler
Wednesday, October 16th 2019
Black Flag
Monday, October 14th 2019
Acid mothers Temple - Our Quiet Friends
Sunday, October 13th 2019
Acid Mother Temple are a quite extraordinary genre-defying ensemble of talented Japanese musicians that from the outset delivered  a wall of thunderous sound that was energising, uplifting and just a bit bonkers
Gary Numan
Friday, October 11th 2019
I've only seen him live once before and again, I was struck by what an energetic performer he is, not at all the aloof persona I expected.
Oxjam 2019
Sunday, October 6th 2019
Richard Hawley - Get Cape Wear Cape Fly
Saturday, October 5th 2019
This was a precious evening of magnificent songwriting, professionalism and performance, all served up by one of Sheffield's finest.
Deepdale Festival
Tuesday, October 1st 2019
if you are looking for a friendly and extremely well-organised weekend that offers an eclectic mix of music that makes you want to dance, makes you want to cry, and sometimes just makes you go want to go 'wow!', then Deepdale is it