Dr John Cooper Clarke & Hugh Cornwell
The Waterfront
26/11/16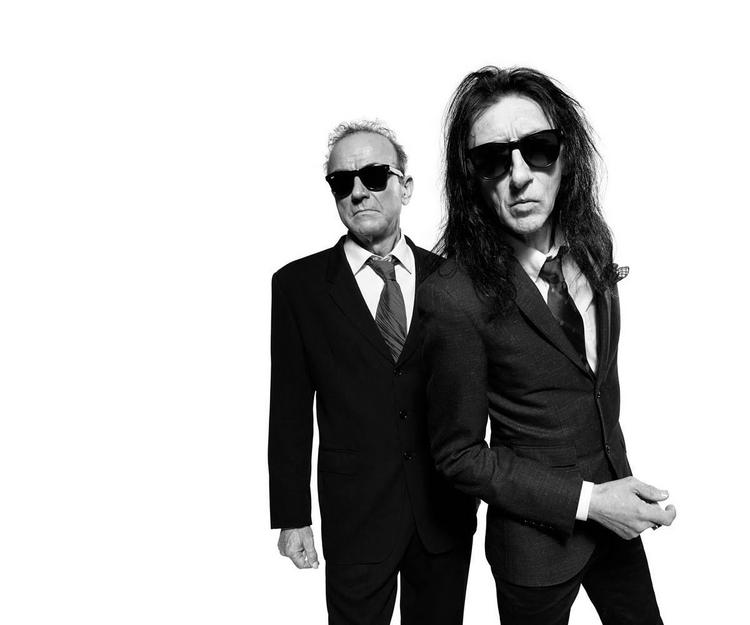 This Punk in the East event was one of the more surreal gigs I have been to this year, and trust me, that is saying something. The headliners were a band put together by Hugh Cornwell and featuring Dr. John Cooper Clarke, with support in the form of Mike Garry - I am glad I caught his set too. Mike's poetry was well delivered and heard in the way poems should be, aloud with inflection, timing and feeling. It was full of emotion and really quite moving. His often tender and loving tales of family, Manchester, libraries and teachers from his childhood made quite an impression.
I love John Cooper Clarke to bits and have seen him numerous times but Hugh Cornwell remained an inexplicable omission in my gig-going history until this evening. Cornwell has assembled a fine band of musicians and the collaborative album This Time It's Personal is a homage to the likes of Lieber & Stoller, Jimmy Webb, Ricky Nelson, Richie Valens and Conway Twitty et al.
The interval was filled with what I assumed were some of Dr. John's BBC radio shows, and then the band filed onstage, joined by the two true musical punk legends, Dr. John Cooper Clarke himself, looking great in his trademark shades and fantastic hair, and former Strangler Hugh Cornwell, whose project this is.
It was something of a gig of two halves that started with a shaky version of It's Only Make Believe. I must confess that two or three songs in I was not making sense of this gig at all and had fears for it but something clicked and it got better as it went on. The band were great with very fine musicians and although Johnny by his own admission is not a natural singer in the conventional sense ("I substitute the rich baritone of the original with a kind of weird charm") he does indeed bring that charm and his glorious uniqueness to the songs. His Salford accent is still there in his singing too, which is a good thing. It was at any rate a privilege just to be in the presence of these two. This being the first date of the tour Johnny initially seemed to me a tad nervous and I was longing for more asides from him between the songs and even some poetry but slowly and surely things started to fall into place and he seemed more comfortable. The whole band got louder and hit a groove, sounding punchy on the likes of Johnny Remember Me, and especially Jezebel. Dr. John visibly relaxed and looked like he was enjoying himself, joking with the audience and explaining his theory that NORWICH is his acronym for something which I won't go into here! Hugh Cornwell was grinning away as he played some superb guitar and I realised that they were just having bloody good good fun playing the songs they love. It was a delight to see them enjoying themselves like this which of course had a great effect on the audience too - there was a lot of love in the room.
Hugh Cornwell and John Cooper Clarke are genuine legends and that goes a long way to excusing any slightly faltering start to the set but they certainly grew into it. They played the full album and then all of a sudden it ended. A loud and prolonged call for more was duly rewarded with the first of two encores and the unexpected treat of twenty minutes or so of some Stranglers classics with Hugh on lead for Walk on By, Nice n Sleazy, Get a Grip, and Stuck in Daily Mail Land. He showed he has definitely still got it, before being rejoined onstage by John for a few of his own classic compositions (hastily calling to his tour manager for his lyrics book; "It's my own words I have trouble remembering!"), including the memorable I Wanna Be Yours and then the absolute highlight of the night for me, a duet version of No More Heroes with them delivering alternate lines. This alone would have been worth coming for. There are still some heroes about. To see them both enjoying themselves so much and carrying the audience along with this vibe was a delight. Without a 10pm curfew I'm sure we'd have got even more than the two encores they gave us as they were clearly having a ball by this stage. I'd have loved a band version of Beasley Street but that's just me being greedy. Maybe next time, as Johnny left us with the parting comment "We'll do this again!"


The Waterfront
Punk In The East
John Cooper Clarke
John Cooper Clarke
Hugh Cornwell