Edgelarks
Anteros Arts Foundation
13/12/18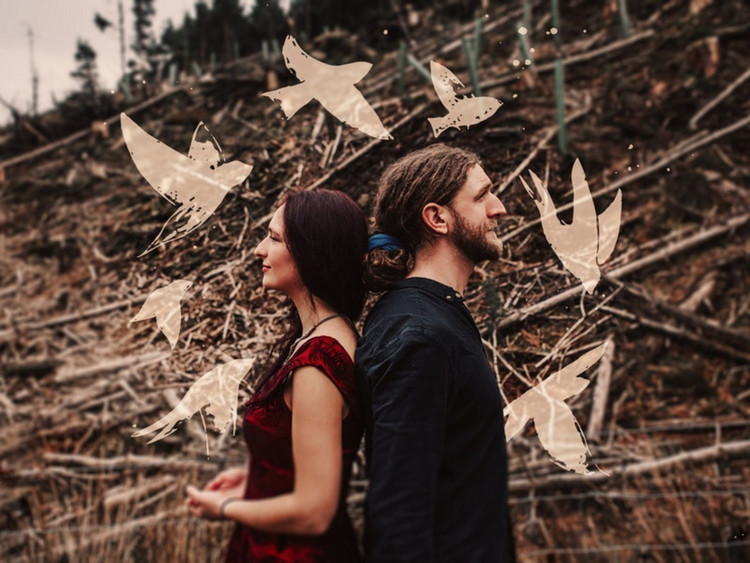 Not all of West Country folk duo Phillip Henry & Hannah Martin' followers may have yet realised that the twosome are now recording and touring as Edgelarks. Not that this in any way prevented a capacity audience turning out on Thursday night at Anteros in Norwich to hear tracks from their eponymous new album, as well as enjoy a selection of previously released material.
The name change is explained on their website as a remedy to audiences failing to remember their names long enough to buy the albums, although this is obviously written with tongue firmly in cheek. The real reason is that after seven years and two albums together, Phillip and Hannah found themselves at a threshold. After much travelling, a sense of liminality manifested itself in a feeling of their having become observers from afar, from the periphery, and so the name Edgelarks was conceived.
Tobias Ben Jacob opens the evening. Devon based, it was Tobias who in 2008 originally introduced Martin to Henry, and the three played together for a while as The Roots Union. Nowadays Tobias performs solo, and is preparing for an album release. He also tours as a duo with double bass player Luke Drinkwater. Some may remember them playing together at The Bicycle Shop a couple of years back.
Tobias' set consists of six songs delivered on acoustic guitar, and includes Polyphonic Life, the title track of his upcoming album release. He possesses a sensitive vocal style, and the guitar playing, a mix of picked and strummed, occasionally assumes an Andalucian feel. In the song The Devil and Tobias Ben Jacob he conjures up a sinister mood, performing both parts in a diabolic night time dialogue with the Devil himself.
After the interval Edgelarks, (remember, that is Phillip Henry and Hannah Martin), begin their set with No Victory, which features Phillip's lap steel playing and an enthralling harmonica beat-box accompaniment. Hannah provides vocals, plays violin, and also pumps the shruti box – a foot operated bellows resembling a heaving box file that provides a drone accompaniment not unlike a harmonium.
And that is not the only unusual instrument to which we are introduced. In Undelivered, a tale inspired by letters found in an old chest of undelivered mail, Henry plays a replica Weissenborn, built in Exeter but based on a 1920's Los Angeles design of lap slide guitar intended for performing Hawaiian music. It is played tonight with the addition of a basic paintbrush purchased from The Range. Song of the Jay, a story of how Californian jays appear to hold 'funerals' for other dead birds, features the Chaturangui, an extraordinary Zen-inspired classical slide guitar designed and built in Calcutta by Debashish Bhattacharya. Its resultant sound adds a mystical dimension to Edgelarks already unique acoustic palette.
Other tracks from the new album, the likes of Signposts, Caravans and What's The Life Of A Man, are all equally engaging, and are introduced with back stories of how and where they came to be written. The set also includes the lovely Silbury Hill, which features Hannah on banjo, a song which was often performed when the duo played alongside Peter Knight in the Gigspanner Big Band; and Estren, a beautiful Cornish language song which, roughly translated, means Stranger.
After the harrowing Yarl's Wood, written to highlight the plight of refugee women being held in the immigration removal centre near Milton Ernest in Bedfordshire, Edgelarks conclude their main set with a version of The Nailmakers, from their earlier Mynd album. An adaptation of Roy Palmer's stirring tale of industrial unrest in 1862 Bromsgrove, it features a foot-stomping sing along chorus and is driven along by Phillip Henry's vocal effects and beatbox harmonica accompaniment, before the introduction of Hannah Martin's violin leads to a room filled with foot stamping and hands clapping.
For an encore we get a version of Alison Krauss' blues number 'The Boy Who Wouldn't Hoe Corn', one final chance to appreciate Phillip Henry's incredible dobro playing.
This has been a wonderful evening at a lovely venue. For those who have never attended a musical event upstairs at Anteros I can thoroughly recommend it. The old building has been lovingly restored, and though the slope of the floor in places can be disconcerting, the acoustics, and the Bose sound system are a delight. Check out the Anteros website www.anterosfoundation.com for details of upcoming events, and thanks to Steve Nunn at Acoustic Promotions for organising this evening.