FolkEast Festival 2018 (Day 2 & 3)
21/08/18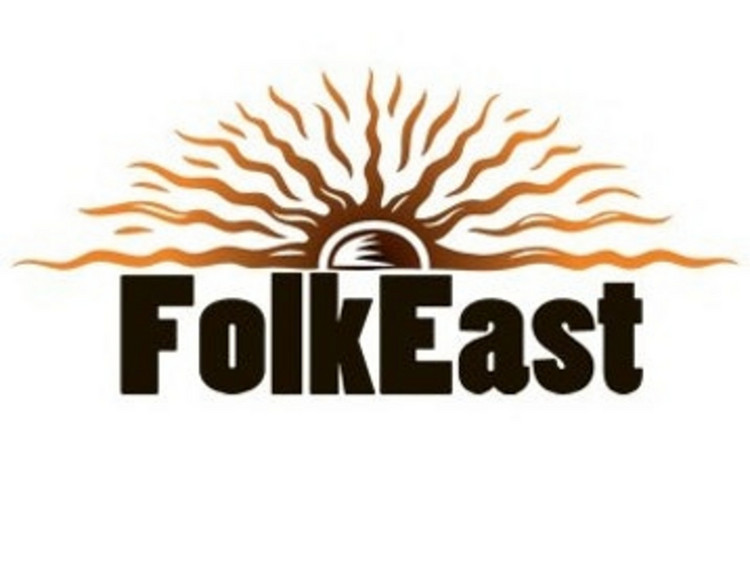 FolkEast is a festival I had never previously visited but many friends mention it among their favourite festivals, quite a few of them say it is their favourite festival. I was covering Saturday and Sunday and quickly became the latest in the long line of admirers for this beautiful, charming and special little festival.
Glemham Hall is in a beautiful setting with gently undulating hills, well, hills by East Anglian standards at any rate. With the tent readied we sat outside with a mug of tea in the sunshine just as a band was starting up on the main Sunset Stage. The sound immediately struck me as being so clear, wafting gently up the slope to our hilltop location.
My first port of call was Amy Soapbox's stage for the afternoon set by Izzy's Daughter, who was joined on piano by Phil Jackson. Dressed in a black flowing lace dress she had a beautifully haunting voice, the accompanying piano added to the ghostly, ethereal and melancholic atmosphere that will be loved by fans of the likes of Marissa Nadler. My visual memories of her set all seem to be in moody monochrome, it was goosebumps stuff at times and at my first set of the festival I had already totally lost myself in music. The Soapbox Stage proved to be quite possibly my favourite of all the six stage areas (and countless impromptu sessions around the site too), set in an enchanted woodland area with hay bale and cable-reel seating. In daylight it was beautiful, but nothing prepares one for how it looked at night, not even the recommendations I was given shortly beforehand. The lighting is breathtakingly magical, and many people of all ages got stuck here for hours just gazing in awe. I admit I was one of them.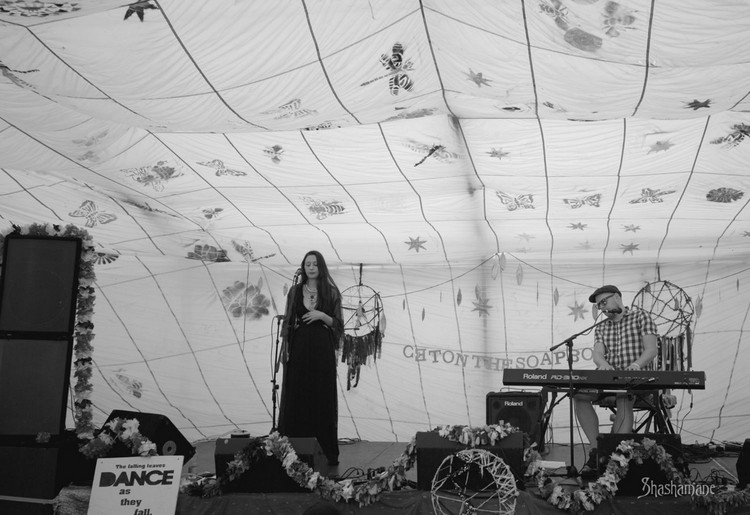 One of the other FolkEast stages I visited several times was the Sanctuary stage, a few minutes' walk outside of the arena to the church where acts performed acoustically and completely un-amplified. The acoustics lent themselves well to a number of artists I saw here, including Red Dear, Stromm, and Dawn Chorus, who are a 16-piece vocal ensemble from Norfolk formed by Sian Croose and Brendan Taafe but of course include bands within the band such as Of the Clay, Iain Lowery, plus Kimberley Moore and Alfie Carpenter, many of them showcasing songs they had composed for Iain's "One Month Album" project. The Dawn Chorus closed their set with three powerful gospel songs which showed off their brilliant collective voices and the acoustics of the church perfectly.
During a bite to eat sat within hearing distance of the Sunset stage I heard an introduction to a song which caught my attention and interest, detailing a Georgian worksong. Having a great affinity with and love of the small country of Georgia it was a serendipitous surprise as it is not often one hears Georgian songs performed live over here. It sounded wonderful.
On Saturday evening I was lucky enough to be present for what I knew within minutes was going to be my absolute festival highlight. A trio well-known to those of us in Norwich, Alden, Patterson and Dashwood. It was obvious they loved what they were doing and the chemistry between them was a wondrous thing. Alex and Christina gave us little backgrounds to the songs in their introductions and Noel had a great gift for one-liners ... their natural warmth as people came across well and the engagement between songs and then the amazing performances of the songs themselves really connected with the audience. As if it could be any more magical, as they were introducing The Moon Song the clouds suddenly dispersed to reveal a perfect half-moon in the sky. At the end of the set every one of the 500+ audience got up from their seats for a standing ovation and prolonged applause, loud and enthusiastic appreciation. I have never seen this at a folk gig before, nor many gigs at all for that matter. That's how good it was, and it was rightly deserved.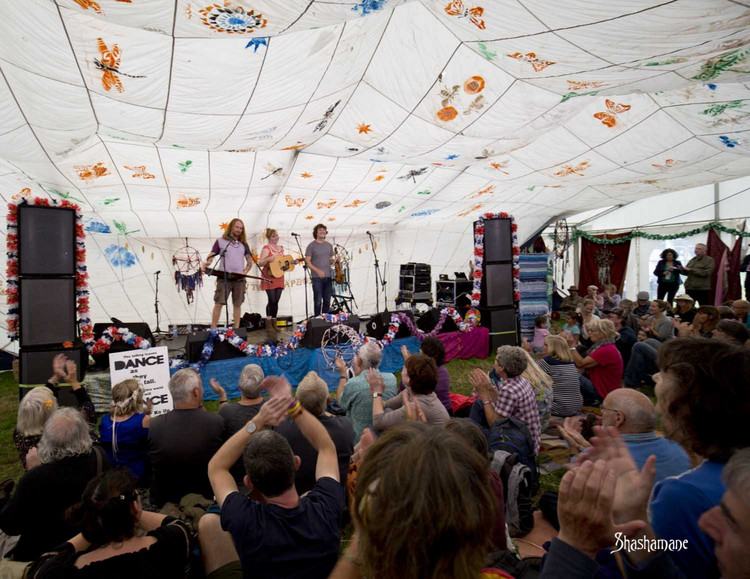 My Saturday night's music ended back again at the Soapbox stage for an 11pm set by Klezmerized! Playing Jewish and Eastern European music to an appreciative and increasingly lively audience the second half of the set had most of the tent crowd animated in dance. As with every stage I attended over the course of the weekend, the sound was fantastic.
Sunday started back at Soapbox, once again, for a relatively early 11am set start by Alden, Patterson and Dashwood. Noel said he was hungover but feeling "high on life" and as always, he was excellent with his amazing dobro playing. Alex on fiddle and Christina on guitar and vocals were superb too, they provided yet another highlight, more goosebumps moments when they got the whole audience readily singing along to "I'll Fly Away". Again, they were sensational and in this intimate but full setting it was a lot of fun. Their set was immediately followed by a kids' open mic Soapbox session.
I was very impressed by the attention to detail from the organisers; they were obvious music fans, and I have to say, each of the stages I experienced sounded superb.
Something else that impressed me was the huge choice of excellent local ales. I can't recall the last time I got a pint for such a good price; I think these beer tents were close to having been drunk dry by the end of the festival.
Throughout the festival I kept thinking time and time again that it was so friendly. There seemed to be a good collective energy and raised vibration of kindness and it remained, a feeling of trust, acceptance and respect that felt very healthy, comfortable and healing. I did not see a scrap of litter all weekend, neither on the campsite, arena, or stage areas. People could wander to the bars or toilets and leave their folding chair but find it still there where it was on their return.
I experienced plenty of good music at FolkEast, it was quite varied in style and tempo with new discoveries everywhere. Back outside my tent taking a bit of time-out I sat down with a drink and wrote some notes and just enjoyed the music coming up from the Sunset stage. It was McGoldrick, McCusker & Doyle and they sounded superb, I think this will become a fond memory for me, enjoying this quietly and in solitude.
It's not an overcrowded or noisy festival but we all need to take a bit of time-out occasionally and it's perfectly easy to do that here. It's a family-friendly festival and very safe for children who can wander around within the arena without worry as there's plenty to occupy them including a climbing wall. The only thing lacking for me was a programme with stage times as they had all gone by the time I arrived on the Saturday.
On top of all of this there were loads of stalls too. As well as the varied food outlets of pizza, falafel, noodles, curry, fish-finger sarnies etc. (all well-priced), in the Art Arcade there was a number of art stalls and workshops, including Print to the People, and brilliant Norwich artist Sally Hirst's workshops. They're in such demand that they were full before the festival even opened, you may need to book now for next year!
On Sunday evening the Sunset stage did indeed close around 9pm with a beautiful sunset sky as the backdrop to a most enjoyable set from The John Langan Band.
Those who know me might be aware I like other extremes of music too and I did wonder what it would be like at a solely folk festival for a whole weekend. That was not an issue at all, there's plenty of variety, although not all of it totally hit the spot for me. Despite this, I already own Klezmerized's album and both of Alden, Patterson and Dashwood's but I added Izzy's Daughter's lovely Luna CD to those I own by this year's performers and came away from a CD and vinyl stall with albums by Hank Williams, New Model Army, Sonic Youth, and Siouxsie and the Banshees.
FolkEast is a gem, a really well-organised and well-run festival, it's so special I almost want to protect it from becoming too big but the organisers clearly know what they are doing and what is unique about it and what sort of cap they want, I feel confident that they will protect and retain that most precious essence to be found here. Each act I saw made mention of how much they enjoyed playing at FolkEast. It's all done from the heart and soul with great integrity so of course this shines through and manifests as something truly beautiful: FolkEast. It is just marvellous, and I really do hope I will be back there again at some point, I loved it. This is just a snapshot of what's on offer, it has so much. My thanks and respect to everyone involved.