Grapevine at the Guildhall
The Guildhall Cafe Britannia
24/09/20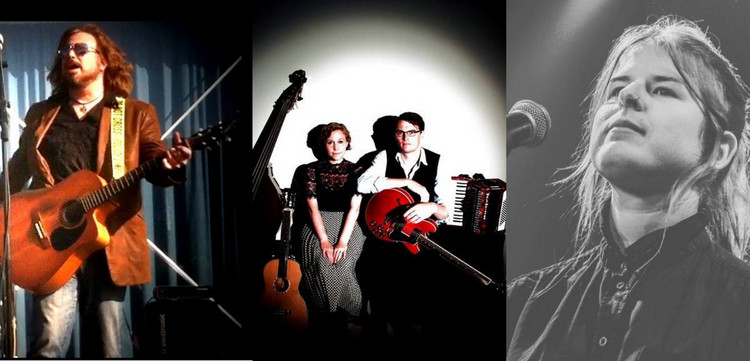 All the way from New York!!! All the way from London!! All the way from Norwich!!
So proclaimed the posters and flyers for last night's Grapevine for Music evening at The Guildhall, summing up perfectly the spirit and success of these monthly gigs – scouring the country and also the globe to bring fascinating and talented acts to Norwich, whilst showcasing the finest that our fine city has to offer. And presenting it all in an historic and intimate setting to an attentive and appreciative audience.
Last night opened with Ginny Dix, a local singer songwriter who has been attracting attention over the last few years, not only as a solo artist but also as one quarter of indie-folk band Chalky Seas. Ginny's songs possess confessional honesty expressed via a voice that sweeps you up and totally holds your attention. Meanwhile, her piano playing wraps itself sensitively around the lyrics without ever over-embellishing. A hushed audience are treated to five songs, each one delivered with those breathtaking vocals that manage to span the twin peaks of fragility and strength. Impossible to pick out a favourite - even her cover of Chase & Status' Alive is delivered with a grace and beauty that has to be heard to be believed. A spine-tingling performance..
New Yorker Jefferson Thomas has flown in this morning from the city that never sleeps, and looks suitably rock and roll in denims and black t-shirt. Yet his music presents as a complete scrapbook of American influence – heartfelt songs written in motel parking lots; observations of the American mindset and landscape; country-tinged bourbon and beer soaked blues. There's even a touch of Billy Joel as he switches from guitar to piano for Hometown Hotel and All I Ever Wanted. But it is the blues guitar work that works the best, especially in the highly personalised covers of The Beatles' Get Back and Hendrix's Red House. All the self-penned songs (including those from new album Play Hurt, and the hit Jacksonville) sit comfortably amidst such distinguished company. The set ends with a version of Fleetwood Mac's Never Going Back Again. Hopefully, that sentiment does not apply to Norwich.
The curiously named Ma Polaine's Great Decline are based in London, although vocalist, double bass and accordion player Beth Packer originally hails from Cornwall, and guitarist Clinton Hough claims Irish ancestry. One would therefore not be surprised to find elements of Celtic influence in their music, and the opening song of their set, An Old Fashioned Goodbye, is indeed an account of a whiskey-soaked funeral in County Donegal. But, as the set progresses, numerous rhythms and influences from central and eastern Europe appear, rendering it almost impossible to categorise this dynamic and charismatic duo.
Think waltzes and polkas, jazz, blues and folk, Weimar cabaret and Speakeasy bars, and almost any other roots influences that you care to throw into the mix, and you begin to get an idea of what to expect from Ma Polaine's Great Decline. All delivered with great panache and style - Packer's expressive and versatile vocals floating clear of her double bass and accordion, and linking with Hough's complementary guitar work. But, as Beth Packer explained to me 'We do not think in terms of influences – to us they are just songs'. And wonderful songs they are, too – brimming with variety - darkened themes of prejudice (Monster Song Blues) or despair (Gonna Be Rain), balanced by the happier vibe of Carousel and the ever so slightly creepy Japanese Knotweed. There's even a song about drugs and pain-relief in childbirth (Morphine).
The final number is The Wrong Side, a song about sneaking out without anybody noticing. There is no chance of Ma Polaine's Great Decline having the need to do that tonight at The Guildhall. It has been yet another memorable evening thanks to Grapevine, and all three of tonight's acts.