HP Lovecraft's A Colour Out Of Space
The Shoe Factory Social Club
14/10/19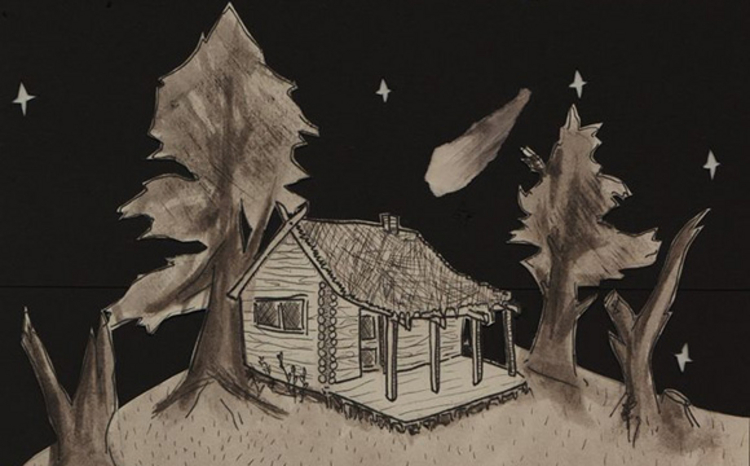 I love going to shows that I have literally no idea what to expect to see. This weekend I did just that. It made me feel alive and well to be privy to something a little bit special; storytelling with live action, home made sound effects in a disused Shoe Factory. Who even knew Norwich was home to such a trendy ( if a little chilly!) venue? Through the enormous, heavy duty solid wooden doors I saw bare lightbulbs hanging from the ceiling, concrete floors, rustic beams and larges swathes of white backdrop that encased the performance space.
The show consisted of two halves made up of three stories told by three very different but equally talented actors. The set was minimal and beautifully constructed to be multi-functioning depending on the tale it housed. Each story contained elements of horror, surrealism, struggle and otherworldliness but each had opposing content, varied style and appropriate change of pace.
Dragon, read by Stephanie Ashenden, started the night off with a tale of a woman at her wits end reading her suicide note after being driven mad when she was marooned on an island of pure evil. Alex Harris delivered a superb performance of The Outsider; I was on the edge of my seat as he took the audience on a journey through a castle more dismal and unwelcoming than that which housed Count Dracula himself! This story was definitely my favourite. Joe Sefton closed the show with Colour Out Of Space which talked of alien life forms, superstitious village folk and a deadly well that claimed the lives of innocent victims.
All the stories featured in the show were written by H.P Lovecraft directed by Tim Vaughan. Shedload Theatre is made up of a selection of handsome, talented men named Matthew Barnes, Tim Vaughan, Jon Siddall and Sam Johnson. If this collaborative effort wasn't already full to the brim with brilliance, The Foley (Matthew Barnes and Andrew Longhurst) provided the accompanying soundtrack of trap-doors, crunching bones and swirling oceans. Those that hung back at the end were lucky enough to be shown behind the scenes and given a live demonstration that exposed how they made everything sound so realistic.
I won't give away the behind the scenes secrets for now, but I strongly advise you keep your eye out for the next Shedload Theatre production if you want a fully immersive, stripped back demonstration of raw talent and vision.
10/10
Review
A Colour Out Of Space
Hp Lovecraft
Shedload Theatre
Shoe Factory Social Club