Interview with Marcia X
25/03/16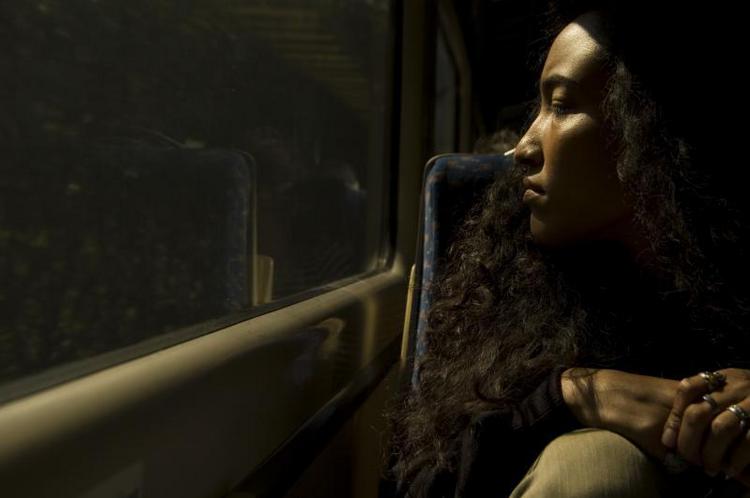 Chicago's Marcia X's visual work revolves around understanding the psychological and emotional affects of living in the unhomely place of the Diaspora. Her spoken word, performance and writings aim to confront issues of race, gender and history, particularly within the context of art practice. She's speaking at SPIEL at Norwich Arts Centre in April so we asked her to tell us more about her art.
Your work features a lot on the expression of the self. Do you believe this a concept still trulyrecognisable in modern society, or do you feel this is more of an inherited identity these days?
 There is so much nuance when it comes to identity, and the categories are not always mutually exclusive either. Due to power dynamics and hierarchies, the same rules don't always apply either, much to the dismay of privileged people.There is a crude desire and need by certain kinds of people in powerful positions within society to police how people identify, be it racially or in terms of sexuality, so I think it's important for individuals and groups to be able to express themselves how they feel it's best for them. And that is a process, that for some, takes an incredible amount of time, things change. Also, the categories that I, for instance, might identify with in one region in the world, may not be applicable in another, and so identity is neither fixed nor is it completely fluid, either. It is quite complex and I'm keeping this very abstract I know, but things are not always black and white. 
Your work focuses a lot on the idea of identity and its self-expression. How do you define these terms and what relationship do you think modernist society has with them?
 Living in the Diaspora as a woman of colour is being in a constant existential cultural crisis. There are multiple systems at work that affect everybody, and Modern and capitalism commodifies so many different things. Culture is commodified, Blackness is commodified, sex is as well. I could go on, but the point being that the nature of society, capitalism and globalisation, has us as people either buying into such things, literally, or struggling to survive the system. We are also suffering under erasure and some of us are removed from society by the state. Modernism thrives off of this since it is not neutral, as much as it is presented as being neutral. There is no objectivity in any of this, you can't be. And a theme or subject can not be either. The language that describes the definitions or claims of modernity is in it of itself, rooted in a culture, as with the definitions of ethics and morality, power, equality and justice. So for me, personally, Modernity and I do not have a great relationship, since I, with so many other people, must fight against it.
A feature of your work is the culture of the Diaspora, what influence has living here had on your work, and what message do hope people can learn when they interact with your pieces?
 Homi Bhabha calls the Diaspora an unhomely place, and I don't think there is a better way to describe it. There is like I said earlier, this existential cultural crisis, and also this anxiety I experience of being separated from my family. Not just family, but ones roots are torn from you before you even realise you had them in the first place. It's all very meta, but it certainly has had a very real impact on my life. It can feel quite isolating and very lonely. I want audiences to engage with my work on whatever terms suits them best, be it just enjoying the aesthetics or actually wanting to have a conversation about the subject matter. I have to say, it is really satisfying when someone, who lives in their own respective Diaspora says a painting resonated with them when they looked at it and also read about what inspired it. I enjoy creating work that doesn't need to exploit specific cultural or racial markers for all sorts of people to feel something by it, particularly when they are isolated, or feel isolated by this society. But also, if it makes someone uncomfortable, then that's ok too, because that's not my problem to solve. From my own political and social standpoint in this society, it is not my job or duty to placate the discomfort of people who do not want to confront their own prejudices or political ideologies. 
You speak of identity as a commodity that in modernist society can be stolen, lost and oppressed, why do you think this has happened? Do you feel like this has limited society in any way?
 Colonialism. Imperialism. Genocide. The need for capital and economic gains & items of luxury/status at the expense and abuse of other people's labor. Even if it means lying to yourself and creating legislations to deem them legally as non human so they can continued to be exploited, as if God will forgive you just because you think they're not real people. This is the bed we live in. We, collectively, all deal with the repercussions of the foundations of contemporary society, whether we realise it or not. We just experience it in different ways. Because homogenizations and arrogance in EuroAmerican thought, there is normal and then there is the "Otherness" of People of Colour and their cultures and bodies. So, like all things, it's commodified and used to sell more things for profit. Has it limited society? Yes, we could have a better world, of course, otherwise there wouldn't be protests happening all over the world for different political reasons. But the system to benefit those at the top, has been serving them well, and functioning exactly how it's supposed to be. 
Your work focuses a lot on the hidden disparity existing in our contemporary society; do you feel like many people are unaware of these issues?
No, but we are always learning new things. If people really knew, for instance, what was in their food they would probably vomit. Or what it takes to produce some foods, like quinoa for instance, they might feel incredibly guilty about it, and perhaps change their mind about buying it. So no we aren't aware of many issues but ya know what? Google is free. So, if you don't know but you're curious and you haven't done a Google search, or at least have tried listening to someone's point of view without derailing or centreing yourself, then you don't want to know. That's my opinion. 
Do you feel that art can be a useful way of getting them to look closely? Do you feel like it can offer people another perspective to see the world and how we live in it? 
Absolutely! At the very least, I hope so, or else I am in the wrong business. I've learned so much through art, not just about other people through their narratives, but about myself as well. Personally, I had to change much about my own life, and come to terms with the implications of my choices in a much more visceral way, same with my politics, and art had a large role in that change. It can be enjoyed for its aesthetics, or be that conversation starter that opens up a dialogue cross culturally that is so needed right now. It can heal, provide comfort...art is incredibly important in these exchanges. And very effective. 
You work across a variety of artistic platforms; both visual and linguistic. Do you feel it has enhanced your work to harness mixed mediums of communication? Has this helped inform the individual areas of your work?
I have to be able to communicate my ideas in different ways, or else it just wouldn't work. I create work from a Puerto Rican American context, with that there's a cultural and artistic vernacular that isn't really recognised here in the UK. On top of that, I make work about gender, race, education, capitalism, history, colonialism, etc...these are complex topics that inform one another, and the written and visual work do the same. I can't just use one medium to talk about many topics. I think Fine Art would like that, would like for the work to be simple and about one thing, but it just wants to make money, not stir shit up. 
One of these platforms is spoken word, a challenge many not have the confidence to perform? How easy do you find it to read your poetry and what effect do you feel this form of artistry has on your audience? 
It's not easy, I just know how to perform well, and speak publicly well. I took a speech class many years ago, so I've had some training and practice. I've had very positive reactions to the work, and people seem to engage with my performances and want to ask questions afterwards. My visual work usually centres my race and nationality as a Puerto Rican, but my written work, my poetry almost always attack various institutions head on.
Marcia X is at Norwich Arts Centre on 20th April at 8pm. This event is pay what you can. More details here https://norwichartscentre.co.uk/events/spiel-marcia-x-artist-talk/