Interview with Raevennan Husbandes
19/04/19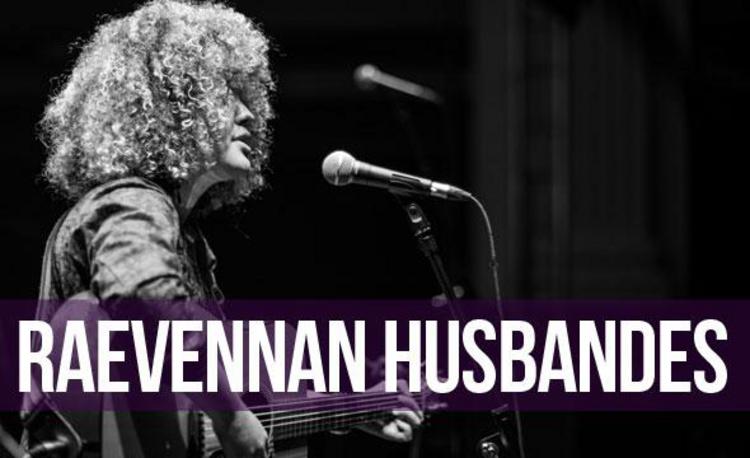 Thinking back to the Next Big Thing Final, the clearest memory is of winner, Raevennan being held aloft by her rival bands, all of them in abject joy for their competitor. It was a wonderful, warming sight. It could have been a scene at the end of High School Musical, or something, except the music was really, really good. When you look into Raevennan's life so far, it could strengthen the idea that you might just be witnessing a film in the making; captivating her audiences with angelic singing, conquering a temporarily ruinous illness – you've come in at about Chapter 3, but we'll try and fill in the blanks… 
So I was going to ask you about your time since the Next Big Thing win – it's been a busy couple of weeks for you, hasn't it? What's been happening? Loads of things, loads and loads of things… but actually when you ask me now I can't remember anything! But my diary – never in my life has my diary looked so packed; lots of meetings with people, lots of new gigs have come up from the Next Big Thing, thing. I feel like I'm in a completely different ball game now. I'm playing with the big boys now! It's bit scary, a bit overwhelming! 
Yes, you supported Martin Rossiter the other day at OPEN – - Yes, that was a big gig.
OPEN's always going to make it seem like a big gig, isn't it – it's so huge… Yeah, OPEN's a lovely venue; I didn't know about it before. I know it's a new one, but I didn't know it even existed before.
Yes, and you played in the Club Room for the semi-final, but playing the final on that massive stage must have been awesome – - Yes, surrounded by the marble and everyone… wow!
One of our judges came from Decca Records and I heard that you might have moseyed on down to Decca Records for a meeting after, is that true? Yeah, I shimmied down, as you do! That was a bit surreal; the offices were in this place that looked like a film set. It was like a Hollywood film set, with the security and barriers and big arch. I did imagine that I was kind of walking in to Universal, well, I guess I kinda was, but that was a bit weird! Cool weird though!
Yes, because Decca's a name that's synonymous with an amazing heritage of releases over the years. I know, I was like, 'hold on, they want to see me?! Really?' My legends have come from that label! Half of my record collection's probably come from that label.
So the competition itself, what made you want to enter? Well, it was about two years ago, so September 2010, I was doing a few things after graduating and I went to do a session for Future Radio and they said, 'Oh, we have this competition and you should enter it.' And I was kinda thinking about it, but then I got ill and I couldn't do it, and so last year I was just getting back into playing the guitar again because I just left it – it was always out, but the only thing I really wanted to do with it was break it into pieces because I was very angry. So I did the best thing and I left it, then probably about this time last year, I started listening to music, because I wouldn't listen to any kind of music at all; the only thing I'd listen to is spoken word. Then when it came around this time, around August / September time when the thing opened, I just thought, 'well, you know, I'll enter it and see how it goes.' I looked on the website and I don't have a Norwich following like lots of the other bands and I don't have much of a profile here, but at least if I enter it and I don't get through, then I know I didn't get through instead of wondering whether I could have done it, or whatever.
We kept harping on about the success that Ed Sheeran had had since winning the competition – did that inspire you at all? I know you have a slight connection with Mr Sheeran… Ever so slight, you know, he probably doesn't even remember me, but there was a time that I'd just got out of hospital and I was invited to open for him at some Norwich gigs and I made the effort to come through, with my walking stick, up to Norwich but I wouldn't have been able to even sit up for half an hour and sing, but it was really nice of his people to ask me. I'm good friends with his good friends, and that's the only link I really have with him, apart from the fact we shared the same singing teacher once – not at the same time though! But yes, he's a very hard worker; he works really hard at his craft and he deserves all the good things that come his way.
I read that prior to the competition, you'd supported Lisa Hannigan, you'd opened for Diana Krall, and other things like that, but despite your experiences, you seemed genuinely surprised to even get through the semi-finals, into the final! Very! Because I didn't go there to win it, I just went to have a good time and hopefully make some musical friends with people in the area. I moved to Lowestoft about eight years ago, I spent most of my time in college then at college age, then I decided to go back down to London for uni, so that's three years that I didn't spend getting to know anyone round here. I only returned when I got ill and I stayed at home for two years, so again, I didn't get to know anyone. I thought, 'I know, I'll try and get to know bands here, because bands here do really well' – obviously only if they're good, and the vast majority of them are. Lots of people in Norwich love music and so I thought, 'brilliant, even if I can just find people to hang out with, that'll be great.' Plus I didn't know whether I'd ever get to play a venue like Open, otherwise. I would just like to be, like, 'yeah, I played there!'
So you were mildly surprised to get through the semi-final, to the final – how did you feel on that day? There was a good buzz about the place… Yeah, there was. I'm a queen procrastinator, I'd say, and I try to take things in my stride, but then when I saw the footage that was coming up from the other bands of the interviews and they were all like, stoked and had a strategy – or not a strategy, but they were like, 'yeah, we think we can win this', I was like, 'oh God, I need to just check this out – is this a tiny competition or…' and it was nothing to laugh about! So the Wednesday before, I just started to get very nervous, like 'oh god, why am I doing this? I shouldn't be doing this. I really shouldn't be doing this – they got it wrong, maybe I should just pull out!' I didn't eat 'til after, so the night of the gig, I ate after it! But when I got there, it was OK; I had my friend Simon Lewis on cello with me, which was lovely and it was nice to share that experience of playing in that great hall with a good friend of mine. And obviously just show off his ninja skills! It was a great vibe when I got there though, and it was great to meet the other three bands from the other semi-final.
In the final, you announced that your second song would be an instrumental, and I was like, 'oh, that's a risky business!' because we had been so drawn in by your voice previously… You see, everyone said doing an instrumental would be brave, and I was like, 'really?!' For me, I didn't realise that you could repeat material that you'd done in the semi-finals, and then I realised people were, but I thought, 'hey, it doesn't matter', and I'm kind of glad I did. But the reason I did the instrumental was because I wanted to bring the dobro along, which was totally self-indulgent!
Well it paid off, because it was actually one of the best instrumentals I've ever heard for conveying emotion through sound alone, and showed your strength as a musician – - Oh, wow, thankyou!
As I said before, you'd done a lot before the competition, and Guy Chambers had written a song for you, is that right? Yeah, that came about in July. I'd previously been working with the Unthanks and Adrian McNally, the producer had been commissioned to produce an album for the Stables in Milton Keynes, as part of their international festival. This album was based on stories given to two boat builders who had been donated two items made of wood, items of significance, to build a yacht from, from these pieces – say, a wooden leg and I think there was a piece of Jimi Hendrix's guitar – they all had stories connected. Adrian went away and asked various songwriters to write stories and some of the songs are very literal, and some of them just an interpretation of the story. The reason that Guy Chambers was involved was because he used to go to The Stables as a child, so he has a rooted connection. He wrote 'House of Wood' and… I don't know how I managed to get on that! [LAUGHS] I think Adrian emailed me briefly and said, 'have a listen to this song, and tell me what you think of it', and the demo wasn't a demo… it was a proper thing, you know!! It was great but my only comment was 'it could do with some dobro!' So he asked me if I wanted to come down to London to play some on it, and I was like, 'Oh, sweet! Yeah!', then he asked me to sing it! Guy OKed it and the rest is history!
Now, in my research, I saw your project that you'd done with Macka and I thought it was great that you'd been able to explore something else, musically. Who is Macka, and how did that come about? Macka is a chap, a musician who I went to uni with, a dubstep artist and DJ, and he's currently based in London. He just asked me if I'd sing him some of my songs, either with or without guitar. I just sang into his voice recorder, then he came up with this album of my stuff that I don't even play myself, because sometimes I feel a bit funny about some of my songs, so I felt OK about giving them to him. But he's done a marvellous thing! I don't even know how he's done it!
I was going to ask you about your musical loves – not your influencers, because I think your own music is something quite independent, but your musical loves that got you to this place now. I read that you dance round the living room with your Mum – - I still do!
I do too! We're a big dancing family, and they helped inform my music tastes – what got you to where you are now? Oh, a great variety of things; probably songs in particular, like Charles and Eddie's 'Would I Lie to You Baby' – I loved that song when it came out! We used to have this wicker washing basket, I used to use a comic as a manuscript and a plastic guitar that my mum had brought me from Walthamstow market. I used to pretend that I was reading music and performing; it was all professional in my five-year old mind. China Black's 'Searching' – it was lots of soul and pop, R&B kind of stuff. Then I got older and got into Lauryn Hill – that whole 'Miseducation…' album. Michael Jackson was a huge part of my life; I had the History video and my Dad had a parquet floor in his living room and he had those shiny black loafers, which were like, size 10 and I was a 13 year old child but I used to try and put them on.
There was a line in your LinkedIn profile – see, I've really been snooping about – that said your music was fuelled on by a visit to your grandparents' house in North Wales. I thought, 'what happened in that mountainous region that ignited such musical talent?' Well my Grandad used to have lots of vinyl – but I was never allowed to touch it, haha – but now he's given it away – oh no! But he had lots of tapes as well, like Fleetwood Mac tapes, James Taylor, Andy Williams; we used to listen to them in the car, everywhere we went. My Grandad also had a guitar that he kept in the loft, but he'd bring it down when I came down. He taught me to play, 'Mr Froggy Went a-Courting' –
- I don't know that classic! Damn, I'll have to put it on a hidden track or something! He taught me to play it and we used to sing it together; I think that's where I learnt to sing harmonies, but I've always loved harmonies and prefer to sing the harmony where I can. I think the first song I taught myself by ear was 'Teenage Dirtbag'. But yeah, my Nan was always singing, my Mum was always singing, my aunt was always singing, my cousin is a massive music buff, and my Grandad had the guitar. I learnt piano first; I had an amazing teacher who was a concert pianist but she scared the living daylights out of me! I'd be out playing on my bike and my Mum would call me in to go to her house, and I'd just pedal off in to the distance, like 'No…..!' I did my Grades 1-7 in guitar for college though, in about two years and I wanted to be a classical guitarist at first, but then I went to uni and discovered… folk, I suppose. Then I started writing songs and was in a band, but it was very casual for them.
So Raevennan, I have to ask you, if you're comfortable with it, about your illness – - Oh yes, of course. I was like, 'oh no, what's she going to ask me? I'm feeling uncomfortable!!!' [LAUGHS].
It's just so crazy though; it's an extraordinary and frightening tale of you losing your sight and hearing temporarily, at the same time. That seems so frightening – how did you know where you were, and who was with you?
I didn't; I knew when I first lost my sight and that was fine – obviously it wasn't fine, but I'm very much like, 'well it's happened, let's get on with it', but it was scary because I had this skin condition where my skin was on fire, like the slightest touch was really painful, but of course when I was deaf, they had to touch me because they either needed to take blood from me, or give me an injection, or whatever. That was extremely painful and uncomfortable, but I was knocked out most of the time on drugs and things. It was scary when they didn't know what it was; I had about five teams looking after me and they were all very casual about my diagnosis and prognosis, like 'well it could be a brain tumour, it could be MS, ME, Meningitis', but they were just kind of bandying terms around. Very luckily my Mum came down and she's an ex-ward sister – she's an artist, but she's an ex-ward sister – and so at any opportunity she'd look through my notes. It was her who diagnosed me, but they weren't having any of it. A couple of days later they returned and apologised, because she was right. The tests were scary; I had to have a lumber puncture and things and they were like, 'don't move, because if you move we could paralyse you!', which was scary! I've never begged for anything in my life, but when I was admitted, I just begged to be given the night, and then everything start the next day, but they were like, 'well we might not have the night, so we have to do it now.' They had to sedate me, had to hold me down, everything. It was wild; I kinda feel like I was looking at myself from outside myself.
That's properly mental. I was speaking to my family about this, and I said if you turned off your sight and your hearing, how would we recognise each other, and it was really nice because we started to appreciate the unspoken ways we communicate with each other; my Mum rubbing my hand, and me playing with my brother's hair… I'm reading a book at the moment, actually, which is quite pertinent; it's called 'A Train in the Night' and it's about a music journalist called Nick Coleman who loses his hearing practically overnight. He said that when he came home from hospital and was faced with his vast record collection, he just wanted to burn it, to let it melt down. You said yourself that you wanted to smash your guitar. What's the approach back to loving music again? I think it was when I was moved to James Paget Hospital and I had a really lovely rheumatology consultant. My first appointment with her, I was like, 'I like you.' She's fierce, like, on it like Sonic. And instead of her being like, 'Oh dear, poor you', she was really pragmatic, like 'OK, what were you doing before this happened?' And she wanted to hear me play and I felt like that genuine interest in wanting to hear me play kind of sparked me to not give it up so easily. I went home that day and picked it up for the first time; I was happier with myself and the guitar. It was just my way of dealing with things; I didn't talk to anyone really, and if I did, I'd often be quite rude.
We're so glad you picked it back up, and I just want to know now, what have you got planned for the immediate future? I'm still gigging this month and recording a lot and hoping to have an EP ready for early next year. But that's another thing! I'm not used to thinking so far ahead any more! I should probably have like a six-month plan, or something, but I just think about tomorrow now when it comes.
Emma Garwood
Raevennan was the winner of Future Radio's Next Big Thing Competition 2012, supported by Outline Magazine and OPEN Venue, Norwich. For all of Raevennan's movements, check her out on Facebook.com/raevennanhusbandes for the relevant links. 
Ed Sheeran
Open Norwich
Guy Chambers
Next Big Thing
Future Radio
Raevennan Husbandes