Interview with Young Guns
25/05/20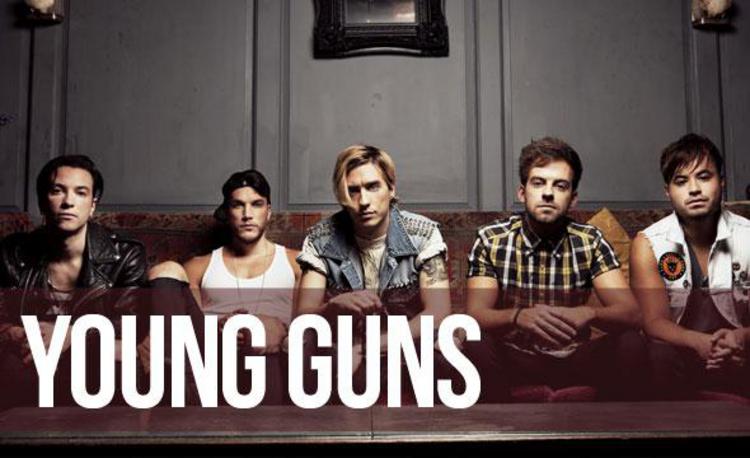 For what seems like a small British rock band, Young Guns have achieved big things since the release of their EP Mirrors in 2009.  Since then, they have released 2 full lengths, including the new and brilliant Bones, played the main stage of Reading & Leeds and supported greats such as Bon Jovi and Lostprophets.  Unlike many, their growing success has not gone to their heads and we catch up with ever-humble vocalist, Gustav Woods to find out what they've been up to... 
For anyone who might not have heard of you, would you mind giving us a quick overview of what Young Guns are about?Fundamentally we're just a 5-piece rock bank from just out side of London and kind of just about good song writing and playing good shows. We try to apply ourselves really hard to everything that we do, we play shows as intensely as we can and we write music as well as we can. We're not trying to reinvent the world we're trying to write good songs. 
You're coming to Norwich in March, what has your past experience of the city been and are you looking forward to coming back?Yes, we definitely are. We've played here on the Kerrang! Tour and a bunch of other things and Norwich has always been one of those regional places that has always been fun to play, we enjoyed it. The point of the tour that we are on at the moment and the next few shows after that, which include Norwich, is kind of bringing it back to the smaller club shows that we were playing years ago and starting the new album off with the small, intimate atmosphere that only those kind of club shows can bring. We're really excited to get back.
Do you prefer playing the smaller shows rather than the larger ones?I don't know if I'd say I prefer it because having a lot of space on stage to play around with is brilliant and playing to large audiences is always a real thrill. But there is an intimacy, energy and an atmosphere that comes with small shows that sometimes you can't replicate with the larger ones. We do love playing the small ones. 
How does it feel to go from playing smaller venues in places such as Norwich to playing larger venues when you are supporting bands like Bon Jovi or playing the main stage at Reading & Leeds?It's really good fun because it keeps it fresh. We have literally played every kind of possible stage you could imagine. We have played to 120 people, like the day before yesterday we played in Kingston, we played 2 matinee shows in a 120 capacity room and they were tiny, crazy, rowdy shows. But we've also, as you say, played the main stage at Reading & Leeds and all that kind of stuff and indeed our last headline show in London was to like 2 thousand people. It's really nice to have to kind of have a foot in both of those worlds. I hope that we can continue to do that. 
So your new album came out last week, which is fantastic I will add - what has the response been to that so far?Oh it's been brilliant; it's taken us by surprise how well it has been received. Right across the board, the radio stuff has been amazing as has the print press with Rocksound and Kerrang. And just by our fan base as a whole; it's just so exciting and so great to feel that something you've worked really hard on is actually affecting people. It's so rewarding and at the moment when we're playing this tour there is a real feeling of pride and kind of excitement. We're very humbled about how excited everyone is by the record.  I think most importantly our fan base seems to have really connected with the record and that just leaves us feeling really good about where we are. It's really great to feel like you've done something right. 
While doing my research, I found out you guys recorded your album in Thailand, what was that like?We were there for 6 weeks and it was basically 6 weeks of having a big grin plastered across our face. We recorded in a state-of-the-art, beautiful studio called Karma Sound and it was just paradise. There was a very inspiring, very creative kind of energy to the place. We wanted to go somewhere completely removed from everything we were familiar with because we wanted to try and write a record that stepped outside of our comfort zone. When we were offered the chance, we kind of jumped at it because it seemed the perfect way to do that and to get away from everything we were used to. It was a beautiful studio; we were there with our friend Dan, who recorded the album. It was a charmed month and a bit and was pretty special for us.
Was it different from recording in the UK because you were further away from home and the distractions of families and friends?Yeah precisely and that's what we wanted. We wanted to get away from our friends, family and literally everything and we just wanted to go somewhere where we just knew we were there for a reason and that reason was our sole purpose. When you're living in the studio as we were, pretty much in the middle of nowhere, it's very focused. I think, had we done it in London or somewhere like that, we wouldn't really have been able to apply ourselves in quite the same way. 
Do you have a favourite song to play live or does it change?It does change a lot; at the moment on the new record I am really enjoying playing a song called 'Towers'. It's got a fun, kind of punky, almost Green Day kind of energy to it and it's just really good fun. But yeah, all of them. We're just really enjoying playing live stuff at the moment and the songs are going down really well.
You toured with your EP 'Mirrors' for so long; it must be nice to now have a lot more material that you can play live.Yes indeed. It's very nice to be able to pick what we enjoy doing the most out of a body of work. 
As I said earlier, your album Bones is definitely one of my favourite albums at the moment, have you got any albums you've been listening to lately or while you were recording that maybe influenced you?Yes, Joy Formidable. They are a band that I really like. They've got a Foo Fighters edge with a female singer, kind 90s in a way. They're just really great rock songs and inventive rock music. I really enjoyed listening to them while recording the album.
Ellie Smith
Young Guns come to the Norwich Arts Centre on the 24th March. For tickets, go to www.norwichartscentre.co.uk. 
Norwich Arts Centre
Ellie Smith
Gustav
Young Guns