Jim Jones and the Righteous Mind
The Waterfront
22/05/17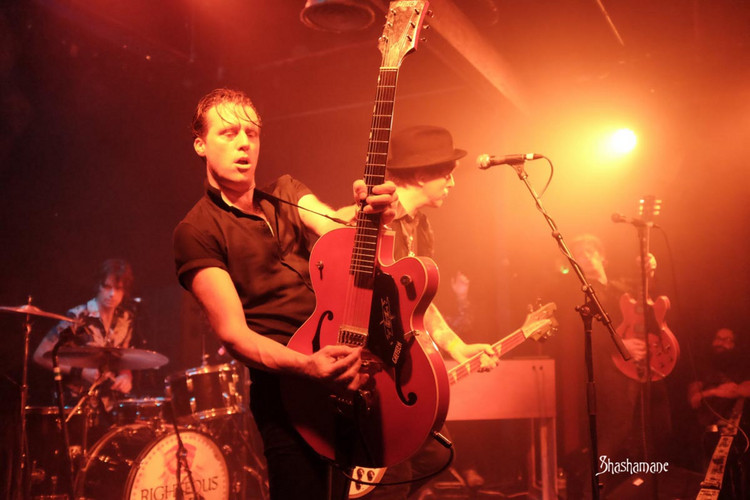 A few years back I experienced a live set from headliners of the inaugural Red Rooster Festival ... just a few songs into that I already knew that The Jim Jones Revue were among the finest rock 'n' roll bands I had seen on a live stage. A year or so later they played the Banking Hall at OPEN on their farewell tour and not long afterwards Jim Jones and the Righteous Mind were born. They played Norwich soon after but an unfortunate gig-clash meant I missed that appearance. This time, however, I was determined to catch them, especially to continue the dirty, bluesy rock and roll theme of the weekend after seeing James Leg and The Bonnevilles the previous evening at the Arts Centre.
This particular Sunday gig was taking place in a hot and sweaty Waterfront Studio, with support from Norwich/Yarmouth trio Beast With a Gun. It's been love at first listen for me with these guys and I really enjoy their garage punky blues sound and the obvious joy they play it with. They were just fantastic at the recent farewell Old School Studios night but it's a treat to see them anywhere. Plagued by a few technical issues at this Waterfront gig they were unfazed and played a powerful set that put a big smile on my face. They are terrific fun with great presence and I cannot wait to catch them again.
When Jim Jones and the Righteous Mind came onstage just after 9pm I could not have been more ready for them. With bass, drums, guitar and vocals plus their customary sound of rock and roll keys, they sounded immense from the off, with the unexpected addition to their sound of pedal steel guitar. They became more and more visceral and primal with each song, and after about fifteen minutes or so Jim Jones announced "We're starting to warm up now!" They already sounded huge but they took it up several notches and proceeded to totally rock out. The set had variety and was interspersed with the occasional slower number which only seemed to heighten the effect of their faster, big songs, When Malcolm Troon got up from his pedal steel and strapped on his Gretsch they just tore off the roof of the place and proceeded to to turn it up to 11. I found myself smiling in rock and roll bliss. A band with immense power and the best musical reference points, they make a glorious beast, formed from many influences which are apparent in the sound which they have made their own. Live, they are so powerful and just dripping in rock and roll cool, there were some genuine "Wow!" moments in this wonderful gig. So much fun.