Prong
The Waterfront
26/10/16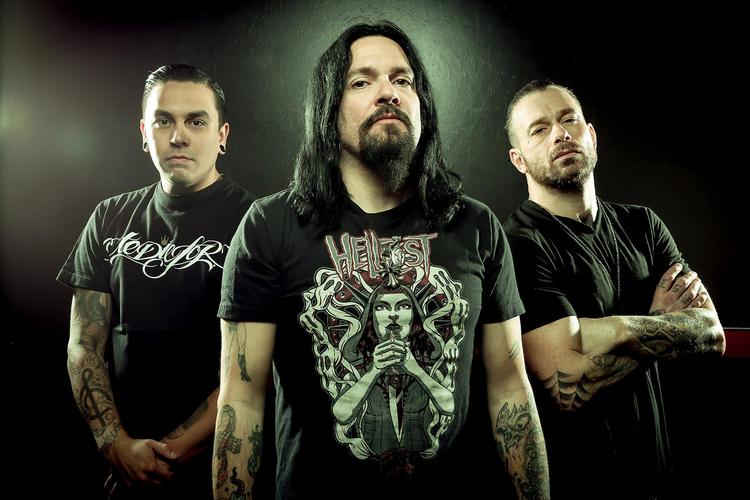 Last night was busy for a Wednesday night down the Waterfront, what with The Buzzcocks downstairs, but it's Prong playing in the studio that's the reason I'd left the house. Upstairs the crowd was, well, thin, but I guess that's what you get in a city with multiple choice answers to the question "is there anything good going on Wednesday?" And at least I can get to the front.
In the opening slot were local hardcore heroes Back Down or Die, who made it totally worthwhile for the pre 8pm early birds. I made sure to get there early, because I love this band. I love watching them, I love hearing them, I love their scent… ahem, anyway, the reason I offer this information up so candidly is that it's a love that gets more and more justified after every performance, and especially after one like this. Tighter than a Chapelfield parking space, and catchier than a glue-covered baseball glove, they played to a crowd of fewer people than they deserved, and they absolutely smashed it regardless. That's how it's done, people.
Next up were Aussie shirtless super-soakers King Parrot, who incite the crowd through a mixture of thrash-laden screaming, and suspicious smelling water. Luckily I always wear a wet suit under my ripped jeans and faded T for just these sort of G G Allin-esque moments, and was able to see it for the cajoling-showmanship that it was. Frontman Matthew "Youngy" Young didn't stop there in his quest for crowd participation, and resorted at one point to physically corralling the front row in to a pit-formation using the mic lead as a makeshift lasso, and these are the correct actions one should be taking when fronting a thrashy, grindy, explosion of a band like KP. Definitely one to see if you like your music ferocious and slightly unhinged.
Finally, it was time for Prong, so let's do the context thing. Prong were formed in America in 1986, and for ten years frontman Tommy Victor and friends produced a sound that, over five or six albums, merged hardcore with thrash, industrial, and whatever else they felt like experimenting with. Life was good for Prong, touring with Pantera and Sepultura, and, unknowingly at the time, influencing people like Korn's Jonathan Davis, and NIN's Trent Reznor, until their flame burnt out in 1996. They reformed a few times with various line-ups over the late naughties/early, er, teenies(?), and have now returned once more with new album, X (No Absolutes).
Back to the action, and from the start it's clear why Prong have made such an impression on the music scene. They have a sound bigger than the sum of the three people on stage, and they know how to use it. It's like someone has weaponised metal, and they're using the audience for aural target practice. It's impressive, and it's also really, really fucking good. For a three piece band, they have a great presence on stage. Tommy Victor looks like he's found the fountain of youth along the way, and clearly still knows how to control a baying crowd whilst simultaneously shredding riffs and singing, which is no mean feat. They move seamlessly from material across the old and new albums, and when it came to what is probably their biggest hit, Snap Your Fingers, Snap Your Neck, the whole crowd was getting down to business. And they didn't even need to throw water at them once. Amazing. Prong proved tonight that, whilst you're looking at something new and shiny in another direction, there are some bands that you shouldn't take your eyes off. Like Prong, for example. Because whilst you do, they're still making and playing awesome music, and if you aren't in the know then you're seriously missing out.
8/10
Live Review
The Waterfront
Rock
Back Down On Die
Prong
King Parrot
Metal
Metal