Lucy Grubb + Aphra + Red Dear
Norwich Arts Centre
01/11/18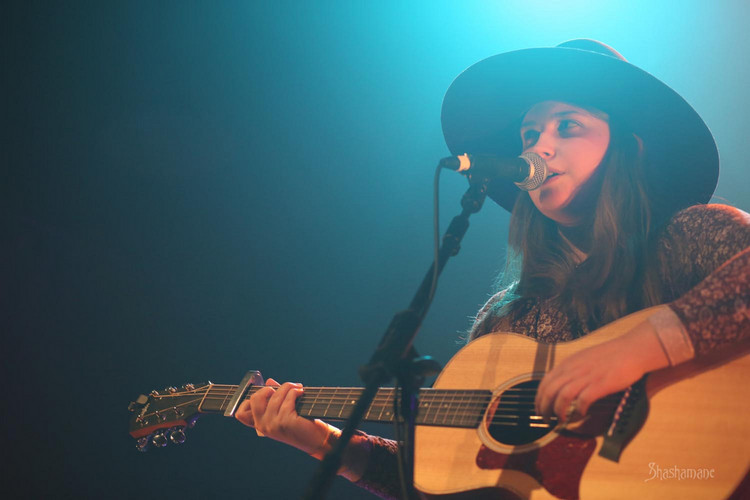 After navigating my way past innumerable zombies and ghouls I eventually found my sanctuary of Norwich Arts Centre, the path of which made me smile to myself as it had a line of "Lucy Grubb" carved and illuminated pumpkins. A nice touch. The NAC on Halloween night featured no less than three excellent local acts in a showcase of Sonic Youths talent, the headline being Lucy Grubb launching her new EP "Dear Walter", performing with a full band.
Introduced by Annie Catwoman, it was fellow Sonic Youthers (the) red dear, resplendently attired for the occasion, who opened proceedings and they too have just released their second EP, "An Imperfect Cadence", following their debut which was played on Radio One. It's another excellent collection packaged in a most beautiful and creative way with pieces of a deconstructed classical guitar from the recordings themselves included as part of the limited edition CD release. I like their thinking, a lot, and I love their music too. This was an impressive opening. I've only previously seen them as a duo but here they debuted their full band (with Gladboy's George on bass) which gave the songs a rich, full and deeper sound. Quite unlike any of their previous performances, but I enjoyed it a lot.
Several of that band were back onstage shortly afterwards with Aphra, albeit with costume and instrument changes and an altogether bloodier look for this Halloween occasion. Almost as much fake blood onstage as at a Starcrawler gig! Dylan was now on drums whilst initially Izzy and George were providing backing vocals and handclaps for a cover of ... The Monster Mash! Aphra had a good stage presence and rapport with the enthusiastic crowd maintaining the lovely atmosphere of the evening and playing tracks from her own EP 'A Wonderful Adventure'.
I first saw Lucy Grubb perform memorably at The Blueberry some years ago for West Norfolk Radio, when she was still at school! Having seen her a number of times over the years since then, her growth and development as an artist has been obvious and remarkable. Strong songs and a flair for songwriting have led to a rousing and extremely well-received Red Rooster main stage appearance this summer and national radio airplay, she is making quite a name for herself and has a brilliant band around her featuring some very notable local musicians.
From the lifting of her hat from the mic stand, putting it onto her head and playing the opening chords of the first song every detail of this set was slick and professional with the strong songs to back it all up. You almost have to pinch yourself and remember that Lucy is still only 20 when she introduces a number as "an old one" but "Dear Walter" is actually already Lucy's second EP, following up the successful "18 Miles" of a year or two ago and she has enough material for a full set of strong originals with the odd cover thrown in, one of which was a fine version of Kacey Musgraves' Slow Burn.
She also had the confidence for a solo segment mid-set. This is old soul, old country-style songwriting from the East with a self-assured stage presence, charisma and quiet confidence with easy banter, gentle humour and replies to the audience between songs. This was hugely impressive and Lucy has an unaffected naturalness that transmits to the audience to give a warm feeling. There are some very strong songs in her set and if she was from Tennessee and playing here people would probably be queuing up for tickets weeks in advance. As it was there was quite a buzz about this gig anyway and the NAC was just about full with a great, mixed crowd and terrific atmosphere. If I had to describe the gig in just one word it would be "Triumphant". Watch out for Lucy Grubb, she's special. So too are so many others given a showcase by the excellent Annie Catwoman of Sonic Youths at NAC. Watch out for them as well. Amazing things are happening in Norwich with our music as this gig demonstrated.