Marty O'Reilly and the Old Soul Orchestra
Norwich Arts Centre
04/05/18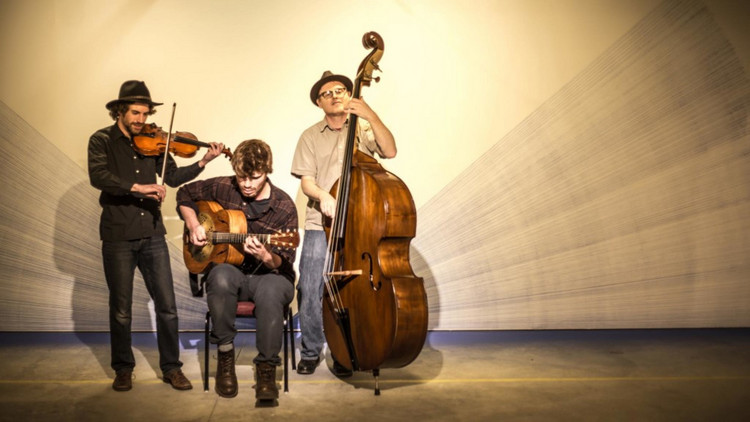 Sometimes bands and cities form a mutual appreciation and love of each other. It happened when Rainbow Girls played here in 2013 where band and city just instantly connected with each other, forming a love that not only endures but continues to grow. It was upon Rainbow Girls' return visit to Norwich the following year that they brought with them fellow Californians with an Irish link, Marty O'Reilly and the Old Soul Orchestra. The Irish detail as important as the "Old Soul" part of the name as they channel their Irish ancestry and folk history as well as the American blues and gospel side creating something new and unique and yet familiar that connects with our souls. Marty and the boys are very much old souls too.
First up though were local favourites Hot Raisin, who at the tail end of last summer also supported those Blue House Music legends Rainbow Girls at a glorious gig in Eaton Park Cafe. The Raisins are a band I have a huge amount of love and respect for. They are also very versatile playing acoustic or electric and also as a duo, trio, or as here with the full five-piece electric line up.
As often happens with Hot Raisin their set seemed to pass by all too quickly but that's because we were all enjoying it so much. Later and Embrace Me sounded sumptuous and strong, new-ish song Midnight Gremlins got a welcome airing and the set closer Whiskey Ginger was powerfully fantastic, sounding marvellous on a beautifully lit Arts Centre stage. They are a band who get better each time and thrive on the bigger stages yet retain a warm and friendly intimacy with a lovely easy-going manner and presence, toasting the audience with beers aloft between each song. I love them and I think a lot more people do too after this gig.
Both Norwich and indeed the band had long been looking forward to this NAC visit of Marty O'Reilly and the Old Soul Orchestra, who received a warm and enthusiastic welcome as they took the stage. I've seen them many times over the years and they are utterly unique on each and every occasion with no two performances of any song being the same from one show to the next it would seem. Tonight they played a few songs which are ingrained in the memory from some previous extraordinary shows and yet they sounded quite different again. I'm thinking especially the likes of Letters and Smokestack Lighting which took on a classy jam-like quality in places, the whole band always pushing themselves, experimenting and making things interesting and totally immersive. At times they seem to just let the group's spirit take over and possess them in the song, it's magical seeing such amazing musicians perform like this. Ryley Walker had a similar thing going on with his band last year and it is quite something to witness and experience. They have one of the classiest drummers I have ever heard, restrained and subtle and yet also able to let rip when the moments are right, an exceptionally brilliant player on upright bass and in Chris Lynch a fiddle player every bit as astonishing and intense as Marty himself is on vocals and resonator guitar. There is a strong musical chemistry between them.
They are of course touring their new album Stereoscope, their most masterful work thus far. It's one of those albums you can just put on and lose yourself in, a complete work that is best listened to as a whole, and it rewards repeated listens. I can sense the love that has gone into the making of it and they should be very proud. But the live show! It's just mesmeric, intensely powerful and taps into something deep inside the soul. This is a shared experience where each audience member and band member is totally in the moment, feeling and breathing every note of every song, the band as one organic unit and the songs having a life and spirit of their own. It's a truly beautiful thing and there is a wondrous connection between band and audience who feel just as involved in the jamming moments which keeps everything exciting for everyone, the band positively thriving from the audience energy, and vice-versa.
If anyone thinks Norwich audiences are quiet then they haven't seen Marty O'Reilly play here, a venue Marty described as one of their favourites in the world, with whoops and hollers of genuine and enthusiastic musical appreciation coming from the floor and a recognition that we are seeing something classy and special. Each visit brings more people to their shows here with everyone present spreading the word of what a storming, brilliant live act this is. Once again, after the set of about 90 minutes on the hall's main stage they took everything into the bar and played acoustically unplugged for a further half an hour or so to the absolute delight of everyone present who sang along and cheered. It was a privilege to be a part of this magical night.
At one point in the evening Marty commented on the Art Centre's smoke machine, saying "We need to get ourselves one of these. It makes us look atmospheric!" That wasn't a smoke machine, Marty, you guys were just on fire! This band are class. World class.
An early "Gig of the year" contender. Marty O'Reilly and the Old Soul Orchestra, you will always be welcome in Norwich, and Hot Raisin, I hope your time headlining the NAC is not too far off. Two of my favourite bands in my favourite venue, it doesn't get much better than that.