Mr Thing
OPEN
16/09/19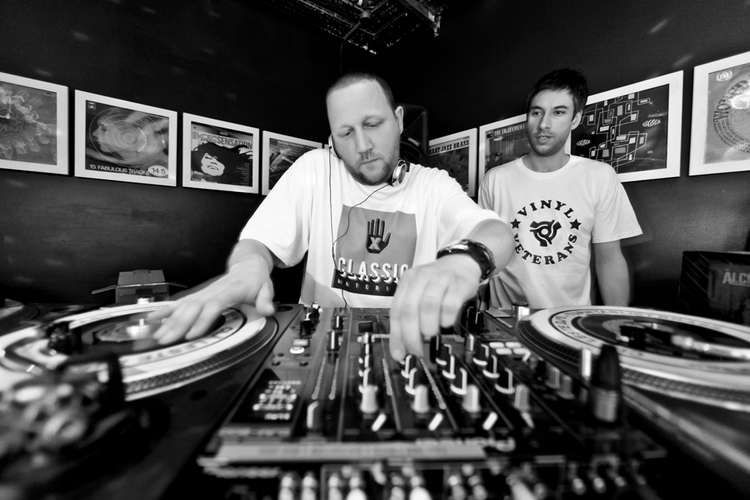 Marc Bowles aka Mr Thing aka Original Scratch Pervert aka DMC UK DJ Championship Winner 2000 is a legendary world class hip hop DJ who also dabbles in funk, soul and other choice genres. Spinning since the late 80's, he's a dab hand on the decks and a top geezer in real life. I spoke to him ahead of his set at Open this month with Hot Damn, celebrating the launch of this year's Soundcrash Funk and Soul Weekender which takes place dahn sahf.
You started on the ones and twos way back in 1987. Did you have your own decks or did you just start messing around with a record player to see what was possible?
I didn't have my own to start with, I was wrecking home hi-fi set ups with homemade slip mats and very crudely modifying them to make them "transform"! Then two of my friends from school got belt-drive turntables from Tandy which we learned on - one of my friends taught me basic mixing and then we got deeper into scratching as we progressed. Our local youth club in Sevenoaks got a pair of Technics 1210s and a Phonic MRT-60 Mixer so then we would be there every Tuesday night practising! When I started my weekend job in the local supermarket I was able to save up and get my first 1210s, which I bought in installments from a guy at school who didn't want them anymore, that was about '89-90.
Which DJ's do you most enjoy watching live and why?
I really enjoy seeing Cash Money, Jazzy Jeff, J-Rocc, Babu, Shortee Blitz … all these guys have been huge inspirations to me and I still love going to see them play. Sometimes I've been lucky to be on the line up with them and it's been great to meet them over the years. Also I really enjoy watching EZ and Andy C as well - absolute beasts on the decks.
What was the first record you bought?
I know most people have a really cool answer for this but mine was actually Adam & The Ants' Kings Of The Wild Frontier, I've still got it here somewhere! Not long after this tapes started getting swapped around school of the Electro comps. I was getting copies of things from my older cousins and so my whole taste changed later on.
You must have an incredible record collection. How do you file – alphabetically?
I'm trying to thin it out at the moment… it's taken over a little too much. It's all split up into genre, then alphabetical, except for some disco/house/random 12"s and the 45s which are pretty unsorted. Then the library records are all in catalogue number as it's easier to find them that way - they all have identical front covers depending on the series! But generally it's all in A-Z order.
Are you a Technics guy?
Definitely a Technics guy. The Pioneer decks are really good as well, I've had to use those in clubs a few times, but I've had 1210s since '89 and they've been nothing but good to me!
What's your best or rarest charity shop find?
I got a couple about 15 years ago..I took a chance on a 50p record called Ben & The Platano Group, and it turned out to be a super rare French Funk LP. I didn't find that out until I started getting in chats with people up in London. I had to sell it a few years back but would love to have that again. A few weeks ago i found a very rare British jazz LP down here in Kent that was dusty but looked pretty much unplayed once I'd cleaned it up. It's a really really rare thing to happen though these days.
You were an original member of the mighty Scratch Perverts, alongside 1st Rate, Tony Vegas, DJ Renegade, Harry Love, Plus1 and Killa Kela. How did you all come together originally?
The original line up came from the early days of Mr Bongo's when it was in Lexington Street before the Poland Street shop opened. I knew First Rate from Kent and we had just got to know each other after I'd seen him DJ out here a few times. I got chatting to Tony Vegas because we were into a lot of the same DJs. The Poland Street store opened, and First Rate and I showcased in there, and then a little while after that we all talked about being a crew!
It's a shame there aren't many DJ crews around these days. Why do you think that's the case?
I'm not sure to be honest. when the Perverts got busy with bookings we would sometimes have to split up into pairs and so on to do the gigs, and we all got a lot busier with our own individual commitments as well. I would love to see some really inspiring team DJing again, with the technology the way it is now there's a whole lot that could be done with it.
You won the DMC UK DJ Championship in 2000. What was it about your technique that impressed the judges so?
Again, I'm not sure! A lot of people said to me that they liked how I made my set flow. I tried to put it together like a club set so it had a finale piece and a bit of structure. I'm not a massively technical DJ but I do like and enjoy putting things together so they make sense and hopefully sound good together!
Any tips on becoming a world class mixer and scratcher?
The best advice I can give anyone is to stay in and practice and then practice some more. I learnt basic mixing and scratches first and built on that over the years I've been DJing. Watch and learn from as many DJs as you can as well, every DJ can show you something different. There was a guy that used to come to gigs who would write down my EQ settings for mixes and deck settings for needles and everything - it's all good if can help people!
Do you use records? How do you feel about Serato?
I get booked for a lot of vinyl only parties especially after the Crate Diggers video and the series on First Word. I don't think many people knew I had that many records. But I've been on Serato for about seven or eight years now and iIreally enjoy using that too. I was dead against it initially but as less and less things got pressed on vinyl and the baggage allowance for gigs abroad got less and less for travelling it became a pretty essential piece of kit to have. But travelling with 45s is nice and easy, which I think is why that format has had a good resurgence the last few years.
Your releases have been a bit sporadic through the years. Is there anything coming out soon?
I have been a bit sporadic with the releases! I'm currently working on an album with Micall Parknsun which I've produced all of - I'm in the mixing stages for that at the moment. We shot a video the first single just before Christmas and we're waiting for that to come back from the director. I'm also working on an EP for First Word of beats and then I'd like to get started on my own album again. But the Parknsun album will be first. I'm also doing a couple more compilations for BBE, one with Chris Read of all rare Boosey & Hawkes library music which came about from the project we did with them a couple of years ago - we're just finishing that off now.
What is it about hip hop that floats your boat, and is it possible for you to name your favourite hip hop track of all time?
When I first heard Sucker MC's it changed my whole musical taste - the energy and rawness of it, just beats and rhymes. But what I love about hip hop is how much it's taught me about other music. I love the way producers flip and discover samples and how MCs get inspired by what's going on and then…I just love the music!
You've warmed up for legends as The Large Professor, Pete Rock and CL Smooth and Ghostface Killah in the last year. Who would be your dream support slot?
I've been very lucky in my warm up slots. Some of them I've never met though even though I played before them! I would love to have done a ATCQ or Gang Starr warm up set - they're hands down my two favourite hip hop groups of all time.
You released a five part ultimate breaks and beats series, Strange Breaks and Mr Thing. Do you think you might expand that in the future?
I'm working on Volume 4 for BBE at the moment, it's still in the lengthy clearance stages, but I've given them a big list to work from. It's going to have some crazy and obscure stuff on it if we can get it or track down the owners, got some nice things lined up for it.
What can we expect from your set at Open here in Norwich, launching the Soundcrash Funk and Soul Weekender?
I definitely think some of my favourite soul & funk and hip hop. I may bring 45's this time out. I'm looking forward to it - see you there!
Mr Thing plays at the Hot Damn! and The Soundcrash Funk & Soul Weekender Official Norwich Launch Party at Open on 31st March. Tickets from ueatickets.ticketabc.com