Red Rooster 2018
Euston Park Estate
31/03/20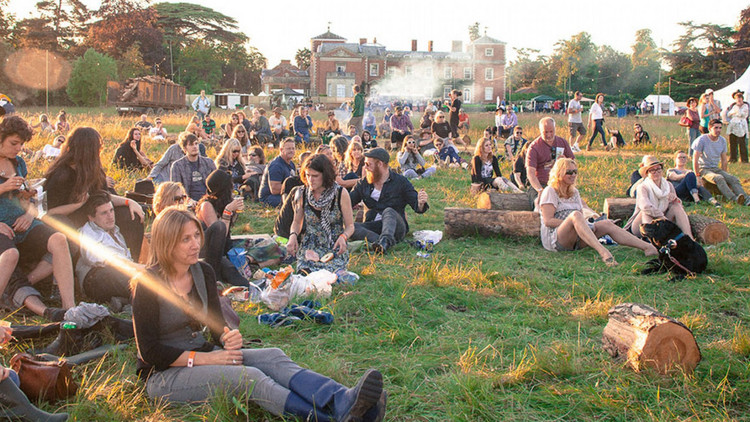 The end of May heralded the return of the Red Rooster Festival, just over the border at Euston, near Thetford. Now in its fifth year it has firmly established itself as not just one of the best festivals locally but nationally too for fans of Americana, country, folk, blues, rock and of course punk rock blues.
It has grown tenfold since it first appeared on the scene with an audience of around five hundred back in 2014 and its size now feels just about right to maintain the unique and easy-going atmosphere. This was a smooth, well-run event with a terrific vibe and the music was sensational. I'm not using that word lightly either, I saw at least 26 sets over two days and three nights, enjoyed all of them but many were absolutely outstanding and will live long in the memory.
When Johnny Cage and the VoodooGroove took to the main stage on the Thursday night for the early arrivals I was still applying the finishing touches to our camp and getting settled in before the forecast thunderstorm (which didn't materialise) but I did catch their final few numbers and regretted not being there earlier. What a cracking way to open the music, loud and lively, powerful rockers starting the festival's live music in fine style.
After one of several dj sets from our own legendary Hank Jd Sleek, next onstage were The Bonnevilles from Northern Ireland who I had seen before at the NAC when they supported James Leg about a year ago. This time they were even more impressive, the duo featuring drums and guitar are so powerful and a lot of fun. They were well-represented by a lively Irish contingent down the front too. Raw, garage-y blues that really hit the spot for me and got me properly into festival mode.
As well as the main stage there was a Howlin' Woods dj tent, and the smaller Little Red Rooster stage which was kicking off the following morning. I didn't catch much of Alabama 3 as I had a little explore of the site while they played but there seemed to be much fun being had in the marquee as I heard "I'm Johnny Cash" wafting out. But walking by the 'blues swamp' I was pleased to notice that the Little Red Rooster stage now appeared to have a much larger speaker stack and the sound desk was in front of it this time. Added to this a vast haybale stack between the stages this all made for an improved listening experience in the area with a punchier PA and consequently there were no sound-bleed issues from the other stage that I was aware of during the course of the weekend.
My Friday morning's music started at this area for a fine set by Little Folk from South Wales in the 10am slot, the early hour not deterring a good size crowd gathered on the logs and hay bales. By the time I got a chance to speak to them afterwards they were clean out of all their CDs, such was the positive reaction to them.
After their set I headed straight over to the main stage for another name well-known to us in Norwich, Lucy Grubb with the very fine band that she has assembled around her, featuring a few SweetBeats. I've seen Lucy a number of times over the years since first hearing her do a standout set at The Blueberry as a sixteen year old. Now at twenty and with a growing reputation well beyond Norwich since the release of her "18 Miles" EP it was a real joy to hear her on this big stage with her band, she comes over as quietly assured and confident with a beautiful voice and lyrics, plus a lovely stage manner. These are all good songs which strongly filled a full set. Despite the early hour she had a decent crowd watching who made an even bigger noise at the end of the set with prolonged cheering and enthusiastic applause. We were all most impressed.
Having a little amble around the site after this I bumped into the Worry Dolls who had just arrived and were trying to locate the main stage so I was happy to accompany them there. Having seen them play at OPEN last year they were ones I was keen to see again. Having since performed at the UK Americana awards show they seem to have developed even more and sounded fantastic and confident on this stage, excellent vocals, harmonies, guitar and banjo backed by an absolutely superb drummer ... whom you would never have guessed had not only just driven from Somerset to get here but had to change a flat on the journey too, I learned as we walked together. The songs are strong and varied and their genuine love of Americana shining through with a unique Worry Dolls storytelling style that comes across. This was another memorable set and Friday was shaping up very nicely indeed.
The next music for me was Joana Serrat from Spain. She drew a good sized appreciative crowd for an enjoyable Americana flavoured set. The sound was full and warm, and it was interesting to hear the songs like this having previously seen her play solo in London supporting Loose Music labelmate Courtney Marie Andrews last year.
I was definitely feeling the call of a siesta by this point of the afternoon, however but thank goodness I resisted and didn't miss McKay & Leigh, raising the already high bar to new heights. Originally from Texas but now Nashville-based Noel McKay and Brennen Leigh are absolutely the real deal and their playing, singing and wonderful songwriting with a delightful dose of humour took me to a place of musical bliss. They even got the whole crowd singing along to a song that most of us had probably not heard before. Goosebumps stuff and the bonus was that they were going to the smaller stage later to play a second set an hour or so later, which I also caught. It was almost a completely different set of songs but the same delightful vibe. My favourite discovery of the festival thus far and they totally charmed me. Absolutely wonderful. Thoroughly revived by their sets I bought their CD and a t-shirt.
After catching a few more sets at the Little Red Rooster stage it was time for another Norwich moment, the mighty The Vagaband on the main stage. This was quite a different looking line up with the inclusion of Mark Howes of Dove and Boweevil on guitar, Joe Harvey Whyte on pedal steel, Mikey Shaw on drums, and the inimitable Yve Mary B bringing her magic and sharing vocals, plus of course Jose, Tris, Joe and Greg. It's changed the dynamics but I think Jose benefits from having another guitarist to bounce off and what was even more spectacular was his bouncing off a monitor at the end of the set! Boweevil was terrific, they all were and really pulled it off with a storming, blistering set. Jose was in fine form. The dynamics may be different but the songs as strong as ever, delivered with an exciting energy, they were a sensation to those who already knew them well but also to the many who were seeing and loving them for the first time. Many new fans gained I think. A well-chosen setlist with a mix of songs from the splendid new album and a generous sprinkling of old favourites too, plus a couple of covers by Townes and Ween. They did us and more importantly, themselves, proud.
The brilliant music was relentless and with plenty more to come. UK Americana Awards "Best Song" winner Yola Carter was an absolute sensation. Her songs, stage presence and that voice! My God! A voice sometimes putting me in mind of Aretha Franklin. Oh yes! This was soul at its best with a good mix of rock and country thrown in there too. This was quite extraordinary, astonishing, expressive, emotional stuff and in this noisily appreciative audience reduced some people to tears of joy such was the emotion, how often do you see that? Now this is soul! I am now a proud owner of her Orphan Offering EP. We all adore her. This was a real Wow moment for me, and many others.
A dash back over to the smaller stage where Ida Mae had just started tearing things up quickly followed, it's so good to see them again and they had everyone dancing down the front in the dark in a great atmosphere. This lovely duo having as much fun as the frenetic throng of dancers.
Things were not finished yet though as Pokey LaFarge was about to start on the main stage, the tent now as packed as I have ever seen it, Pokey and the band played one of the most memorable sets which will probably go down in Rooster folklore. A pleasing mix of favourites over the years such as "Whiskey Tonight", and more recent gems like "Silent Movie" and "Something in the Water", plus a nice dedication to absent bandmate Ryan Koenig who is happily recovering from his injuries in St. Louis.
The night probably ended much later than it should have done for me thanks to catching up with friends in the Howlin' Woods tent where wild scenes of people dancing on the bar and all around to a great mix of dj selections saw me eventually crawl into my tent sometime around 4am. But somehow I made it down to the small stage just after 10am for a beautiful set which was just the tonic from Yve Mary B and the Wild Boohickeries (Dove and Boweevil) beautiful vocals and guitar which soothed the soul with a nice gentle start to the day.
A quick and welcome breakfast and it was off to the main stage and the great fun that 4D Jones always are. The biggest stage I have yet seen them on but they sure did suit it. Their CDs flew quickly out of the box at the end and I missed out again but I'll see them soon again in Norwich. I really do wonder if they have any inkling of just how good they are, I hope the genuinely warm and enthusiastic response they got gave them some idea of it but I doubt it, they are too humble and lovely for that! I overheard many compliments from people seeing them for the first time. They are a perfect Red Rooster band, I hope we see them back again and I hope they at least know how well-loved they are.
Whilst chatting to my friend between sets we heard Dana Immanuel and the Stolen Band soundchecking who seemed really interesting so we decided to hang around for their set too. I'm so glad we did, they were great fun and the set flew by. Funny, charismatic, and extremely good fun with a badass attitude, they explained they had partied hard the night before and joked they nearly did make the stage time after a very late one. I knew the feeling. They reminded me a little of electric-era Rainbow Girls. Another CD purchased and were it not for dwindling funds and saving some back for Slim Cessna's Auto Club I'd have bought all three of them.
Saturday had a run of sets in the evening that I was keenly looking forward to but the intervening hours were filled with more mighty fine music from Big Steve Arlene who it is always a pleasure to hear (joined by Henry Greenwood and Will Fergusson), Jake LaBotz, whose set I really wish I'd caught more of, and the gloriously bonkers Los Chicos whose singer performed an entire song from way up on the lighting rig! I liked these guys a lot. They too said they'd partied hard the night before but were just starting to feel good again. They certainly sounded good and I loved their energy.
The big one that I'd been looking forward to all festival was Slim Cessna's Auto Club. I actually got there early to ensure a good spot but many others had the same idea. I even enjoyed their soundcheck! They played one of my favourite gigs of last year to about 50 people at the Waterfront Studio last year but this time they obviously had considerably more and I also enjoyed it even more, one of my favourite ever festival sets in fact. Fun, theatrical, dark, entertaining, engaging and bloody good. Slim Cessna and Munly got down among us, shaking hands with the front row before climbing into the crowd and singing among us. They went down an absolute storm. Double album vinyl and a t-shirt purchased. It took a while, there were loads of people at the merch table long after they'd finished. I have not stopped thinking about their hugely enjoyable set since.
Incredibly, with barely time to recover, they were followed by Daddy Long Legs who I have seen a couple of times before, the first time being their unforgettable Rooster debut a couple of years ago, followed by a remarkable gig at The Crypt a few months back. Coming on to a lengthy Morricone western intro tape (I love intro tapes!) and building up the excitement level before then exploding into brilliant wildness and some raw, dirty electric blues with guitar, drums and blues harp. What a band. They too had a huge, wildly enthusiastic crowd to enjoy them.
I was definitely starting to flag afterwards and went on the hunt for some food and decided to end the festival in the chilled surroundings of the smaller stage catching some of the sets by Martin Harley and Jerron "Blind Boy" Paxton which was the perfect way to wind down.
The standard of music at Red Rooster this year was simply phenomenal and they surpassed themselves, I've heard so many people saying this was the best Rooster yet and are already buying their tickets for 2019. I've been to all of them so far and have to agree. It was so good that the first-rate music was relentless across the two stages. As soon as one incredible set finished there was barely time to draw breath before being blown away once again by another. I'm still processing all the amazing music I experienced in the space of just a few days.
I can't recommend Red Rooster highly enough. Such a relaxed atmosphere, it is child and dog-friendly, safe and refreshingly free from countless overbearing rules and regulations. It's a breath of fresh air. Plenty of places for kids to play safely, lifeguards by the water, clean and ample toilets, shower facilities and plenty of stalls. Away from the music there is plenty to do and explore, games and play areas and hammocks for children, poker tents for adults and beautiful grounds including a lake and river where many enjoyed an invigorating swim and a relaxing punt on a gondola. There was a huge selection of food available from the numerous outlets, many with a southern flavour though I didn't eat any meat as there was a superb choice of vegetarian options, from Jambalayas to full veggie breakfasts. Red Rooster has got everything right. I also like that they listen to feedback from those who come here, learn from suggestions and fine-tune year on year. It's hard to see how it can be improved upon but I'm sure there will be tweaks (perhaps some loos at the top of the camp-site hill?) I just hope it doesn't get much bigger, the current capacity is about right for the layout.
Small festivals are the best and Red Rooster is as good as they come.