Sarah Darling
The Waterfront
17/03/18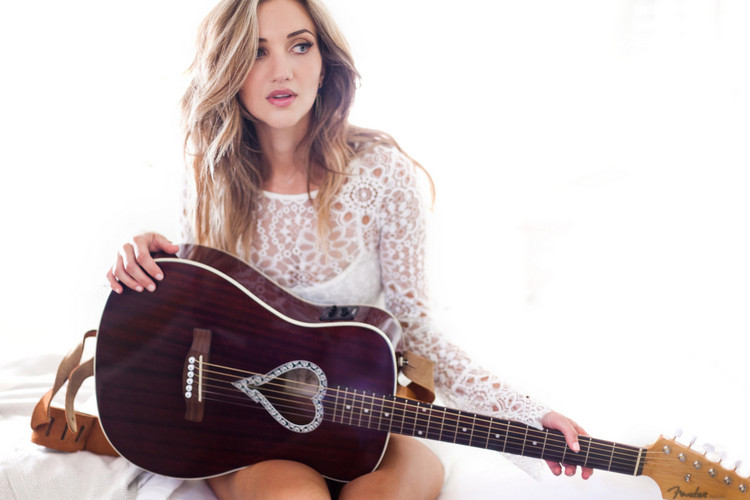 I have been to many gigs at Norwich's Waterfront Studio over the years, but cannot remember attending a seated show before. I guess it is a strategy aimed at broadening The Waterfront's appeal, and to enable events that appeal to an audience beyond those who might traditionally be drawn to a Student Union venue. So, while downstairs the audience are filing in for a night of prog-rock with tribute band Whole Lotta Led, I am making my way up the stairs for a gentler evening of music with Iowa born country singer Sarah Darling. Surprisingly, the security barriers around the stage remain in place, even though tonight's audience look like a respectable, well-behaved bunch - settling into their seats with no obvious hint of a stage invasion on the cards.
We begin with the familiar, and welcome, sight of Norwich's Lisa Redford to open the evening, accompanied by dobro player Noel Dashwood trying desperately to avoid standing on a particularly squeaky area of the stage. Lisa performs numbers from her recent Another Place and Time EP, several brand new songs, and also one of my favourites, Carolina Rain from the earlier Slipstream album. Lisa has always moved seamlessly between the worlds of country and folk, but tonight's set understandably steers more towards the former, and provides a great opener to tonight's show.
Official tour support comes from Kiol, a young Italian singer songwriter (real name Alessandro Bossi) from Turin, who acquired his stage name whilst living in Ireland – ki-ol being the phonetic pronounciaton of ceol, the Gaelic word for music. Strangely, when he sings he reminds me of Paolo Nutini, whose name is Italian but who was born in Scotland. Kiol writes and sings in English, and some choruses also adopt a percussive Mumford and Sons quality, especially when Kiol uses an electronic kick pad, but it was the Italian language version of Lucia Dalla's Piazza Grande that left the greatest impression on me.
This is Sarah Darling's third visit to Norwich, her first as part of a headlining tour of the UK. She has appeared three years running at the C2C:Country to Country festival, and that has undoubtedly raised her profile in this country, and boosted tonight's attendance. She has also been married to an English husband for the last six years, and may explain her penchant for covering songs by English bands – tonight's set-list included Coldplay's Yellow, and an absolutely gorgeous version of The Smiths' Please Please Let Me Get What I Want.
The four-piece band are excellent, creating a versatile and flexible accompaniment to the material, much of which is taken from Sarah's last album Dream Country, and which moves from pure Nashville (Where Cowboys Ride) via the contemplative Halley's Comet to an incredibly romantic Montmartre. There is also room for her big hit single Home To Me; a cover of Tom Petty's Wildflowers; and a new single Wasted, a deeply moving song written ten years ago about alcohol addiction, containing the sucker-punch of a line 'You can't hold your whiskey, and hold me too'.
If you are one of those people who blindly declare that they don't like country music, give Sarah Darling a listen. This is country music that is tinged with blues, romantic soul and even mellow jazz, and certainly ticked all the right boxes with tonight's audience.