Solana + Nebula Sun
Norwich Arts Centre
06/07/19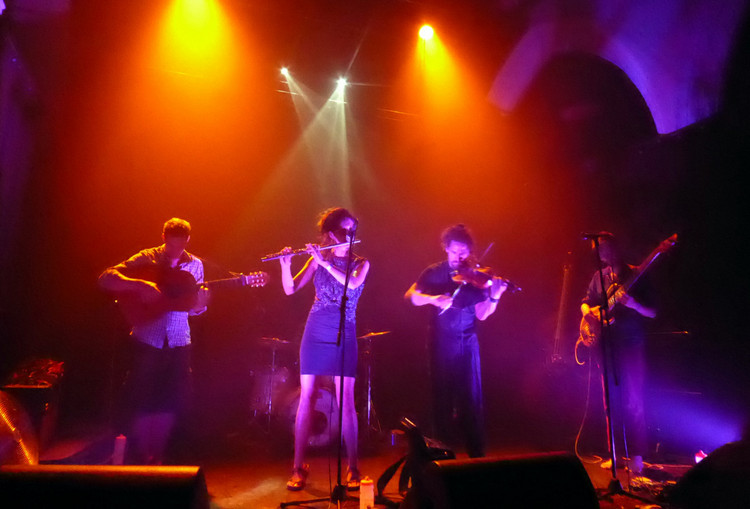 A warm and sunny July evening seemed like the perfect opportunity for fans of Bristol-based folk-fusion project Solana to congregate at Norwich Arts Centre – an opportunity to celebrate the band's return to Norwich after their appearances at Glastonbury Festival last weekend, and to warm-up for this weekend's Folk in a Field event at West Acre. A case of perfect planning, you might say.

Except that this gig had originally been scheduled for March 28th, the idea being for band members Tamsin and Rowen Elliot to celebrate father Graham's birthday with a homecoming performance at the venue where the Elliott family had often attended gigs together. Tonight thereby becomes that deferred celebration, and an overdue excuse to throw that party.

Norwich five-piece Nebula Sun kick things off with a lively set, the twin tenor saxophones of David Boyce and Rob Milne enhanced by the bass of Paul Taylor, the drumming of Aslan King and guitar and vocals from Tommy Johnson. Together they blend jazz and soul influences with afro-beat, dub and hip-hop, and even throw in a bit of folk balladry for good measure. Standout track for me was the exotically titled Merchants of Spice.

Despite Solana's East Anglian connections, this is actually the first time that the band have performed together at Norwich Arts Centre. Originally formed in Valencia in 2012 their line-up brings together multi-instrumentalist Tamsin and fiddle player Rowen with guitarist JP Wolfgang, bass player Henry Edmonds and drummer Elio Arauz de Marcos. The result is an intoxicating cocktail of rhythm, an infusion of dance and melody that is pretty much impossible to resist. Undeniably folk influenced, yet unafraid to weave together styles as disparate as Celtic and North African, Balkan and Flamenco whilst stirring in generous helpings of jazz, reggae and tango, Solana are a band whose sound is impossible to pin down. And even more impossible to keep still to. From the first bars of their opening tune to the closing chords of the final tarantella, the audience is constantly on the move, from gentle swaying and tapping of the feet, to full body twirls and energy-packed dance steps.

In numbers like Turkish Coffee, Tamsin's accordion recreates the thrill of the casbah whilst Rowen's fiddle spins away, leaving Elio to masterfully maintain the complex rhythms along with JP's Spanish guitar. Elsewhere flute and whistle take us on spellbinding, almost mystical, journeys which soar with unexpected twists and turns. There is a reverential cover of a Dhafer Youssef piece, and a gorgeous new track called The Salad Smuggler's Sister that introduces yet another rich thread to Solana's already intricate tapestry of sound.

This was indeed an evening of wide-ranging musical delights, when the sun really did come out and shine. Solana bring with them a multi-textured cornucopia of sound, with so many elements woven into their score. They are always a thrill to experience live, and Camino is a pretty good album choice to enjoy at home whilst waiting for their next visit. Catch them when you can.