Starcrawler + Plague Vendor
Norwich Arts Centre
31/03/20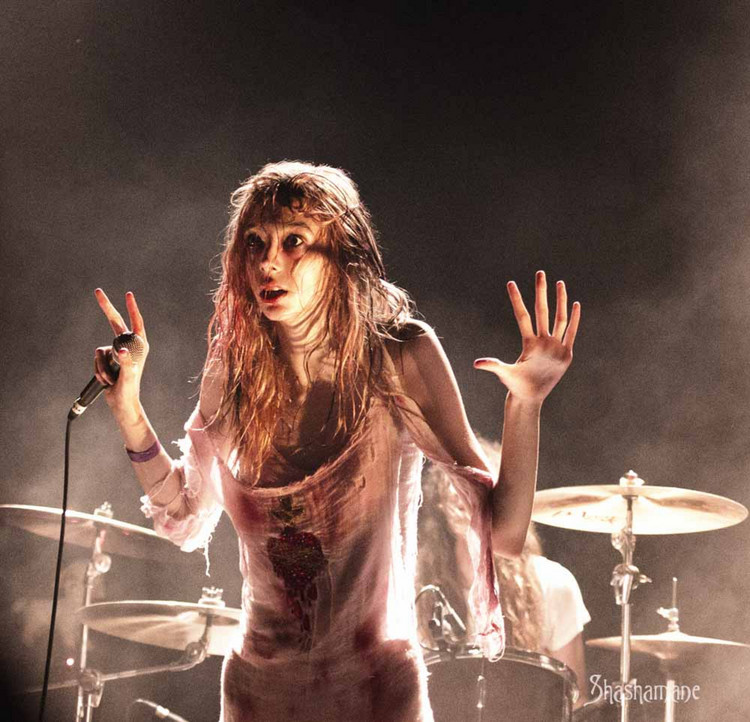 Starcrawler concluded the UK leg of their current tour at Norwich Arts Centre on Sunday night after five dates that included London. Manchester and Glastonbury, I was lucky enough to be at the London show too which was thrilling and brilliant but it's simply just better in Norwich. Last year's visit to the NAC by the band was amazing, following as it did one of my favourite ever gigs when they played Bedfords Crypt on their first visit here. Would they do it again and match those exceptional nights? Of course they would!
Support on the tour is from fellow Californians Plague Vendor (who actually played a free gig here at the much-missed Owl Sanctuary in 2016). The London crowd went a bit nuts to them the other night, and rightly so. The Norwich crowd did too and perhaps even more so. The band played a high-intensity set that had elements of Dead Kennedys and Rage Against the Machine's punk energy and felt dangerously exciting, intense and almost menacing. Something they share with Starcrawler is their sheer unpredictability and I have rarely seen a more exciting support slot, I'd love to see a headline show by them.
I'd already forgotten it was a Sunday as the scenes in the crowd were quite something. Singer Brandon Blaine seemed to cover every spot of not just the stage but the hall too, leaping about and doing Iggy contortions, he spent as much time on the barrier as he did on the stage (or monitors or drumkit), wanting to be as close to us as possible and urging for yet more crowd involvement. Not that there was any shortage of that. He exclaimed at one point that "This is our Glastonbury! We play the same be it to ten thousand people or ten people, the important thing is that we're all here together!" Brilliant! They had a powerful impact on everyone.
There is no doubt that LA's Starcrawler already occupy a special place in the hearts of their Norwich fans. This was their third visit to our city in as many years and they are always welcome here. They once again sold out the Arts Centre for this PRB Presents night too. Well before the 9:30pm set time the whole of the barrier was already occupied and the auditorium was filling rapidly in anticipation of their arrival onstage. There was a palpable sense of occasion and excitement in the air. Then the band came on and started playing, soon followed by the incredible Arrow de Wilde, full of stage presence. A blistering start sent out musical shots into the crowd, exploding everywhere. We were off and total mayhem ensued. Alongside the familiar faves such as Ants we had newer singles Hollywood Ending, Ramones cover Pet Sematary and the excellent She Gets Around, there were also some powerful new and less familiar songs that bode well for a new album.
The anthemic I Love LA got a huge response and appeared to have the entire hall singing along with the band. I think the mutual love grew a bit stronger still at this point. It was a special moment and one of many gig highlights.
It could be easy to overlook just how tight Starcrawler are, Austin and Tim on drums and bass are rock solid and powerful whilst Henri on guitar and massive riffs alongside Arrow's visual performance whilst delivering vocals are impossible to ignore, highly animated as they are. Dramatic and wild, as if Arrow's stage persona has just escaped from some unspeakable horror, in her torn and bloodied dress her performance is incredible, almost possessed. It's interesting that Arrow doesn't address the audience between songs at all, she doesn't need to, the presence and connection is powerful enough as it is.
The set was just flying by but there was an encore with a couple more songs, closing unforgettably with Chicken Woman. A bloodied Arrow diving into the audience, being held and carried aloft by a packed and lively crowd whilst a girl was plucked from the crowd to take over Henri's guitar and jam out the song with Austin and Tim to close one of the best and most exciting Sunday nights possible. Leaving the hall we all felt hot and at the same time both drained and exhilarated, the band and the audience all putting everything into the gig. Not many gigs leave you feeling the way Starcrawler gigs do. The show was exciting, sometimes disturbing but always compelling and unpredictable and most of us left on a musical high of exhilaration that made it difficult come to terms with the reality that it was actually a Sunday night. For a few hours we'd forgotten everything outside of this special venue and the music. The queue at the merch table spoke volumes and when the band appeared there was a great demand for selfies and signatures and they happily obliged for all.
For some reason Starcrawler are sometimes a rather unfairly accused of doing things musically that have been done before but that misses the point (not that they care, which is something else I find refreshing about them). They do have originality, put on one hell of a show and do it brilliantly as one of the very finest live bands about. The songs and performances are strong and they bring some much needed energy, excitement, wildness, theatre and unpredictability to a live gig and anyone thinking Norwich crowds are quiet and reserved has clearly not been at the gig when Starcrawler come to town. Even on a Sunday night. You just need to see how the crowd responds to them, they are making music and putting in a performance that is visceral, thrilling and utterly compelling and the audience absolutely lap it up. They are a band that collectively just fit together perfectly, very different individuals that as a unit form a mighty powerhouse.
Starcrawler are stunning, and best experienced live ... best of all, experienced live in Norwich! I'm already looking forward to next time. Thank you Starcrawler, Norwich loves you.