Starcrawler
Norwich Arts Centre
23/06/18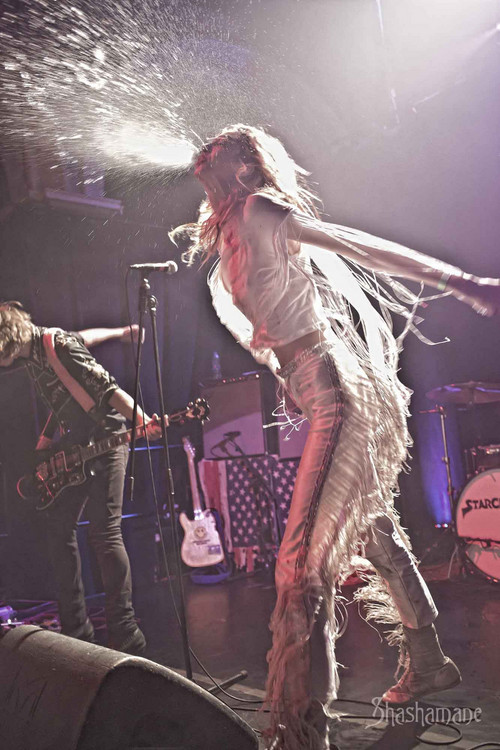 Where on earth does one begin describing Starcrawler at Norwich Arts Centre?! Last November this incredible band played at Bedfords Crypt for Punk Rock Blues in a gig that has gone down in Norwich music folklore, one of those special "I was there" moments which had some people comparing it to seeing Nirvana at the Arts Centre. Others saying that the Starcrawler gig was even better. The band themselves describe that gig as their favourite in Europe, the writers of Q magazine who condescendingly described Norwich as "unfashionable" should take note.
Around that time a new band was formed in the city. Gladboy. Word of mouth about their live shows has created quite a buzz about them and they deservedly had this special support slot. I see them play quite regularly and find their rate of progress really impressive and this performance was a triumph and certainly the best I have yet seen. They sounded big, powerful and tight, had a terrific rapport going with the audience and have a healthy dose of quiet confidence. The songs are strong and varied (the drummer even takes a turn on guitar) and I think they won many new admirers with this set. They started out in the bar for Sonic Youths last year but it must be only a matter of time before they headline their own NAC show. Extra points too for coming on to an intro tape, something I love which adds a sense of occasion.
Starcrawler at The Crypt impressed me so much that I went and saw them again in January in London and although a part of me almost envied those about to experience them for the first time here in Norwich I was also filled with excited nerves hours before this sold out NAC set. Just after 9:30pm Henri, Austin and Tim came onstage and started playing, most of the audience also casting glances to the side of the stage looking for Arrow's appearance. Just then I felt someone behind me pushing their way to the front, who then proceeded to climb over a few of us and onto the stage. Welcome, the one and only Arrow de Wilde.
It doesn't matter what size venue they play as they project so powerfully, the riffs are huge, the bass and drums powerful and steady in this incredibly tight unit. Henri on guitar is lively and visual but Arrow especially is utterly compelling, bringing some much needed theatre and unpredictability to gigs. I may have seen them several times but there was still plenty of wild and unexpected moments. Henri's guitar sound evoking the power of the likes of The Stooges, MC5 and even the Sex Pistols whilst singer Arrow totally commands the stage and our attention, there were moments of great intensity even when she wasn't singing. It's powerful, thrilling stuff and the hall had a feeling, an excited buzz and tension that I have rarely felt. Nobody wanted to leave so when the gig did finish there were huge queues for the loos as nothing was going to interrupt this show.
Starcrawler's songs are on the whole short powerful explosions of what could be called glam punk rock 'n' roll but on the album Chicken Woman clocking in at just under the four minute mark is their epic and the song they closed the set with ... but this extended live version probably made up nearly a quarter of the entire set and will live long in the memory of all who witnessed it. An intense few seconds mid-song when all the music stops with just some feedback hanging in the air before the bass kicks in again, Arrow stares, draws her finger across her throat and disappears into the audience, soon followed by Henri who plays among us and then puts the guitar around the neck of Gladboy's George in the crowd who jams out with Tim and Austin from the moshpit. Incredible stuff. One of those rare gigs that is so good that you actually don't want an encore. Nothing could follow what they give us, it's the perfect way to finish.
Starcrawler are making music genuinely exciting, fun, visual and unpredictable. Maybe even a bit scary too. All welcome elements and they sound bloody amazing too! They might not be to everyone's taste and you wouldn't want them to be but they are certainly to my taste and I find them incredibly refreshing. There are plenty of us who feel the same way, nearly 300 people in a packed Arts Centre had a wild time going completely nuts. I heard several people at the end standing stunned and wide-eyed, simply repeating the word "Wow!" over and over. Wow indeed.
In that interview they referred to The Crypt as a dungeon. I joked with Henri afterwards that they had progressed from dungeons to churches and he replied "Hey, maybe next time we're here we can play a cathedral?" Now there's a thought.
For now their next stop is London's Olympic Stadium to support the Foo Fighters. Starcrawler could (and should) be about to become massive but seeing them at the Arts Centre is a precious experience and memory. They are just what we need right now. This NAC gig was most definitely another "I was there" moment and another gig of the year contender in what is already seeming a vintage year for Norwich gigs.