Steven Isserlis and Sam Hayward at the John Innes Centre
23/06/21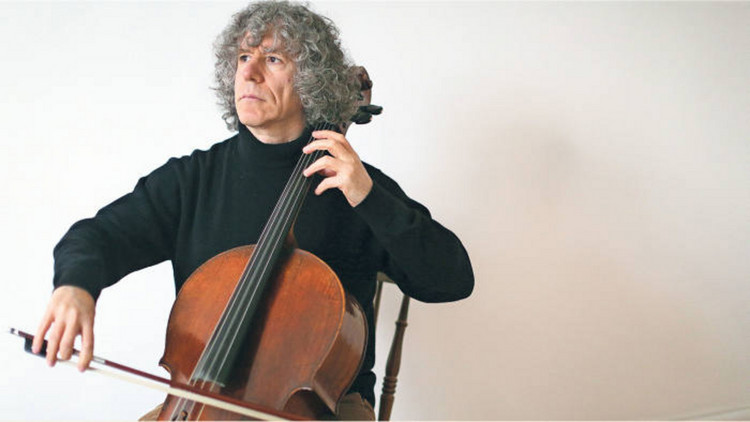 Last week I interviewed Peter Lawson, Chair of Norwich Chamber Music, about their upcoming series of concerts at the John Innes Conference Centre. I expressed surprise at the choice of venue, to which he effectively responded "wait and see". I have to say that I stand corrected, and while I realise that going on about the venue in a review is a little like whistling the scenery when you've just seen a musical, this was such a superb showcase for classical music that it would be remiss to not applaud the decision. Excellent acoustics, perfect sight lines and (not to be lightly dismissed) very comfy seats were allied with the lovely folk ushering the audience to their seats. It all added up to a warm, inclusive atmosphere that felt more like a celebration of the like-minded than a concert.
It also offered a serendipitous chance to see Steven Isserlis, one of the world's foremost cellists, in an unusually intimate setting. If you're unfamiliar with the major performers in the classical field, and where they tend to play, then imagine Ed Sheeran or Adele opting to do a gig at the Norwich Arts Centre and you'll get an idea of just how rare a treat this was. I've seen Isserlis on a number of occasions, and he's always on form, but here was an opportunity to watch as his hand glided, seemingly effortlessly, over the strings while his face signalled meditative exaltation or simple joy.
You have to wonder how much of that joy was due to the pleasure of performing live. Time and again he made reference to lockdown. Although it was always with positivity – what the space and time afforded him – I don't think there is any doubt that it also betrayed the frustration we have all felt at time lost which we aren't getting back. Not least of the consequences of the restrictions that remain, was the need to draft in a last minute accompanist. With Connie Shih unable to travel from Berlin, Sam Hayward stepped into the breach and thoroughly deserved the equal billing, plaudits and applause he received on the night.
Isserlis has a reputation for curating interesting and engaging programmes of music, and this was no exception. Despite focusing on music of the late nineteenth century (all the works presented were written between 1878 and 1888) the evening was characterised by diversity and eclecticism. We were offered two pieces written by female composers, Isserlis's own arrangement of work written for violin, and the UK premier of a sonata by Strauss.
Before any of those, however, Isserlis treated the audience to one of his best known, and best loved, recorded works – Bruch's Kol Nidrei. He's been performing this haunting, elegiac work since he was twelve, but it sounded as fresh as ever, the depth of emotion it seemed to bring out etched on his face throughout. Less familiar, albeit from a more familiar composer, was Strauss's original Sonata in F Op. 6. In his late teens, Strauss entered a competition with this work. He didn't win, and presumably then shared the misgivings of the judges, as he went home and reworked the music completely. Up until recently, the original version was left unpublished and unperformed, lying dormant for over a hundred years.
Isserlis had in mind to premier this version in Berlin before the sky fell in last year, but that concert, along with so manymore, was cancelled. So, rather thrillingly, it has fallen to Norwich Chamber Music to host its first public performance in a century. It was an arresting, if somewhat eccentric, piece, and clearly indebted to Mendelssohn. The extraordinary precociousness of its youthful composer was evident throughout, and while it arguably meandered somewhat, it was nonetheless a fascinating curiosity. By way of contrast, Dvorak's Four Romantic Pieces is assured and established. Arranged for the cello by Isserlis – something he did to keep busy during lockdown – and played with a beatific smile, this was, for me, the highlight of the concert. The mellow, sonorous tone of the cello seemed to give the music a new lease of life. It was almost as if this was the instrument that Dvorak intended all along. The evening closed on the first of two compositions by female composers, and you have to think that Isserlis is on a mission to showcase neglected talent. To paraphrase Oscar Wilde, to play one female composer may be regarded as good fortune; to play two looks purposeful. Luise Adolpha Le Beau's Sonata in D is an eccentric mix of the lyrical and the jolly, and something Isserlis took great and obvious pleasure in showcasing.
After Cecile Chaminade's Dream of a Child, a beautiful little gem of an encore, Isserlis and Sam Hayward left the stage to huge applause. We were all still wearing masks, and we all had more elbow room than we needed, but this was still live music played in the time of Covid, something that felt little short of remarkable.