The Arms Of Sleep
Assembly House
18/08/19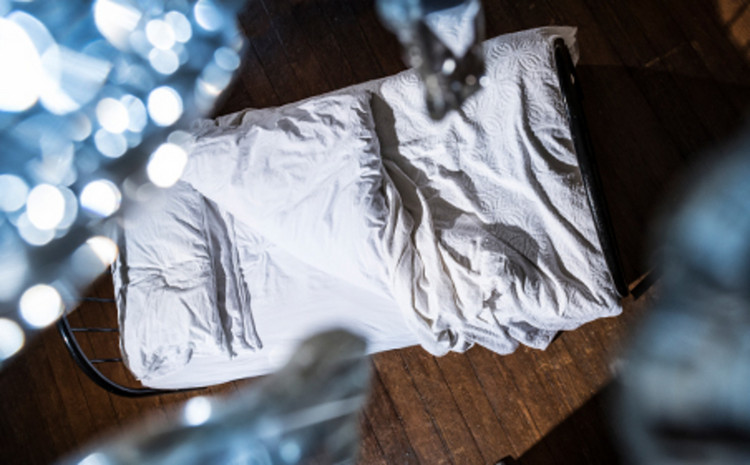 I don't quite know how to write this review of The Arms Of Sleep. For one thing, it was one of the most mystifying, magical nights of my life. For another thing I am loathe to ruin any surprises for those going to experience it this week at Norwich & Norfolk Festival or at Brighton Festival next year. So I'll keep schtum, and just give you the bare bones.
The Arms of Sleep, devised and performed by The Voice Project, a community, site-inspired choir took place at The Assembly House, the classiest joint in town. We were instructed to turn up at 9:30pm with pyjamas and toiletries, and that we'd be heading home (or into work in my case) at 8:30am the following morning. We'd be entertained by the choir throughout the evening. That's all we knew.
So. What I CAN tell you is that the custom made beds were incredibly comfortable. The choir were dressed in old fashioned long black aprons, waistcoats and trousers, and did everything they could to ensure we received personal, genuinely loving care from the moment when we arrived til the moment we left. The Assembly House was beautifully decorated and everything ran incredibly smoothly, especially wonderful considering this was their first ever performance and took place throughout the House. We enjoyed delicious drinks and food, pure, clear, extraordinary singing, lovely piano, drums and flute music, stories being read to us, shadows, candles, flickering projections and so many other delightful twists and turns of surprises that every moment I expected the unexpected. It's an event where you just have to go with the flow, and put your trust entirely in the team.
I managed to snatch a couple of hours sleep during the night, but mostly I was caught in that web of half asleep, half awakeness which can sometimes be something to be endured. I constantly felt like I was in a dream, and sometimes totally unsure if I was actually awake or asleep. It felt like these 40 odd strangers and I were all on a journey together, but our direction was led by a god, or a genie, or something other than human. The twisting, confusing, otherworldliness of pictures, and songs, and words all melted together in our minds and bodies, and bonded us together. Sitting in the restaurant at breakfast dressed identically in our grey kimonos, dazed and confused but happy, reminded me of the film The Lobster, or some odd Wes Anderson scene – totally abnormal, but totally normal simultaneously.
Yes, the tickets for The Arms of Sleep are steep at £40. But my god, you can see how every penny has been spent on giving you a night you won't forget for the rest of your life, and how every care was taken by the many and varied members of The Voice Project and associates to treat you to a very special and unique trip to The Assembly House.
I wish I could tell you more. I really do. But you just have to go and feel it for yourself.
I'm rather fuzzy headed now - I only left the House an hour or so ago. But I also feel like I'm carrying a secret around inside me, a special little memory that few others will hold. Thank you The Voice Project and The Assembly House for this truly wonderful gift, your stamina and talent.
A night out of time indeed.
Find out more about The Voice Project here
Read our interview with Jon Baker, one of the founding members of The Voice Project here