The Birdcage Turns 10
The Birdcage
25/09/16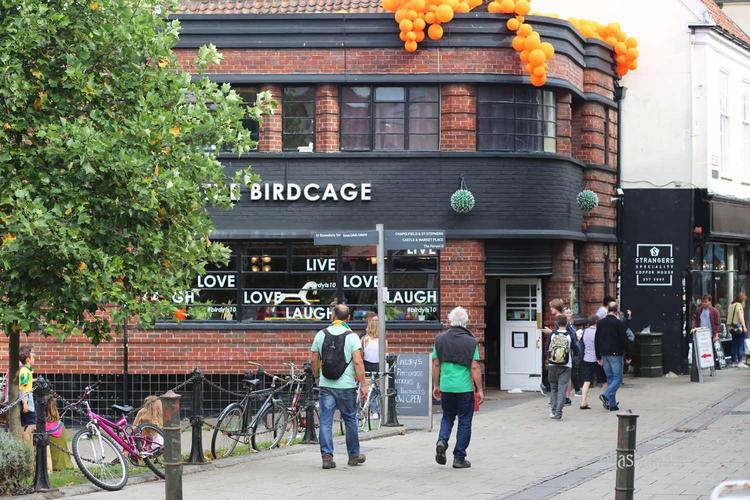 Most of my Saturday was spent with a great many others at the Birdcage helping to celebrate its 10th birthday. Those who remember what the pub was like pre-Birdcage days will know what a successful transformation has taken place. It's now a great pub to relax in and a popular hang-out for the city's creatives with a friendly, chilled vibe. It has also made itself a vital music hub with the downstairs "ballroom" hosting many gigs and since a makeover a few years ago it is well suited for live music with its own permanent PA and sound desk and complements other Lanes venues like the NAC and Bicycle Shop well.
To celebrate its 10th birthday Maraud and the crew hosted an all day music festival which was still in full swing when I finally left this evening. The weather was in the mood to join in the celebration too with a gloriously sunny late-summer day helping the festival mood with many eating Grosvenor chips on the St. Gregory's lawn and listening to the music. The Birdcage had two stage areas set up for the occasion with, in the main room: Wooden Arms, Franko Fraize, Hot Raisin, Birds of Hell, Ben Denny Mo, Marigolds, Dazy Crown, The Extons, Joe Osborne, whilst in the courtyard at the back we had performances from True Adventures, Maya Law, Eloise Shaw, Laura Goldthorp, Matt Underdown, & comedy from Eoghan Laverty, Olly Watson, Kahn Johnson & Nelson Gombakomba. As if all of that wasn't enough there were a selection of DJs keeping the party going until 2am.
Despite the set times being considerately staggered making it possible to not miss a thing I invariably did miss a fair bit simply because it was so enjoyable to be there seeing so many familiar faces, meeting new friends and catching up with others. I thoroughly enjoyed some excellent music highlights too. Birds of Hell was as mesmeric as always. I've seen Pete quite a few times at The Birdcage, including what I think may have been his first Birds of Hell gig in 2013. Pete played this gig solo but Boa continues to be a mighty beast, as was a powerfully intense Let's Have the Windows Open, whilst Our Beautiful Boys, performed on piano was particularly tender and moving. It was good to hear Wayfaring Stranger again, before the set was appropriately closed with I Love Saturday Night.
Wooden Arms made a welcome return to the city ahead of their gigs for Norwich Sound & Vision, and in November The Old Show Factory. Of course Alex was back in very familiar territory and has played a big part in The Birdcage becoming the integral music venue in the city that it now is.
The ever delightful Hot Raisin were playing as electric Raisins with the addition of Hello Bear to give a big and powerful sound. Whiskey Ginger sounded especially good like this and has been my earworm all day.
Somehow I had not come across Dazy Crown before but really liked them. All jangly guitars, psychedelic pop, hooks and melodies and buckloads of that most special ingredient. Enthusiasm.

There was no small amount of balloons in the ballroom and I can only imagine the scenes later in the night. In ten years The Birdcage has become a cherished place that everyone speaks fondly of and now is so loved and firmly established that I cannot imagine the city without it. The words "Live, Love, Laugh" and the neon heart that adorn it are perfect. Happy Birthday, Birdcage, and Thank You. Here's to the next ten years.
Norwich Pub
Birdcage Birthday