The Handsome Family
Norwich Arts Centre
22/02/17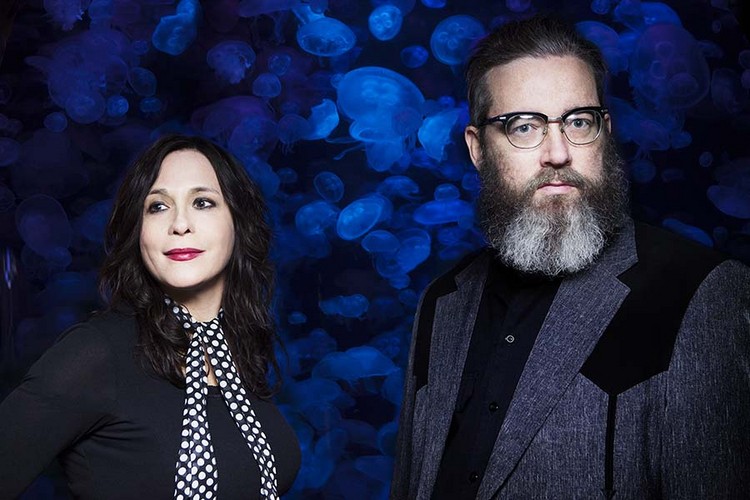 A second visit to my beloved NAC in the space of two days, this one was for an entirely different type of gig following the previous night's extraordinary visit from The Nightingales.
On a mild February Tuesday evening there were at least two sell out gigs happening in the city and I was at NAC for the inimitable Handsome Family who were back in Norwich, repeating their feat of a couple of years ago by once again selling out the Arts Centre. This time they were supported by the divine Courtney Marie Andrews. I chanced upon Courtney's music via a KEXP session on YouTube a few months ago and was so taken by her songs that I checked to see if she had any UK dates on the horizon and was delighted to see she was down for a Norwich date but then aghast to see that it appeared to clash with The Handsome Family's visit. Imagine my joy when I learned it was the very same gig so this almost made it a double headliner for me and I therefore arrived in good time to see her set.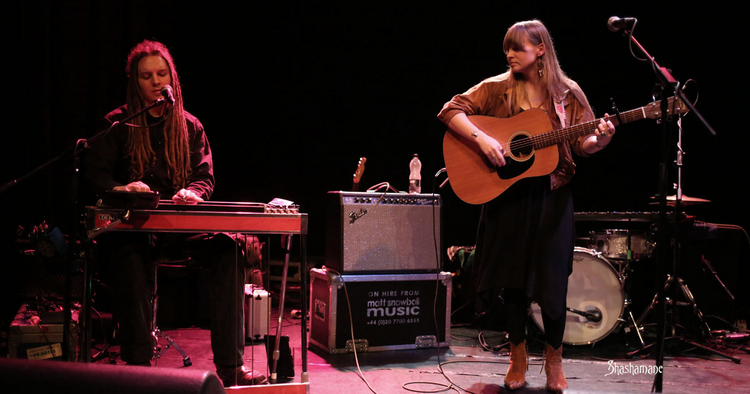 The stage itself looked great, flanked by the rare sight of two pedal steel guitars on the same stage (Brett later remarked "You can get arrested back home for that"), one for Courtney's set and the other for The Handsome Family. Courtney and her pedal steel player quietly took to the stage and proceeded to utterly charm and enchant us for half an hour or so with beautifully written songs exquisitely performed, the applause warm and louder after each song. She has a terrific voice; somewhere inbetween Emmylou Harris and Joni Mitchell you will find Courtney Marie Andrews. That isn't overstating it, I think she is that good and has her own style with heartbreaking and well-crafted songs full of stories and lonely characters. The set passed by all too quickly but she played a big favourite of mine - Table for One - and I am confident the next time she visits the fine city she will be headlining and selling out the NAC just as she is in other venues across the country on her own tour after these support slots with The Handsome Family. I had high hopes for this set and it certainly did not disappoint. The first time she was in the UK as an 18 year old she was carrying her own merch in a backpack and busking. Still only 25, things have moved on, and I wasn't going to miss the chance to buy a couple of albums - the brilliant Honest Life is a privilege to own, especially signed and on turquoise vinyl too! I am absolutely kicking myself for not getting No One's Slate is Clean too though.
Courtney referenced Trump on a new composition and that theme was continued by The Handsome Family - they even suggested Doc Watson's The Lost Soul as their country's new anthem (check the lyrics). Despite clearly feeling dreadful due to heavy colds, husband and wife Brett and Rennie simply incorporated the situation into their between song dialogue and got on with it. The chat is such a part of the Handsome Family live experience, and even feeling as they did they were still in very fine form in this respect as well as in their playing. It is no act either. I have seen them three times and it is always spontaneous, some of it verging on bickering but with obvious love and affection, they genuinely make each other (and us) laugh and bounce off each other wonderfully. They are joined on this tour by a superb drummer and a guitarist who also played pedal steel to accompany Rennie's ukelele bass and vocals (and occasional autoharp), Brett's distinctive deep vocals and Telecaster - they have a sound totally unique with their own signature.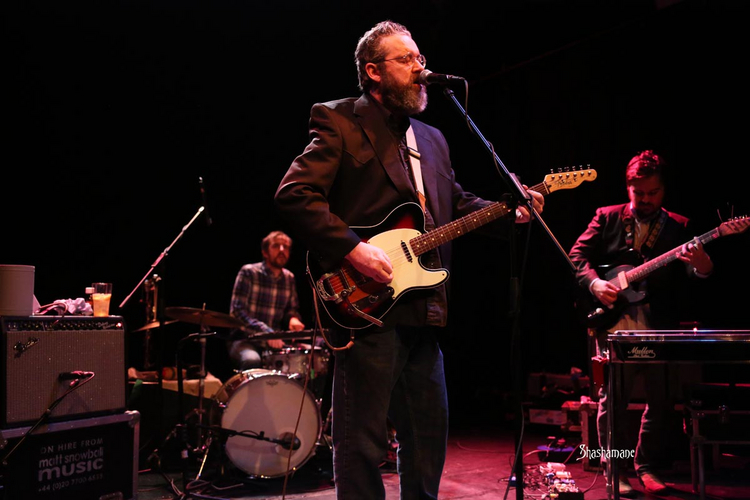 If I'd chosen the set list myself I think it would have been pretty close to this one, opening with Gold - just as their excellent album Unseen does. We were treated to a smattering of songs from the new album and some classics from their impressive back catalogue including some big favourites of mine, Bottomless Hole, Weightless Again and a superb Far From Any Road which featured in True Detective and is many people's introduction to the band. I don't watch television so my own introduction was actually via Big Steve Arlene's wonderful Americana show on Future Radio. On that occasion some years back he played Arlene and it was good to see him present for this gig too. Alas they didn't play that one but that would be greedy of me - I had a fantastic time and they made me laugh too. A lot. On the amp was a line of cough medicine, fruit juice and an industrial size roll of paper towels ("My rider!"), Brett didn't spot his beloved beers until late in the set and almost cried. They can do serious too though and played a very touching dedication to their friend Robert Fisher of Willard Grant Conspiracy who died this month with Your Great Journey.
The crowd noisily demanded, and got their encore once Rennie and Brett had wandered off on opposite sides of the stage and refuelled on cough medicine ("That's the longest we've been apart!") and closed the night with The Giant of Illinois and Frogs.
A hugely entertaining night of excellent music. The Handsome Family are quite unique and very dear to me. Courtney Marie Andrews is really special too, I do hope she will be back in Norwich on her next visit to these shores. The other star of the show was of course the NAC who continue to bring world class talent to the city and showcase it in the best way possible. Thanks for yet another great night.